Pieric
From Circopedia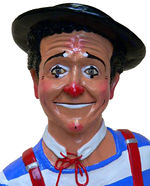 Clown, Equestrian
By Dominique Jando
There are not many equestrian clowns left in the twenty-first century: Comedy on horseback, which was present in the very first days of the modern circus, is a very difficult genre—as is, actually, any act performed on horseback. Pieric, however, has chosen this arduous specialty, and he has performed it with great success for more than three decades, in addition to being a talented augusteIn a classic European clown team, the comic, red-nosed character, as opposed to the elegant, whiteface Clown. on more solid and stable ground!
Pieric was born Pierre Furic on October 19, 1960 in Nantes, the capital city of the maritime province of Brittany in France. The people of Brittany are mariners, and fittingly, the Furics were a family of sailors. But if Pierre was as good a sailor as could be expected, he had also a keen interest in horses. In his late teens, he had worked both as a sailing instructor and an accompanist for equestrian tourist groups. His ultimate goal, however, was to learn how to train horses.
Apprenticeship
To Pierre, the question was, where does one learn to train horses? He had never set foot in a circus, but at least, he had heard of the two Parisian circus schools (the first two circus schools in Western Europe, where such schools were still a rarity then), which both had a bent for equestrianism: Alexis Gruss's Ecole au Carré (or Centre National des Arts du Cirque et du Mime), and Annie Fratellini's Ecole Nationale du Cirque. The Grusses were France's premier equestrian family, and Annie Fratellini's school had acquired at various times the services of such circus equestrian luminaries as Chotachen Courtault and Francesco Caroli. Pierre's choice was eventually dictated by economic considerations: The Ecole Nationale du Cirque was cheaper, and there he went.
Pierre joined the school in 1980. What he soon discovered, however, is that a true circus school is not a place where you just go and immediately learn whatever suits your fancy; you have to start with the basics. So Pierre learned acrobatics, juggling, ballet, acting, and everything that is useful to a well-rounded circus performer, but no horse training. And since the students toured with Annie Fratellini's Nouveau Cirque de Paris as part of their apprenticeship, he also learned to set up a big topThe circus tent. America: The main tent of a traveling circus, where the show is performed, as opposed to the other tops. (French, Russian: Chapiteau), drive trucks, maintain the circus equipment—even welding. All very useful skills indeed, but not that useful for horse training.
During his three years at the school, nonetheless, Pierre slowly developed a clown persona: "Pieric" was taking shape, a poetic, sensitive augusteIn a classic European clown team, the comic, red-nosed character, as opposed to the elegant, whiteface Clown., slightly old-fashioned. At the Nouveau Cirque de Paris, he had met with Pierre Etaix, Annie Fratellini's husband and partner in the ring, and indisputably Europe's finest specialist of visual comedy (Etaix directed several important movies based on physical comedy) and classical clowning. Pierre Etaix took an interest in Pieric, whose comedic nature and talent were evident; the Master would have a significant influence on Pieric's growth as an augusteIn a classic European clown team, the comic, red-nosed character, as opposed to the elegant, whiteface Clown..
Pieric's talent was publicly acknowledged in 1984, at the Festival Mondial du Cirque de Demain in Paris, where he performed several solo reprises. The international jury, which was presided that year by the legendary Russian clown Yury Nikulin, awarded him a Bronze Medal—a rare accolade in a festival where clowns are in competition with much more spectacular acrobatic, juggling, or aerial acts that stand a better chance to win the top medals.
Pieric & Djiboudiep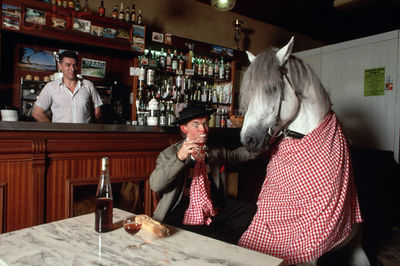 This prestigious award was indeed a boost to Pieric's career, which had just started with an engagement at the
Nouveau Cirque Jean Richard
, one of France's top circuses at the time. Meanwhile, in 1983, Pieric had bought a two-year-old horse, Djiboudiep, a cross between a barb and a Breton draft horse. He found him among a group of horses destined for the butcher. As Pieric put it, "he was neither beautiful nor perfect for horse voltige, but he was the only one that let himself be caught." Pieric and Djiboudiep were on their way to enjoy a long and fruitful partnership that would last twenty years: Pieric's original ambition to train horses was fulfilled at long last.
Pieric's equestrian talents and his partnership with Djiboudiep definitely set him apart in the world of comedy, and engagements in major circuses all over Europe were quick to come. Then, in 1987-88, he and Djiboudiep embarked into an extensive European tour with Zingaro, the extremely successful French equestrian show created by Bartabas.
Soon after that experience, Pieric teamed up with Europe's most celebrated classic whiteface clownGeneric term for all clowns and augustes. '''Specific:''' In Europe, the elegant, whiteface character who plays the role of the straight man to the Auguste in a clown team., Pipo Sosman, Jr., the very talented son of Pipo Sosman—the latter himself recognized as the greatest whiteface clown of the previous generation. For one season (1996-1997), Pipo & Pieric formed an interestingly creative partnership, and performed with considerable success the classic repertoire of European clown entrées, including the equestrian version of the Military Service (Le service militaire)—the performance of which had already become an extreme rarity by then.
Unfortunately, the association didn't last and Pieric resumed his solo career—albeit still with his equine partner—working in major European circuses and in various equestrian or horse shows, such as Euro-Percheron and Fiera Cavalli. In 1998, he and the equestrienneA female equestrian, or horse trainer, horse presenter, or acrobat on horseback. Gaby Dew created "Carrousel", a non-profit organization dedicated to equestrian arts, and they gathered a stable of eleven horses. Their first production, presented in Merle, France, was titled Fantaisies Z'équestres (1998). For five more years, Pieric continued to alternate circuses and equestrian and horse shows.
Out Of The Circus Ring And Back Again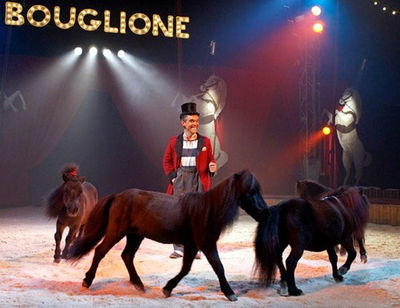 Pieric and Djiboudiep's last performance together was in 2003, in Rueil-Malmaison. Sadly, it had followed a difficult season with a circus where the working conditions for both performers and animals were particularly wanting. It had been perhaps too hard on Pieric's old companion: the twenty-two-year-old Djiboudiep passed away that year. Pieric was devastated, and decided to leave the circus altogether. He purchased a group of Falabellas (a rare South-American breed of miniature horses) and decided to take his career to a different path.
Henceforth, Pieric limited his performances to equestrian shows and competitions. He appeared notably in Le Pardon, Jean-François Pignon's equestrian production, with which he performed all over Europe from 2004 to 2008. Between travels, he showed his Falabellas in such events as Equidays; in Les cavaliers de l'océan, Cavalcades, Le Cheval Attitudes at the French national Haras; Equita' Lyon; and many other equestrian events and competitions.
He returned briefly to the circus in 2008, when he appeared at Circus Kronebau in Munich during the winter season. That same year, he also participated in Jeux de Piste, an equestrian circus show presented at La Roche-sur-Yon in France. In 2009-2010, Pieric was featured in the equestrian spectacular Apassionata, with which he performed in Holland, Czech Republic, and Belgium. Following it, he appeared briefly in a French circus festival, and worked again with Jean-François Pignon, notably in a special show for the Emir of Qatar.
The circus was still in his thoughts however, and in 2012, Pieric finally returned to the ring, apperaing in the 2011 edition of the International Circus Festival of Massy, and going on tour in 2012 with the French Cirque Joseph Bouglione. There, he was particularly happy to serve as straight man to his mentor, Pierre Etaix, who made a rare appearance as "Yoyo," the clown character he had created for his eponymous film, Yoyo (1965). The following season (2013) Pieric toured with Denmark's Cirkus Dannebrog. By now, his career has taken a new turn: Pieric is known today as much as a horse trainer as he is as a clownGeneric term for all clowns and augustes. '''Specific:''' In Europe, the elegant, whiteface character who plays the role of the straight man to the Auguste in a clown team.; his old dream of being able to train horses has eventually come to full fruition.
See Also
Video: Pieric, Clown, at the Festival Mondial du Cirque de Demain, Paris, 1984.
Image Gallery