Rico y Alex
From Circopedia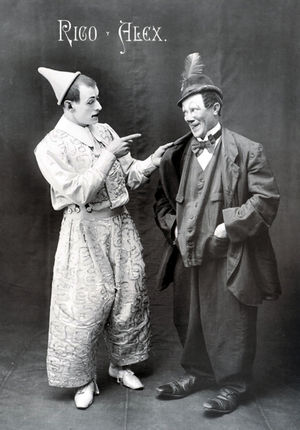 Clowns
By Dominique Jando

During the first half of the twentieth century, the Spanish clowns Rico y Alex (Enrico Briatore, 1881-1965, and Alessandro Briatore, 1870-1960), who came from an Italian circus family, were among Europe's most celebrated clowns. In Paris, they dethroned the legendary Foottit and Chocolat from their place of preëminence when they starred in the "Temple of Clowns", the famous Cirque Medrano, for four consecutive years, from 1910 to 1914. They were acrobats, musicians, and singers, and they spoke seven languages (Italian, Spanish, Portuguese, French, German, English, Russian, and even a little Catalan), which allowed them to build a very successful international career. Although they spoke in their act, they didn't rely much on verbal comedy, which was trendy then: Rico and Alex were very physical, but their visual humor had a surprising elegance and a very human, charming touch that appealed greatly to their audiences.
The Briatores
Rico and Alex were not, as it is often the case with clown duets, brothers: They were uncle (Alex) and nephew (Rico). The Italian Briatore dynasty had originated with Giuseppe Briatore (1831-?), an acrobat on horseback from Mondovi, Piedmont, in Northern Italy. Giuseppe was part of the equestrian troupe of the D'Angolys. He married in the D'Angoly family: He and the equestrienneA female equestrian, or horse trainer, horse presenter, or acrobat on horseback. Quinta D'Angoly had six children, Angelo, Enrico, Giovanni, Adele, Pietro, and Alessandro (the future Alex). Giuseppe ran his own circus for a brief time, and then created a troupe of acrobats on horseback with his five sons, which was the first to perform a three-man-high column standing on two horses. (The trickAny specific exercise in a circus act. will be improved later by the amazing Fredianis, who performed it on a single horse!)
The Briatore dynasty later produced several excellent jugglers, on horseback as well as on the floor—including the tempo juggling act of The D'Angolys, which performed with great success before and after WWII. Youngest son of Giuseppe and Quinta, Alessandro (Alex) was born in 1870 in Russia, where the Briatores were performing then, and made his debut in the ring five years later in Berlin; he made his clowning debut at the same time with the celebrated Tony Grice, escaping from the pocket of the latter's extra-large trousers! Although he would remain an acrobat and equestrian for many years to come, Alex had made his very first steps as a clown in good company!
The Briatores toured extensively all over Europe with their equestrian act, which was at the time one of the most famous bareback riding acts in the business. Enrico Briatore, the future Rico, was the first son of Alex's older brother, Angelo (?-1886), and his wife, Bertolina, née Ghiza, an equestrienneA female equestrian, or horse trainer, horse presenter, or acrobat on horseback.. (They had a second son, Angelo, born in 1885, who died in infancy in Paris in 1886.) Enrico was born on October 26, 1881, in Birmingham, England. His father died unexpectedly just before his second son's death, in 1886; Bertolina was just twenty-four and Rico was five. It is at this tender age that, like his uncle Alex before him, Rico began to work in the ring. He soon joined the family's equestrian act, and he also became a remarkable tumbler and acrobat.
Surprisingly, it is the youngest of the two partners who got first into clowning. At age fifteen, Rico had a bad fall during a performance of the family's equestrian act that forced him to tone down his acrobatic prowess. When a clown in a show in which the Briatores were performing in Genoa had to be replaced at the last minute, Rico seized the occasion. He liked clowning, and furthered his apprenticeship with a clown named Didik Weldeman, and then worked for some time with the Spanish duo Ines & Pletringa, whose main entrée(French) Clown piece with a dramatic structure, generally in the form of a short story or scene. was a bullfight parody with a dog called Pacha.
Rico & Alex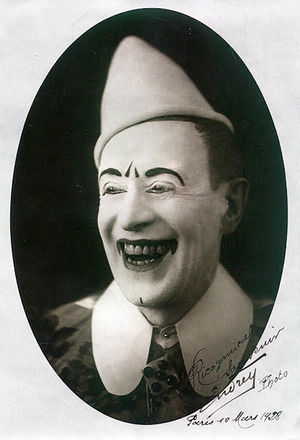 About a decade passed until Alessandro, then in his thirties, decided to leave equestrian acrobatics, the toll of which his body was beginning to feel. He had a good sense of humor and, like many acrobats on horseback before and after him (from George Foottit and
François Fratellini
to
Béby Frediani
,
Enrico Caroli
and
Dédé Gruss
), he decided to convert to clowning. He offered his nephew Rico, whom he had practically adopted after the death of Angelo, a clown partnership. Rico accepted, of course. Rico became the clown (the white-faced and elegant straight man), and Alex, a childlike and charming
auguste
In a classic European clown team, the comic, red-nosed character, as opposed to the elegant, whiteface Clown.
. They debuted their duet in Linares, in Andalusia, Spain, around 1902, as a "second act" of the family's troupe.
In 1904, Rico & Alex signed a contract with the Circo Ecuestre, Barcelona's new resident circus the Alegría family had installed in the converted Teatre Tívoli in 1897. The Briatores had first worked with Gil Vicente Alegría's Circo Ecuestre Barcelonés in 1882 and performed with him in Barcelona for three seasons. It is during this engagement that Alex settled in Spain, where he eventually married the tightwireSee Tight Wire. dancer Emilia Alegría, the daughter of Gil Vicente (1841-1908) and Micaela Alegría, with whom he will have two sons, Emilio, and Alessandro. Then Rico married Emilia's sister, María, a remarkable equestrienneA female equestrian, or horse trainer, horse presenter, or acrobat on horseback., with whom he had a daughter, Micaela.
Rico & Alex met with enormous success at the Circo Ecuestre al Tívoli, and their career was truly launched there. Unfortunately, Gil Vicente Alegría committed suicide in October 1908, and his widow, Micaela, decided to close the Circo Ecuestre and leave the Tívoli at the end of the season, in December. Alegría's Circo Ecuestre had been Rico & Alex's home until that time, the place where they had developed their repertoire, and their success had been indeed noticed across the Spanish border.
A clown himself, Geronimo Medrano, who was of Spanish origin and, therefore, kept abreast of the circus scene in his native country, was aware of their success. In 1910, Rico & Alex arrived at the fabled Cirque Medrano in Paris, where they quickly became the French capital's favorite clowns, taking the place held until then by the legendary Foottit & Chocolat, whose career was on the wane. Rico & Alex remained Medrano's star clowns for four years until the advent of the First World War in 1914, delighting the clownGeneric term for all clowns and augustes. '''Specific:''' In Europe, the elegant, whiteface character who plays the role of the straight man to the Auguste in a clown team.-savvy Medrano audiences with their vast repertoire of short, energetic entrées, and their remarkable acrobatic and musical talents. (In his seminal book Les Clowns, published in 1945, the great clown historian Tristan Rémy, who had seen Rico & Alex and appreciated them greatly, describes at length their unique personalities and gives an interesting aperçu of their style and repertoire.)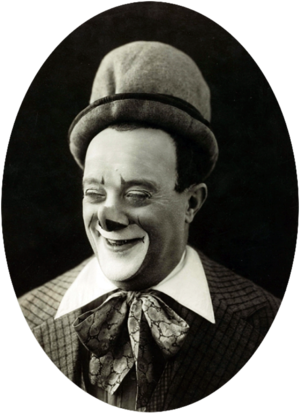 At the outset of the war in the summer of 1914, after a short visit to the family patriarch, Giuseppe Briatore, in Italy, Rico & Alex returned to Spain. The country had remained neutral in the European conflict, and they toured all its major circuses and variety theaters (of which Spain had plenty) for the duration of WWI. They ended this period of their career in 1918 at the
Circo Ecuestre al Teatre Comic
, opened in 1912 by Luis Casaesca in Barcelona, where they shared the bill with
Antonet & Béby
and the
Hermanos Albano
, in a show that featured thus three of the best and most celebrated clown teams of the period—a rare treat for the connoisseurs, and for the public at large!
Rico & Alex resumed their European tours, although they still worked often in Spain, doing regular seasons at Madrid's Circo Price and at the Coliseu dos Recreios in Lisbon, Portugal. In Madrid, they were great favorites of King Alfonso XIII, who saw them several times and even invited them to play at the Palacio Real (Royal Palace); they also performed for King Victor Emmanuel III of Italy. In the 1920s, they began to offer two acts: Theirs, and the D'Angolys, the juggling act of Alex's sons, Emilio, and Alessandro, who also participated in some entrées.
In 1927, they returned to Paris, the stage of their greatest triumphs, this time at the Cirque d'Hiver. They were supposed to begin in September, but Alex fell ill and their debut was postponed—although the D'Angolys showed in time! The press wondered if, after fifteen years, Rico & Alex could still deliver with the same freshness and talent. Their fears were dissipated in October when they finally arrived: They had not changed, but although Parisian audiences still liked them, their success had been somehow tarnished by the long presence before them, in that very circus, of the Fratellinis, whose style was at the opposite of Rico & Alex's subtle and poetic humor.
Nonetheless, they remained at the Cirque d'Hiver until March 1928, with two one-week hiatuses to play at Bobino, the famous music-hall of Paris's Left Bank, and the fashionable Empire Music-Hall Cirque, on the avenue de Wagram—a testimony to their enduring Parisian reputation. They would return to Paris a last time in 1934, to appear in the ring of their first triumphs at the Cirque Medrano, which was better suited to their style. They had also appeared many times in Germany, where they had worked at the famous Scala variety theatre in Berlin, Circus Kronebau in Munich and had toured the country with Circus Busch-Nürnberg; it is during a German engagement in 1938 that Rico's wife, María, passed away.
The following year, in August 1939, Rico & Alex performed for Joseph Goebbels, Hermann Göring and Adolph Hitler at a Propaganda event in Berlin—perhaps not their finest hour, but Franco's Spain had close ties with Nazi Germany. This was just one month before the outbreak of WWII: They were in Warsaw when it happened, and they had to stage a moonlight flit, leaving their trunks behind, and quickly reached Germany, from where they crossed to France on foot, and finally returned to Spain! (In order to cross to France, they had to bribe the German border guards: Born in Birmingham, Rico was a British citizen and therefore held a British passport.)
Epilogue
Rico & Alex resumed their regular seasons at Circo Price and the Coliseu dos Recreios and toured the country as they had done during WWI. Alex performed for the last time in Fuencarral (today a Madrid's neighborhood), in 1945. He was seventy-five—seventy years of which he had spent in the ring or on stage. He retired to his home at the Ronda de Sant Pau in Barcelona to tend to his wife, Emilia, who was in poor health and sadly passed away soon after. Alex Briatore died in Barcelona on February 28, 1960, in his ninetieth year.
Rico continued to travel for some time with the D'Angolys (whose act included his daughter, Micaela) and finally retired in 1949 to the house he had bought in Valencia, on Spain's eastern coast; his daughter moved with him. Always elegant and impeccably dressed, Rico continued to travel and visit fellow performers in Spain and maintained a busy social life until the end. He passed away at his home in Valencia on February 8, 1965, at age eighty-four, just five years after he uncle and partner, Alex.
Rico and Alex had been among the finest clowns of the first half of the twentieth century. Said Tristan Rémy: "[Rico] had the serious face of a tragic mime, but his voice was soft, persuasive, and made us forget the rigidity of his mask. His laugh was good natured, jovial, and intelligent. (…) Alex's comedy didn't exclude pathos. He was funny but always touching. There was a child's heart under the buffoon's outfit. With him, the slightest joke had a special charm. Everything, with Rico & Alex, tended to have a sentimental value. (…) There was between these two clowns, always, a phenomenal echo that maintained their acting on the same key. Such was their cohesion that they seemed to be only one, that, more than a complement, they were the extension of one another."
Suggested Reading
Tristan Rémy, Les Clowns (Paris, Bernard Grasset, 1945 — Re-issued by Grasset in 2002) — ISBN 2-246-64022-9
Image Gallery