Sergei Ignatov
From Circopedia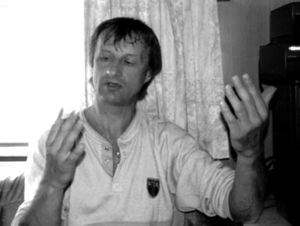 Juggler
By Daniel Siegmund

One of the greatest jugglers in circus history, Sergei Mikhailovich Ignatov was born August 23, 1950 in Chemnitz, in Saxony, in the former German Democratic Republic (or East Germany), to a Russian circus family. His grandfather, Ivan Petrovich (1900-?), was an equestrian, and his father, Mikhail Ivanovich (1924-1967), had been a dog and monkey trainer. Sergei grew up in Moscow, in what was then the USSR, along with his younger brother, Leonid Mikhailovich, who also became a remarkable juggler.
Apprenticeship
Sergei joined the
State College for Circus and Variety Arts
(the "Moscow Circus School") at age fifteen in 1965. After only one year, he had to give up acrobatics due to knee problems and he specialized as a juggler. His teacher was the legendary
Violetta Kiss
, an amazing juggler and hand-balancer who was, with her brother Aleksandr, a major star of the Soviet circus in the 1950's and 1960's.
In just two years time, training eight hours a day, Sergei became a very proficient juggler with rings, large balls, and clubs. He created new tricks, such as the "pancake throwIn juggling, a figure in which a juggling ring is thrown in a way that makes it flip over its own axis rather than spinning around it, much like a pancake on a pan." with rings, and a special kick-up from four to five clubs. Both tricks are still performed by jugglers today. The juggling technique that Violetta Kiss taught him became the firm foundation of Ignatov's subsequent twenty years of creative work. At the Moscow circus college's graduation show in 1968, he was an unmitigated success. The audience present was well aware of his exceptional talent, and knew that Sergei's performance was only the harbinger of things to come.
Sergei Ignatov went on to perform and, in the eight years following his graduation, aimed at perfecting his technique and increase the number of objects he could juggle. By 1976 he was juggling eleven rings in rehearsal, and among his other personal records, he could juggle five clubs for sixteen minutes and five large balls for ten minutes. Soon he was touring abroad with units of the Moscow Circus, and his astounding technique combined with his grace in the ring made him a true star of the Soviet circus—and of the circus world at large.
An Exceptional Technician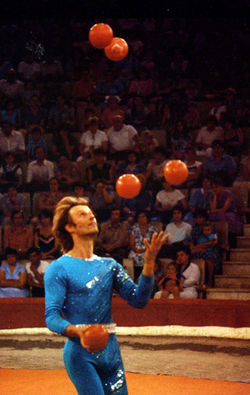 This technical juggling is what Sergei is known for today. Ask any juggler: "Who is Sergei Ignatov?" and they will tell you about his technical abilities. This is likely due to the amount of people to whom Ignatov has taught his technique over the years, from Yuriy Pozdnyakov in Ukraine, to Thomas Duerrfelt in Germany, or Marco Paoletti in Argentina—all celebrated juggling teachers today.
Sergei Ignatov had a very disciplined training regimen: First an hour of yoga to get into the right mindset, then two-ball juggling and very basic tricks before allowing himself to move on to the harder stuff. This way he could correct his body posture, alignment, and hand position. He strongly believed that perfect technique was essential for a good juggler.
Another aspect of Ignatov's fame as a performer was his choice of music. He has been called a "poet" among jugglers for synchronizing his act to the music of Chopin. Ball, clubA juggling pin., and ring routines, each had their own musical piece, and music became a core element of his performance rather than a mere background or, worse, an afterthought. Visually too, paintings such as works from Van Gogh and Dürer inspired his presentation.
From 1968 until at least 2001, Sergei Ignatov had been performing all over Europe, America and Asia. He had begun to perform in the West before the fall of the Iron Curtain (to the envy of many of his colleagues) and was a poster-boy for the Moscow circus school. As early as 1977, the International Juggling Association declared him the World's Best Juggler, and awarded him a diploma to this effect. In 1983 he won a Silver Clown award at the International Circus Festival of Monte Carlo (many circus professionals were shocked that he was not awarded Gold), and in 1995, he was presented the "Pista di Platino" at the Gran Premio Internazionale del Circo in Milano, Italy.
Sergei Ignatov's Legacy
Like all Russian circus performers, Sergei sees himself first and foremost as an artist. Originality, creativity and attention to details are the most important part of his work. He is very opinionated about the work of others, and looks forward to a contemporary circus that, in his own words, would be "an esthetic and romantic circus. A mature circus of taste and tact."
Sergei Ignatov has a daughter, Katja Ignatova (Ekaterina Sergeyovna, born in 1978), who has become a superb artist herself, and to whom he taught to juggle five clubs and up to eight rings. A common misunderstanding is that the talented juggler Sergei Ignatov, Jr. is Sergei's son, while he is in actuality his nephew—the son of his brother Leonid.
Sergei Ignatov leaves a strong legacy for the next generations. He pushed the technical juggling level up by inspiring jugglers through his performances, but also through his teaching: Since his retirement from the ring, he has been giving juggling workshops all over America and Europe. His dedication to his art might have not given him a lot of free time during his long career, but it made him indeed the greatest juggler of his time.
Suggested Reading
Karl-Heinz Ziethen, Enrico Rastelli und die besten Jongleure der Welt: Francis Brunn, Sergei Ignatow, Anthony Gatto (Berlin: Die Jonglerie Lüft KG, 1996) — ISBN 3-9801140-9-0
See Also
Image Gallery