Ahmed Ben Ali Zinati
From Circopedia
Acrobat
By Dominique Jando

Morocco is home to one of the world's oldest acrobatic traditions, and Moroccan tumbling troupes have been seen on the European fairgrounds long before Philip Astley invented the circus in 1770. To whatever degree they inspired Astley's first troupe of acrobats is not known, but these acrobats presented tumbling and human pyramids in the manner of Moroccan tumblers—and they may very well have included Moroccans acrobats in the first place. In any event, Moroccan tumbling troupes have been part of the circus practically since its inception, and are still seen in circuses all over the world to this day.
Most of these troupes are assembled for the time of a contract, and disappear at the end of the season (often scattering their members amidst other troupes), but some of them have had a leader talented and enterprising enough to strongly establish their name in the business. In the 1950s, the Ifni Sahara Troupe was one of them. Its "strongman"—the acrobat who served as the main support for the human pyramids—was Ahmed Ben Ali Zinati; this is his story.
Ahmed Ben Ali Zinati was born in Tangier, Morocco, on January 15, 1929. A tall, strong and energetic kid, he exhausted part of his energy boxing at a local gymnasium. However, this was not enough, and the energy he had left helped him make his first steps toward a circus career, as he began practicing acrobatics and tumbling on the beach with a group of friends—some of whom would also later embrace a life in the circus, and sometimes work with him.
From the Boxing Ring to the Circus Ring
In 1949, Tangier was still an international zone controlled by Spain, France and the United Kingdom, and its proximity to the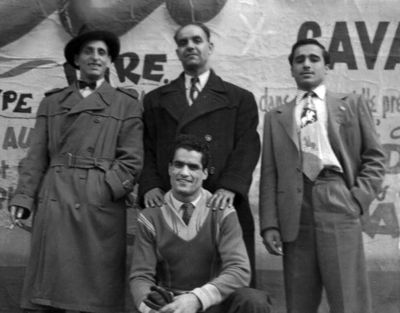 European continent across the strait of Gibraltar made it an important tourist and business destination—not to mention a bustling espionage hub. If espionage was indeed part of the local industry, the city's touristic vocation made it an active show business center, and it attracted impresarios from all over the world; one of them spotted Ahmed, who was then twenty, and offered him a contract with a Moroccan tumbling troupe working in Europe. This was the beginning of Ahmed's circus career.
His acrobatic abilities combined with his size and strength made him an ideal bottom man in the building of the traditional human pyramids that opened Moroccan troupe's acts, especially for the spectacular feat in which one man—Ahmed in our case—supported alone up to eight of his partners. His first troupe leader was Ben Bachir, known as "El hombre de goma" ("the rubber man") for his contortion act; the troupe was called, in French, "La Troupe Chérifienne." (Most of Morocco was then a French colony.)
Then Ahmed went to work with the Ben Ali Troupe (whose leader, Ben Ali, was not related to Ahmed Ben Ali Zinati.) In 1951, they were appearing at the Teatro Smeraldo, in Milan with the Circo-Revista Palmiri, where Ahmed met and fell in love with Giulia Ferrari, who would "run away and join the circus" to marry him. Eventually, Giulia became a showgirl, participating in the "specs" and occasionally riding elephants. Together, Ahmed and Giulia had four children, Fatima, Roberto, Zohra and Karim.
In time, the Ben Ali Troupe became known as the Ifni Sahara Troupe. In the 1950s, they appeared in some of Italy's leading circuses, such as Circo Americano and Circo Palmiri, as well as at Paris's legendary Cirque d'Hiver, before signing a contract with England's largest circus, Billy Smart's Circus, where they performed until 1956.
At the end of the 1956 season, Ahmed and his wife retired from performing to take care of their growing family. They settled in Varese, at the northeast of Milan, Italy, and Ahmed took a job in a moving company. Ahmed Ben Ali Zinati passed away on July 26, 2008, at the age of seventy-nine.
Image Gallery