Alfred Beautour
From Circopedia
Cat Trainer
By Dominique Jando

Alfred Beautour (1924-2014) was a well-known leopard trainer in Europe, where he was active as such from 1956 to 1989. Also known as Fred or Fredo Beautour, he was born September 23, 1924 in Bourg-Achard, near Rouen, France, the scion of an old French circus family whose origins date back to the mid-19th century. His father, Adolphe (known as Henri, but whose full name was Emile Stanislas Adolphe), managed a medium-size circus known before WWII as Australian Circus, Cirque Canadien, or Cirque des Alliés, and after the War as Britannic Circus, then under a succession of titles before ending in 1959 as Cirque Continental
Adolphe's three sons participated in the family show in various capacities; Alfred began as an acrobat, eventually developing a horizontal bar act. In time, the three Beautour brothers became animal trainers of great reputation: Lucien had a popular chimpanzee act that he presented with his wife as Luc et Bella, and Emilien, who was gifted with a great personality in the ring, created a very successful tiger act that he presented with a good dose of humor as Tarass Boulba.
Leopard Trainer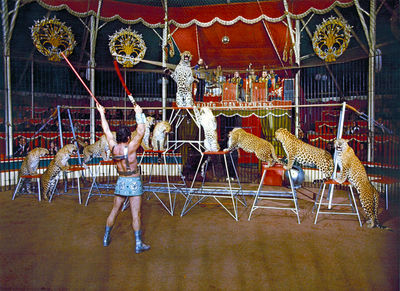 On November 10, 1951, Fredo Beautour married Yolande
Prin
, who came also from an old French circus family, allied since 1948 to the
Bougliones
, France's most prominent circus dynasty. It is at about that time that Alfred began to work with a group of lions, which he presented "
en férocité
(French) In a cage act, the presentation of big cats in a confrontational mode, stressing their dangerous nature — as opposed to ''en douceur''.
" at the Britannic Circus with much roaring and whip cracking, under the name of Fred Jackson—wearing a "Tarzan" loincloth in the fashion made famous in Europe at that time by
Gilbert Houcke
.
Yet it is the group of leopards he acquired in 1955 (and whose composition obviously changed over the years) that truly made his reputation in the circus world. Leopard acts were (and remained) much less common than tigers, lions, and mixed animals acts, and Fredo Beautour's act soon became in high demand. He left the family circus and was featured over the years in several of Europe's major circuses—notably in France, Spain and Germany. He occasionally presented other cats, notably a group of tigers in Spain in the 1960s, but his specialty remained leopards.
In 1987, he participated in the International Circus Festival of Monte Carlo, where he received the Prix Henry Thétard, a prize awarded by the French Club du Cirque to outstanding cat trainers. It was a perfectly timed recognition, since Fredo Beautour's career in the cage was reaching an end. In 1989, he sold his leopards to the Italian Circo Wegliams of the Formisano family, where they were presented for several years by Pascale Formisano. Then sixty-five years old, Alfred Beautour retired from the ring, and began to enjoy a quiet sedentary life in his home, at Ambarès-et-Lagrave, a suburb of Bordeaux. He passed away in his home, on February 17, 2014 at age ninety.
See Also
Image Gallery