Aurelia Cats
From Circopedia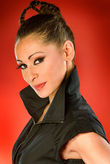 Aerialist, Contortionist
By Dominique Jando

Aurelia Cats was born on July 12, 1979 in Ares, France. Her mother was a schoolteacher, her father, a mechanic—nothing much to do with the circus. At age eight, however, Aurelia enrolled in the children's program of Annie Fratellini's Ecole Nationale du Cirque in Paris. There, she found her true vocation. By age ten, she had already won the K d'Or (first prize) at the Festival Première Rampe in Monte Carlo, the youth circus version of the International Circus Festival of Monte Carlo.
Aurelia was trained in every discipline related to the circus—from acrobatics to horse vaulting—by a series of brilliant circus instructors, including Enzo Larible, Davis Bogino, Claude Victoria, Lucio Nicolodi, Manolo Dos Santos, Enzo Cardona, and [[The Caroli Troupe]|Domenico Caroli]]. It was Pauline Palacy and Sacha Dubrovsky, however, who made her an aerialistAny acrobat working above the ring on an aerial equipment such as trapeze, Roman Rings, Spanish web, etc..
Aerialist, Producer, TV Personality
Aurelia made her professional debut in 1993, when she was fourteen years old, working in Annie Fratellini's shows. Two years later (1995), she participated in the Festival Mondial du Cirque de Demain in Paris, where she won the Gold Medal in the Cirque de l'Avenir category (for performers sixteen years old and under); she also won the Silver Medal at the Festival of Riva del Garda in Italy. The following year, she won the Gold Medal at the Festival Cirkus Prinsessan in Stokholm.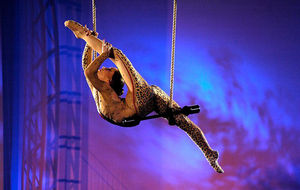 These early successes were just the beginning of a brilliant career, one that took her from circus to theater, from
varieté
(German, from the French: ''variété'') A German variety show whose acts are mostly circus acts, performed in a cabaret atmosphere. Very popular in Germany before WWII, Varieté shows have experienced a renaissance since the 1980s.
to television. Aurelia has been featured at
Cirkus Scott
in Sweden; in Paris at the
Cirque d'Hiver
-Bouglione, the Casino de Paris, the Olympia Music-Hall, and the Lido (as an original cast member of the revue
Bonheur
, which opened in 2003); in Germany at TigerPalast, Wintergarten, Apollo, and Palazzo; in Seattle and San Francisco at
Teatro ZinZanni
; and in special events for
Cirque du Soleil
. Additionally, she has appeared in her own productions in Asia and Australia. She has also been featured in several European TV shows—including Mireille Dumas's
Aurelia Cats
in France—and in 2008, she was a judge on the NBC TV series
Celebrity Circus
, in the United States.
Aurelia Cats resides in Switzerland. Although she continues to perform, she also manages a production company, Art Vision with the award-winning juggler, Viktor Kee, as well as a talent agency. She has sit on the juries of the Festival Mondial du Cirque de Demain (2005)—she was also a special guest artist for its 35th anniversary edition in 2014—and the International Circus Festival of Monte Carlo (2008). In 2013 she was given an entry in the Dictionnaire universel des créatrices (Paris, Editions des femmes) as the creator of a new trapeze style. (The book was a project supported by the UNESCO.)
See Also
Suggested Reading
Antoinette Fouque, Béatrice Didier, Mireille Calle-Gruber and Collective, Dictionnaire universel des créatrices [3 volumes] (Paris, Editions des femmes, 2013) — ISBN 9782721006318
Image Gallery
External Links