Barry Lubin
From Circopedia
Clown
By Dominique Jando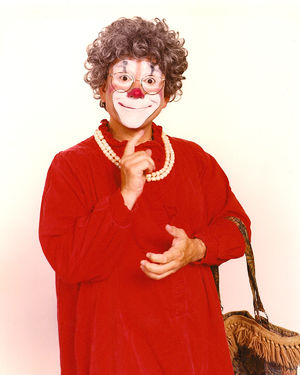 For a quarter of a century, Barry Lubin, better known as
Grandma
, his clown persona, has been the iconic face of the
Big Apple Circus
. Although his career began and continued with other circuses in the U.S. and in Europe, to many New Yorkers and Bostonians in particular, Grandma
is
the Big Apple Circus. Many felt a strong sense of loss when he bid farewell to the Big Apple Circus's audiences in 2012: They had laughed at Grandma's antics when they were children, and in turn, their own children were growing up laughing with Lubin's beloved character. Thankfully, he returned to the Big Apple Circus for its Lincoln Center revival season in 2017.
Barry Lubin was born July 3, 1952 in Atlantic City, New Jersey, the son of Edythe Weinberg Lubin, a homemaker, and George Simon Lubin, an audiovisual engineer. Barry nurtured hopes of becoming a television director, but the social turmoil of the late sixties and early seventies led to a period of self-questioning—as indeed it did for many disappointed youths at the time.
When a friend of Barry's applied for Ringling Bros. and Barnum & Bailey Clown College, a new, offbeat learning institution, Barry decided to go along and audition with him. To his surprise, he was among the 48 applicants that were accepted that year (along with Bill Irwin, and Barry's occasional partner, Dick Monday). After eight weeks of training, Barry graduated and was hired by Ringling Bros. and Barnum & Bailey: The college, which was in effect a training program for the show's Clown Alley, principally taught its students how to become a "Ringling clownGeneric term for all clowns and augustes. '''Specific:''' In Europe, the elegant, whiteface character who plays the role of the straight man to the Auguste in a clown team.," able to work efficiently in the specific context of The Greatest Show On Earth.
Enter Grandma
Barry created his Grandma character at the Ringling Bros. winter quarters in Venice, Florida. Not strong on physical skills, Barry had to come up for the show with character that could stand out by itself. The "little old ladies" who strolled the boardwalk in Atlantic City—including Barry's own grandmother—provided the inspiration. Thus Grandma made her debut on January 1, 1975 in The Greatest Show On Earth, where Barry performed until 1979 in both its Blue and Red units. In 1977, he was invited to participate in the Fourth International Circus Festival of Monte-Carlo, an experience that was not a success, but which nonetheless gave him a first taste of the traditional one-ring format, a very different setting for an American clown used to working anonymously is giant arenas.
From 1980-82, Barry teamed up with Dick Monday. Together they created and performed variety comedy shows: A Couple Guys Who Gotta Do A Show (Los Angeles) and Pass The Popcorn (Off-Broadway, New York City). Then in 1982, Barry joined the then burgeoning Big Apple Circus, where, over the years, Grandma would become the iconic image of the celebrated New York-based one-ring circus. In 2001, Barry also became the show's Director of Clowning and Production Consultant.
When not on tour with the Big Apple Circus (in time, he trained understudies to keep Grandma on the show during his absence), Barry starred on other shows in the U.S., and started working in Europe, where he has notably been featured at Circus Krone in Munich, Germany, and at the Fővárosi Nagycirkusz in Budapest, Hungary, in 2014. He also participated in the 2006 International Circus Festival of Budapest (Moscow's Bolshoi Circus Award), and returned to the International Circus Festival of Monte-Carlo in 2008, where he received the Bellini Award.
A New Era
Barry's last appearance with the Big Apple Circus was in its 2011-2012 production of Dream Big at New York's Lincoln Center. Afterwards, he didn't go on tour (he was replaced by his understudy, Mark Gindick), and then moved to Europe and settled in Stockholm, Sweden, with his companion, Ann. In July 2012, they premiered their stage show America Meets Sweden to sold-out houses in Stockholm. Barry continued to work between Europe and the United States, whether in the ring or onstage, and in various festivals in Europe and Asia, notably at the Zhuhai International Circus Festival in China, in 2015; he finally returned to the United States in 2016. In October 2017, Barry returned to the Big Apple Circus, now under a new management, as its beloved iconic clownGeneric term for all clowns and augustes. '''Specific:''' In Europe, the elegant, whiteface character who plays the role of the straight man to the Auguste in a clown team., Grandma. This would mark his final appearance in the ring.
Over the years, Barry Lubin was featured in the movies Big Top Pee-Wee and My Life and has appeared in several TV shows, including four appearances on the Late Show With David Letterman. His directorial credits include comedy segments for music videos on MTV, the Snappy Dance Company in Boston, and CBS's Circus of the Stars. He was also a creative consultant for NBC's long-running sitcom, Cheers. His proudest accomplishment, however, remains his successful headstand on a whoopee-cushion on the illustrious stage of Carnegie Hall in New York City.
Barry Lubin was inducted into the International Clown Hall of Fame in 2002, and was presented the first Lou Jacobs Lifetime Achievement Award by ClownAlley.net in 2007. In January 2012, he name was enshrined into the St. Armands Circle Ring of Fame in Sarasota, Florida, which honors America's circus greats, and in July 2016, he was inducted into the Circus Hall of Fame in Peru, Indiana.
Suggested Reading
See Also
Image Gallery