Ben Williams
From Circopedia
Elephant Trainer
By Dominique Jando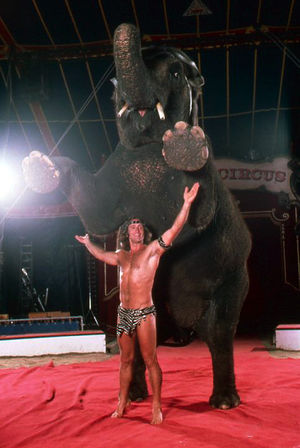 Ben Harold Williams (1953-2009) was born January 18, 1953 in Fort Worth, Texas, the son of
aerialist
Any acrobat working above the ring on an aerial equipment such as trapeze, Roman Rings, Spanish web, etc.
Barbara Ray and elephant trainer
Rex Williams
. His parents divorced. When Barbara married another elephant trainer, the legendary
Bill "Buckles" Woodcock
, Ben began working with Buckles's star elephant, Anna May, a remarkably gifted Indian Woodlands elephant that Buckles had purchased from a circus in 1951 when she was five years old. By then, Anna May was thirteen, and Ben, six.
When not traveling with his parents, Ben went to school in Ruskin, Florida—the Woodcocks' hometown—where he became president of the National Honor Society. A bright student, he was offered a scholarship for the University of South Florida, but he chose to go back to the circus instead, and to continue working with elephants.
Ben appeared for the first time on television with Anna May, on the Ed Sullivan Show when he was eleven years old. Eventually, Buckles and Barbara Woodcock helped Ben develop a fast-paced duet with Anna May, to which Barbara added a leopard named Odin. "Ben Williams and Anna May" became one of the most successful and original elephant acts in America.
Ben Williams & Anna May
The bond between Williams and Anna May was intense. When in 1982, Anna May accidently killed a woman who had sneaked into her trailer, Ben fled with his elephant partner, fearing that she would be killed by the authorities—unfortunately not an uncommon practice in this type of incident. Convicted of leaving the scene of an accident (he was originally charged with murder), Ben spent two weeks in jail—but Anna May survived the ordeal unharmed.
Like the rest of the Woodcock family, Ben worked in all major American circuses. In 1978-79, he was featured with Anna May in the 108th edition of Ringling Bros. and Barnum & Bailey's Greatest Show On Earth. In 1982-83, Ben Williams and Anna May were featured in the Big Apple Circus's second holiday season at Lincoln Center, inaugurating a long association between that circus and the Woodcock family.
Williams, with Anna May and other Woodcock elephants, subsequently performed with the Big Apple Circus in several productions through 1994. Starting in 1989, his presentations often included his wife, Darlene, a former Ringling showgirl, and their two daughters, Stormy and Skye. Shortly after his final engagement with the Big Apple Circus in 1994, Ben retired from performing, and he and his family settled in Ruskin, Florida. He died of a gastrointestinal cancer on October 2, 2009 in Tampa, Florida; he was fifty-six years old. His partner, Anna May, had died in 2004, at age 57. Beside his daughters Stormy and Skye, Ben Williams had a son, Shane, and a daughter from a first marriage, Jennifer Williams Doby.
See Also
Image Gallery