Difference between revisions of "Billy Smart"
From Circopedia
Line 59:
Line 59:
 

Image:Billy_Smart.jpg|Billy Smart in his caravan (c.1960)

 

Image:Billy_Smart.jpg|Billy Smart in his caravan (c.1960)

 

File:Billy_and_Olga_Smart.jpg|Billy Smart and daughter-in-law, Olga Smart (c.1960)

 

File:Billy_and_Olga_Smart.jpg|Billy Smart and daughter-in-law, Olga Smart (c.1960)

−

File:Yasmine_Margaret.jpg|Billy and Yasmine Smart with Princess Margaret (c.1963)

+
 
+

File:Yasmine_Margaret.jpg|Billy and Yasmine Smart with Princess Margaret ()

 

File:Smart's_elephants.jpg|Elephants on Parade (c.1965)

 

File:Smart's_elephants.jpg|Elephants on Parade (c.1965)

 

File:Billy_Smart_and_kids.jpg|Billy Smart and Kids (c.1965)

 

File:Billy_Smart_and_kids.jpg|Billy Smart and Kids (c.1965)
---
Revision as of 20:41, 18 September 2023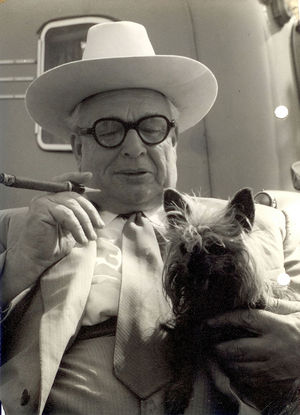 Circus Owner and Impresario
By Dominique Jando

A larger-than-life character, Billy Smart (1894-1966) was born William George Smart on April 25, 1894, in a family of 23 children. His father had owned a small furniture moving company in West Ealing, England, but business must have been bad (not to mention the hardship caused by trying to provide for his huge family), or perhaps Mr. Smart, Sr. had a longing for adventure, for at age 15, young Billy was operating his father's hand-cranked merry-go-round on a fairground at Slough.
Billy Smart's Funfair
This was apparently his debut as a showman, although he may have been traveling with his father since early childhood. Billy Smart married his wife, Nelly Rigby, later known as "Doll" or "Dolly," in 1925, and then embarked in his own funfair venture (what Americans call a "carnival"). Success didn't come immediately: at times, he had to moonlight to make ends meet, and on one occasion, his fellow funfair entrepreneur (and future leisure industry magnate), Billy Butlin, helped him out, which resulted in a lifelong friendship.
Hard work paid off however, and by the late 1930s, Billy Smart owned one of Great Britain's most important traveling funfairs, with about ten rides and several other attractions, some of which participated in the spectacular indoor funfair that ran at London's Olympia during the Christmas season in conjunction with Bertram Mill's Circus. Billy Smart was a true showman: his enterprise was by no means a vulgar carnival, but a well managed operation, with attendants in resplendent uniforms, colorful rides, and brightly painted trucks.
His name was displayed prominently everywhere, and it soon became a guarantee of quality family amusement. The secret of his financial success was also his huge family: his numerous children—he had ten, Peggy, Ena, Ronnie, Hazel, Penny, Phyllis, Dolly, David, Billy, Jr., and Rosie—covered in due time all positions within the organization where money had to be handled. During the second World War, Billy Smart did his best to keep the home front's morale high; he also continued the charity work he had started when his had become a household name.
Billy Smart's New World Circus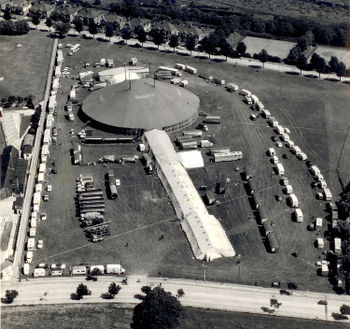 A horse lover since childhood, Billy Smart had long caressed the dream of having his own circus. He saw the perfect opportunity in the spectacular boon the British entertainment industry experienced immediately after WWII. In 1946, he purchased a second-hand circus tent, all the necessary equipment to go with it, and the
Billy Smart's New World Circus
became the latest addition to Billy Smart's funfair.
It gave its first performance on April 5, 1946 at Southall Park, Middlesex. By 1952, the funfair, which had been increasingly overshadowed by the circus, disappeared to leave room for a bona-fide menagerie. Three years later, the two-poler was replaced by a giant 6,000-seat, four-pole, round big topThe circus tent. America: The main tent of a traveling circus, where the show is performed, as opposed to the other tops. (French, Russian: Chapiteau), with a hippodrome track around the ring, in the manner of the old pre-war German giant, Circus Sarrasani, and a vast entrance tent. The hippodrome track allowed the staging of parades, Wild West presentations and spectacles, which became a Billy Smart's Circus trademark.
In just a few years, it had become one of the largest circuses in Europe; in 1960, its menagerie carried more than 40 horses, 15 elephants, and a large variety of exotic and wild animals. For the winter season, Billy Smart also produced sedentary shows, in theaters first, then in halls such as Bingley Hall in Birmingham, and Queen's Hall in Leeds, and he rented out his animal acts to other winter shows.
On October 28, 1958, the circus pitched its tents at Slough, the place of Billy Smart's humble beginnings as a merry-go-round operator, where the popular director celebrated his fifty years as a showman for a BBC television special. The BBC started broadcasting television specials from Billy Smart's Circus in 1947; over the years, Billy Smart's Christmas Spectacular would become a BBC Holiday tradition, which ITV took over in 1979 and carried on until 1982.
Billy Smart's Legacy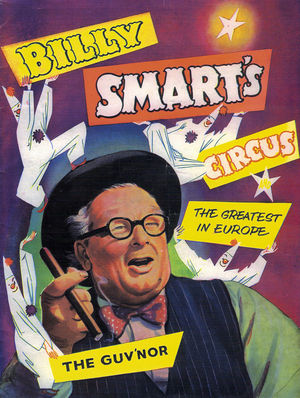 A man of imposing stature, with his large Stetson hat, his inevitable cigar and his unique flair for self-promotion and publicity, Billy Smart was a colorful character, a generous philanthropist, and a family man with a dry sense of humor who enjoyed a good parade and a rousing brass band—both of which were indeed prominent features of his circus. On September 25, 1966, Billy Smart was conducting the Romford Boys' Band in front of his mammoth circus tent, which had been set up in the morning at Ipswich for a two-week stand. Several thousand people enjoyed the concert, a typical Billy Smart's publicity stunt. Then he returned to his luxurious "Royal Windsor" caravan for a cup of tea, and collapsed: the Guv'nor, as he was popularly known in his circus, had given his last performance.
Sir Billy Butlin, his old friend from his fairground days, said to the press that Billy Smart "was the greatest showman of his time—and probably the last of the great showmen." Under the management of his sons, Ronnie, David and Billy, Jr., The Billy Smart's New World Circus survived his founder as a traveling circus for only five years: by 1970, new economic conditions didn't allow a circus to survive on such a gigantic scale in Great Britain, and the giant folded its tents in 1971.
A smaller-scale Billy Smart's Circus was revived in 1993 by Ronnie Smart's sons, Gary and Lord Smart; it didn't survive very long. The name was later rented out to circus operators, but it never met with great success. Billy Smart had had the right vision at the right time, and his name remains associated with his vision. Indeed, there will never be another Billy Smart, neither another Billy Smart's New World Circus true to his creator's dream. Somehow, the public knew it...
Suggested Reading
Pamela Macgregor Morris, Spinners of the Big Top. London, Chatto & Windus, 1960.
David Jamieson, Billy Smart's Circus, A Pictorial History. Buntingford, Aardvark Publishing, 2004. (ISBN 1-872904-26-2)
See Also
Image Gallery