Difference between revisions of "Billy Smart Jr"
From Circopedia
Line 1:
Line 1:
 
+
 

==Circus Director and Animal Trainer==

 

==Circus Director and Animal Trainer==

 
 
---
Revision as of 20:46, 28 September 2022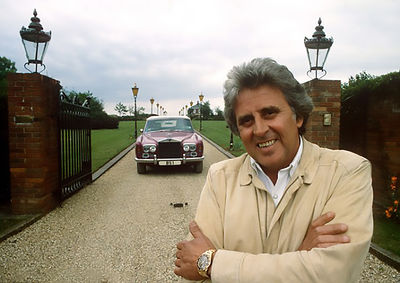 Circus Director and Animal Trainer
By Dominique Jando

Born Stanley Smart on October 15, 1934 in a fairground trailer, Billy Smart, Jr. (1934-2005) was the youngest son of the legendary British funfair and circus entrepreneur Billy Smart. Billy Junior made his debut in show business in 1946, at age 12, working as assistant to Equestrian Director Frank Foster in his father's newly founded Billy Smart's New World Circus. The following year, billed as "Cowboy Billy," he presented a pony, called Rajah, thus beginning a long career as an animal trainer in his family's circus.
Smart was actually the only one of Billy Smart's three sons to pursue a career as a performer. His taste for fast living showed early: in the liberty act, which he presented a little later, his twelve Welsh ponies were each named after a liquor. He also performed in high-school acts, notably with his sister Rosie and the circus's equestrian stars, Manja and Josi Vinicki. In the early 1950s, he took over the presentation of Billy Smart's Circus's growing herd of elephants, eventually working with up to twenty performing pachyderms. He was also featured with his elephants in other winter shows: Tom Arnold's Mammoth Christmas Circus at Harringay, Belle Vue Circus in Manchester, Kevin Hall Circus in Glasgow, and in a huge show produced at the Palais des Sports in Paris by Jérôme Medrano in December 1956. That same year, Smart was featured in the family circus's traditional Wild West presentation as Davy Crockett, the American frontier hero whose popularity, thanks to the Walt Disney movie Davy Crockett, King of the Wild Frontier (1955), had never been greater.
From The Movies To The Royal Windsor Safari Park
Smart appeared in two Royal Command Performances and was seen in three motion pictures shot at Billy Smart's Circus, Circus of Horrors (1960), Berserk!, with Joan Crawford (1967), and Circus of Fears (1967), with Christopher Lee—three B movies that used Billy Smart's Circus simply as background. His association with movies didn't stop there: he had a well-publicized liaison with Diana Dors and Sabrina, the British bombshells of the 1960s, and Jayne Mansfield, who appeared in his elephant act for a charity event. Another of his famous liaisons was with pop singer Shirley Bassey.
After a life of nightclubbing and partying, Smart eventually settled down and married Hanna Magel, an airline flight attendant, in 1973. After Billy Smart's Circus folded its tents in 1971, Billy Junior performed with his elephants on occasional episodes of Billy Smart's Circus TV, but an injury to the optical nerve during cosmetic surgery in 1978 ended his performing career.
In 1969, Smart began developing, in association with his brothers, Ronnie and David, the Royal Windsor Safari Park near Windsor. The park was sold at a high profit in 1977 (today it has become Legoland), and the Smart brothers sold what remained of their company's assets in 1986. Afterward, Smart developed real estate in England and Spain. He owned homes in both countries, as well as in the U.S. and Monaco.
When his brothers revived Billy Smart's Circus in 1993, Smart declined to take part in the project. He passed away on May 23, 2005 in London. His two children, Billy Jay and Baccara, do not work in show business.