Coco
From Circopedia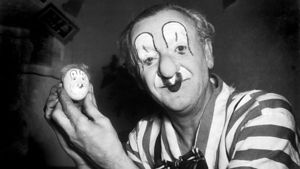 Clown
By John V. Ward

The clown Coco (1900–1974) was arguably, in the middle of the twentieth century (roughly from 1930 to 1970), the most recognizable augusteIn a classic European clown team, the comic, red-nosed character, as opposed to the elegant, whiteface Clown. in the British circus world, and for most of the same period, an iconic figure of Britain's premier circus at the time, Bertram Mills Circus. In addition to his professional work, he was also noted for his charitable activities and his commitment to children's wellbeing, for which he was made an Officer of the Most Excellent Order of the British Empire (OBE).
From Nikolai Petrovich Polyakov To Coco
His legal English name was Nicholai Polakovs (sometimes rendered as Poliakoff or Poliakov), but his original Russian name was in all probability Nikolai Polyakov—or Nikolai Petrovich Polyakov, to be complete, adding his father's name in a patronymic form according to Russian practice. He was born on 5th October 1900 in a poor Jewish family in Dvinsk (today Daugavpils), in southwestern Latvia, which was then part of the Russian Empire. He had seven brothers and sisters.
Nicholai's father, Piotr, was a cobbler who supplemented his scanty income by working as a property master in a local theatre. The family lived in a state of constant poverty, which surely didn't improve when Piotr was drafted in the Imperial army during the Russo-Japanese war of 1904-1905. To help perk up his family's miserable condition, five-year-old Nicholai took to singing in cafés, begging for a few scraps of food. It was a debut of sorts in show business—and indeed, Nicholai liked the attention it gave him.
At eight years old, in 1908, he "ran away and joined the circus," as the saying goes. He travelled 300 miles by train to Vitebsk, in Bielorussia (today Belarus), where he persuaded a circus owner to give him a job, telling him that he was an orphan with no one to look after him. The director bought his story and placed him under the charge of Vitaly Lazarenko (1890-1939), a clown and acrobat who would become a major circus star in the Soviet Union after the Communist revolution.
Nicholai assisted Lazarenko in his clown act and pleased him so much that Lazarenko wanted to take him on permanently. He explained Nicholai that his son had died of a fever, and his wife had died in a trapeze accident. He was lonely and would like to adopt Nicholai as his son. However, when it came to drawing up the legal papers for adoption, Nicholai feared his true parentage would be revealed and he would be arrested. In desperation, he ran away from the circus and returned home.
Nicholai eventually persuaded his father to allow him to follow a circus career, and he was apprenticed for four years to Rudolfo Truzzi (1860-1936)—son of Massimiliano Truzzi, the founder of the great Russian circus dynasty of Italian descent. With Truzzi, Nicholai studied the fundamentals of acrobatics, trapeze, horse riding, and an array of circus disciplines. Russians are particularly fond of nicknames, and Nicholai was called Kokishka by Truzzi, a diminutive of "koshka" (cat in Russian), which in time became abbreviated to Koko—and rendered as Coco when Nicholai arrived in the UK.
In 1915 Nicholai Polakovs was enlisted in the Imperial Army, where he served as an outrider with the 11th Siberian regiment. Then came the Russian Revolution of 1917; Nicholai was captured by the Bolsheviks, but he managed to escape and rejoin his regiment. During the ensuing Civil War, he was conscripted by the Red Army, escaped—only to be conscripted again by the White Army and escape again, disguised as a girl in a troupe of Mongolian travelling entertainers. Finally, when the political situation began to settle down, he returned to work in the circus.
Nicholai was performing in Riga in 1919 when he met Valentina Novikova (1901–1983), a shopkeeper, whom he married in June of that year, and with whom he would have six children: Helen, Michael (1923-2009), Nadia, Sascha, Olga, and Tamara. In the 1920's, he worked for the newly created (in 1919) Soviet state circus organization, and travelled in the Soviet Union from one circus building to another. By 1926 he had his own circus collective, a small but lively troupe of twenty based in Lithuania. There he had the misfortune to sustain an injury during an act that involved balancing a samovar of boiling water on his forehead. Badly burned, he spent several months in hospital and his troupe broke up.
Before WWII, Soviet performers were still allowed to work in Western Europe. In 1929, Nicholai performed at Circus Busch in Berlin (and took the time to do a cameo in Karl Grune's film version of Carl Zuckmayer's play, Katharina Knie). There he was spotted by Willy Schumann, who served in the winter season as Equestrian Director (i.e. performance director) for the Bertram Mills Circus at London's Olympia. Schumann suggested Nicholai to Bertram W. Mills for the Christmas circus Mills was to stage at Manchester City Hall—the one and only time the showman ever had a second Christmas show in addition to his London show.
Coco At Bertram Mills Circus
Thus Nicholai first appeared for Bertram Mills in Manchester from 21st December 1929 to 18th January 1930. He evidently pleased Bertram Mills for he was offered a contract for the new touring circus Mills was launching the following spring under the management of his sons, Cyril and Bernard. This turned out to be the beginning of a thirty-seven-year association with the Mills circus.
Polakovs brought his wife and two eldest children to the UK at Easter 1930 for the opening of the Bertram Mills Circus' inaugural touring season. Coco proved a huge success as a slapstick
clown
Generic term for all clowns and augustes. '''Specific:''' In Europe, the elegant, whiteface character who plays the role of the straight man to the Auguste in a clown team.
—especially among children—with very visual entrées featuring large amounts of water and paste. Over the years, he developed an
auguste
In a classic European clown team, the comic, red-nosed character, as opposed to the elegant, whiteface Clown.
persona recognizable to a pair of enormous boots (described as being size 58), a colourful, oversized suit, a hinged red wig that lifted in order to feign surprise, and a walking stick in the shape of a Belisha beacon.
Coco's contract with Mills was extended, and following the Olympia Christmas season of 1933–34, Nicholai returned to Latvia and brought back his four younger children. It was to be his last journey to his motherland: He made Britain his home, and stayed in the country for the rest of his life. He and Valentina eventually became naturalized British citizens on 21st October 1949.
Bertram W. Mills passed away in 1938. With the outbreak of World War II in 1939, his sons were obliged to close the circus. Polakovs worked for a while as hotel porter, labourer, and pantomimeA circus play, not necessarily mute, with a dramatic story-line (a regular feature in 18th and 19th century circus performances). performer during the Christmas season, before enlisting in the Pioneer Corps. Here, he arranged shows at the garrison theatre at Sandwich, Kent. He was invalided out of the army with a damaged lung and arthritis on 8th August 1941, and then worked for ENSA, performing for the troops with his son Michael.
In 1942 Coco and Michael were engaged at the Blackpool Tower Circus, for the Easter and summer programmes, and were joined there in 1943 by Nicholai's daughter, Tamara. They appeared at the Tower Circus each summer and Easter until 1946, performing along the French resident clowns, the Cairolis. The wartime winter seasons were spent at the King's Hall Christmas Circus at Belle Vue, Manchester, or with Tom Arnold's stage circus.
After the end of World War II, in 1946, Bertram Mills Circus reopened and Coco returned. He appeared on tour for every summer season until the closure of the touring show in October 1964. In the winter, he performed with Mills at the Olympia in London, from 1947–48 until the last Christmas show in the winter of 1966–67. He became the foremost member of the Mills' resident clown team, working first with his children Michael, Sascha and Tamara, until they left to join Billy Smart's Circus in 1951. (Michael went to work in the U.S. in 1953, and settled there). Coco also performed with Percy Huxter, Alby Austin, and Jackie Sloan, other fixtures of the Mills clown team.
In 1953, Polakovs suffered the first of a series of misfortunes. In January of that year, he was adjudicated bankrupt, due to arrears of taxes. After news of his insolvency was published, he received hundreds of contributions from children who sent sixpences and shillings to alleviate his perceived poverty. A few years later, in April 1957, during a performance at Chelmsford, he was knocked over and injured by a vehicle driven by Kam, "the only motoring elephant in the world"—one of Mills's four elephants trained by Joan and Gösta Kruse. He sustained a broken leg, which obliged him to miss a performance for the first time in 25 years.
Then, in 1959, while performing at Aberdeen with the Mills Circus, he was hospitalised in Dundee after being involved in a road accident. He received over 2500 greetings cards at the infirmary. Finally, in the winter of 1961 during the Mills Christmas season at Olympia in London, Coco was bedridden by influenza, but he made a speedy recovery when he was informed that a deputy had taken his place in the show!
Coco, OBE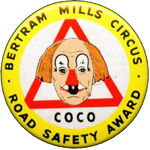 Coco Polakovs was noted for his charitable work. He regularly visited sick children in hospitals in the towns where he was on tour. He also frequently gave performances in schools, lecturing children on road safety. On 15th January 1962, he was the subject of Eamonn Andrews' TV programme
This is Your Life
on BBC Television. Finally, in 1963, he was honoured with the OBE "for services to road safety among children."
From 1963 onwards, road safety became Coco's primary activity. He returned briefly to the circus world in 1974, when he toured with the Roberts Brothers Circus. Sadly during that tour he succumbed to emphysema and bronchitis. He was admitted to the District Hospital of Peterborough, in Cambridgeshire, where he died on 25th September 1974.
Coco Polakovs was buried in the parish churchyard of St Mary, in Woodnewton, a small village in Northamptonshire where the Polakovs lived. On 29th November 1974, a memorial service was held at St Paul's Cathedral in London, which was attended by numerous circus colleagues, and three generations of the Polakovs family. Today, the village of Woodnewton, Coco's resting place, is home to Clownfest, a fundraising event inspired by the legendary augusteIn a classic European clown team, the comic, red-nosed character, as opposed to the elegant, whiteface Clown..
Suggested Reading
Nicolai Poliakoff, Coco the Clown, by himself (London, J.M. Dent & Sons Ltd, 1941)
Nicolai Poliakoff, Behind My Greasepaint (London, Hutchinson & Co., 1950)
David Jamieson, Bertram Mills, The Circus That Travelled By Train (Buntingford, Aardvark Publishing, 1998) — ISBN 1-872904-11-4
Image Gallery