Crystalle
From Circopedia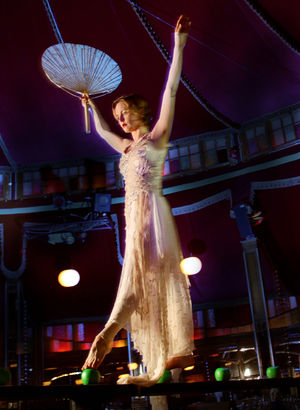 Aerialist, Tight Wire Dancer
By Dominique Jando

Cryzta Bobbe (Crystalle) was born in Hildesheim, southwest of Hanover, in north Germany. Her family was not involved in showbusiness, but there was an obvious artistic and creative streak on her mother side. Her father was an architect, her older sister went on to teach anthroposophy, her 
younger sister became an artist and costume designer, and her brother, a scientist: An interesting family mix.
Cryzta began training in gymnastics at age four, and at age nine, she started taking ballet classes. She thought her first ballet teacher, Gabriella Hogendorf, was by far the most beautiful woman in town—and she still wonders if this was because of her looks or the grace of her movements. But she was a major influence in the future Crystalle's sense of aesthetics.
Since she was living in the middle of a forest, Cryzta had a long commute to school, and spent most of was left of her free time studying ballet and gymnastics. So when she heard that circus schools were beginning to appear in Western Europe, she thought this would be a good way for her to combine her interest in both gymnastics and ballet. But when her father heard of her intention to go to a circus school, he stopped talking to Cryzta for two years! To him, she had chosen "to become a beggar." As a matter of fact, her ballet teacher was equally shocked.
Instead, Cryzta spent one year in a drama school in Berlin. This led her to play the part of a tightwireSee Tight Wire. dancer—an omen, no doubt—in a TV movie. It was the movie's main part, and Cryzta might have had a real talent as an actress, but her true ambition was still to go to a circus school. She finally did so in 1985, when she moved to Paris to attend Silvia Monfort's Ecole au Carré (whose official name was Conservatoire des Arts du Cirque et du Mime, France's—and Western Europe's—very first circus school, created in 1974.)
Apprenticeship
There, the first teacher that really inspired her was Zizi Rascos, with whom Cryzta studied tightwireSee Tight Wire.; she described him as "a pure aesthete, full of musicality." She eventually worked exclusively with him, and also trained in Russian acrobatics technique with Zoltan Szoke and his wife, Silvia Tochabo. Her first trapeze teacher was Lionel Hassin.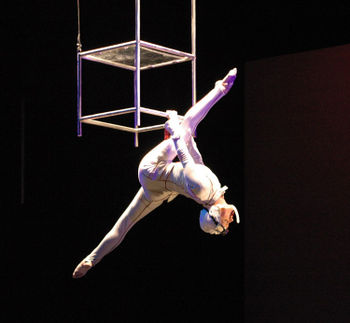 On her third year at school, she performed for a time with Circus Mondial, a small traveling circus, and then worked as an actress during her summer vacation in several movie shorts, also trying her hand as an assistant behind the camera. Back to circus training, she took aerial classes with
Pierre Bergam
at
Annie Fratellini
's
Ecole Nationale de Cirque
, and ballet classes with Yves Casati and Frédéric Lazarelli. Cryzta credits Lazarelli for being "the first ballet teacher who really brought me musicality and pleasure in dance."
Finally she went to Jean Palacy's Ecole de Trapèze Volant. Palacy finalized her acrobatic training on the tightwireSee Tight Wire.—although, as an aerialistAny acrobat working above the ring on an aerial equipment such as trapeze, Roman Rings, Spanish web, etc., it was not his specialty—and taught her swinging trapeze. Then, she went on to work for three years with the Compagnie des Saltimbanques, a French "new circus" company.
In 1994, Cryzta moved to Berlin, where she settled, and from there, she started working extensively in German varieté(German, from the French: ''variété'') A German variety show whose acts are mostly circus acts, performed in a cabaret atmosphere. Very popular in Germany before WWII, Varieté shows have experienced a renaissance since the 1980s., and in special event shows all over Europe. In 1998, she met the English dancer and choreographer Chris Comtesse, who choreographed several versions of her tightwireSee Tight Wire. act, and helped her choreograph her vertical rope act. Comtesse coached Cryzta in modern dance, and helped her develop a real sense of movement—which went beyond the simple use of conventional forms of dance technique.
Dance has become Crystalle's primary influence and inspiring source. She has continued her brilliant career in Europe, creating new presentations of her acts on a regular basis. Since 2002, she has appeared on several occasions in the United States, notably at the celebrated dinner show, Teatro ZinZanni, in Seattle and San Francisco.
See Also
Image Gallery
External Link