Darix Togni
From Circopedia
Circus Owner, Animal Trainer
By Raffaele De Ritis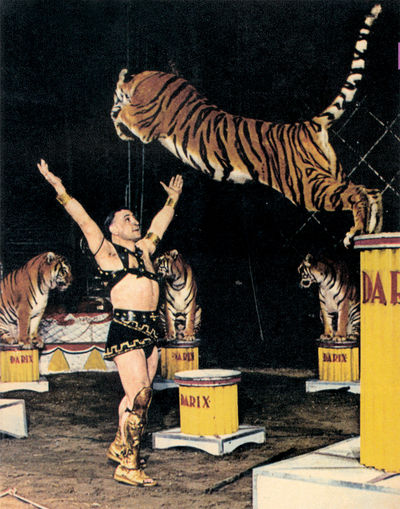 Darix Togni (1922-1976), the son of circus director and clown
Ercole Togni
and his wife Caterina, née Barbera, was the most famous performer of the Togni dynasty, and the first true popular circus star in Italy. He entered the ring at age seven, as a young equestrian in a
voltige à la Richard
act with his sisters Leda and Doly, and then appeared in a Russian dance act with his cousins Wally and Angly. At age fourteen, he was included in the family's
perch-pole
Long perch held vertically on a performer's shoulder or forehead, on the top of which an acrobat executes various balancing figures.
act.
By the late 1930s, he contributed with his brother and cousins to the three popular "house acts" of the family's Circo Nazionale Togni: double flying trapezeAerial act in which an acrobat is propelled from a trapeze to a catcher, or to another trapeze. (See also: Short-distance Flying Trapeze), jockeyClassic equestrian act in which the participants ride standing in various attitudes on a galoping horse, perform various jumps while on the horse, and from the ground to the horse, and perform classic horse-vaulting exercises., and pyramids on horseback. In the following years Darix revealed his remarkable versatility, presenting "liberty"Liberty act", "Horses at liberty": Unmounted horses presented from the center of the ring by an equestrian directing his charges with his voice, body movements, and signals from a ''chambrière'' (French), or long whip." horse acts, and acting as a whiteface clown in a clown act with his brother Wioris, and the circus's midget clownGeneric term for all clowns and augustes. '''Specific:''' In Europe, the elegant, whiteface character who plays the role of the straight man to the Auguste in a clown team., Checco Medori: I Sorellini.
In 1946, an unforeseen event changed Darix's life, and propelled him to circus stardom. The Circo Nazionale's lion trainer having left the circus, Darix took his place and entered the cage after only five days of rehearsals, donning an old gladiator costume he had used in one of his equestrian acts. Italy was in a patriotic mood at the time, and Darix's charismatic presence in the cage reminded Italians of the Roman Empire's glory: The new gladiator surrounded by his lions became a true popular star in no time. By 1950, Darix created a second cage act(English/American) Act performed in a cage, such as lion or tiger acts. with a group of nine tigers.
Circo Darix Togni
In 1953, after the large Togni family had decided to go their separate ways, Darix started a new circus with his brother, Wioris. Since Darix was already a star, they chose to call it Circo Darix Togni. The two brothers revealed to be excellent circus directors, with a special talent for technical innovations, notably in the concept of new tent structures. Their show featured a cast of international circus stars, which they renewed each season.
Darix's tiger presentation became the circus's signature act, with its elaborated props inspired by the Roman era, and the first use ever of a metallic-mesh collapsible cage (conceived by Wioris). Darix developed excellent relationships with the media and political worlds, as well as with his circus colleagues. In 1964, he was the very first circus director to be received in audience by the Pope; King Farouk of Egypt presented him with a group of horses; and circus luminaries such as John Ringling North, Arturo Castilla, Joseph Bouglione, and Cyril Mills were regular visitors at his annual four-month winter stand in Milan.
Darix introduced to Italy many international circus stars, and among his "reprise(French) Short piece performed by clowns between acts during prop changes or equipment rigging. (See also: Carpet Clown)" clowns were the still unknown Romano and Carlo Colombaioni. He also developed important relationships with the movie industry:He was featured in several "peplum" films requiring lions or tigers, such as Richard Fleischer's Barabba (1961), starring Anthony Quinn. In 1959, in a spectacular publicity stunt, Darix replicated Hannibal's march through the Alps with three of his elephants. In 1958, in the midst of the Cold War, the Russian embassy in Italy asked Darix to organize the first Italian tour of the Moscow Circus.
In the early 1960s, after his big topThe circus tent. America: The main tent of a traveling circus, where the show is performed, as opposed to the other tops. (French, Russian: Chapiteau) had been destroyed in Milan in a catastrophic fire, thousands of Italian children sent Darix money to rebuild it. In 1963 he inaugurated a futuristic ten-pole big topThe circus tent. America: The main tent of a traveling circus, where the show is performed, as opposed to the other tops. (French, Russian: Chapiteau), the first quarterpole(American) A support pole placed midway between the main poles and the sidewall of a circus tent.-free circus tent ever built. Taking advantage of his popularity and political connections, Darix also spent a lot of energy trying to improve relationships within the Italian circus community, and with the Italian government. This was a key factor in the establishment in 1968 of the first law designed to protect the circus industry in Italy, the first of its kind outside the Soviet Union.
The Final Years
During the 1960s, Darix's circus adopted the title of Festival Mondiale del Circo, and in 1969, he produced Circo nell'Acqua, with the second half of the show devoted to an aquatic pantomimeA circus play, not necessarily mute, with a dramatic story-line (a regular feature in 18th and 19th century circus performances).. This production toured Sweden under the management of François Bronett, and starred the equestrian presentations of Katja Schumann.
Darix had married Fiorenza Colombo (granddaughter of Elena Fratellini), with whom he had five children: Danila, Livio, Corrado, Davio, and Nevia. In 1976, just after having helped his sons inaugurate their gigantic Jumbo Super Circus, Darix died from leukaemia, at the peak of his fame. On the evening of his death, every circus, movie house, and theater in Italy went dark. A street in Milan was named after him. The Darix Togni title was briefly used by his brother Wioris. It was later revived by Darix's sons and nephews, and a Circo Darix Togni still tours today (as of 2008) Southern Europe, Northern Africa, and the Middle East.
Suggested Reading
Alessandra Litta Modignani, Sandra Montovani, Il circo della memoria (Trento, Publistampa Edizioni, 2008) — ISBN 978-88-902506-7-5
Image Gallery
See Also
External Links