Dmitry Chernov
From Circopedia
Juggler
By Dominique Jando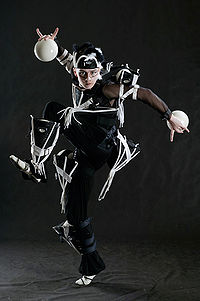 Dmitry Chernov was born in Moscow, Russia, on February 4, 1989, to a circus family. His mother, Galina, born Aleksandrova, had worked as an animal trainer with bears and cows, as an
aerialist
Any acrobat working above the ring on an aerial equipment such as trapeze, Roman Rings, Spanish web, etc.
with a
Washington trapeze
(orig.: "trapèze à la Washington" – French) A heavy trapeze with a flat bar, on which an aerialist performs balancing tricks. Originated by the American aerialist H. R. Keyes Washington (1838-1882).
act, and as an acrobat with her brothers, Viktor and
Yury Aleksandrov
. Dmitry's father,
Valentin Chernov
, was himself a juggler, who specialized in juggling with soccer balls—much more difficult to handle than small balls, rings, or clubs. Dmitry made his first appearance in the ring with his father, during a tour of the
Moscow Circus
, when he was two years old. But his "professional debut" happened two years later, when he shared the ring with
Oleg Popov
, as a miniature version of the legendary Russian
clown
Generic term for all clowns and augustes. '''Specific:''' In Europe, the elegant, whiteface character who plays the role of the straight man to the Auguste in a clown team.
.
That same year, Dmitry made his debut as a juggler in his parents' juggling act. He performed with them all over the world from 1993 to 2004. In 1998, he participated in Liana Orfei's Golden Circus Festival in Italy, where he won the Public Award. He made his solo debut in 2002, at the old "Circus on the Fontanka" in St. Petersburg. That same year, he won the "Best Young Juggler Award" at Moscow's Juggling Convention. This was followed by a contract with Russia's premier circus, Circus Nikulin in Moscow: At age thirteen, Dmitry was a full-fledged professional artist.
His present juggling act (as of 2012), Shaman, was created in 2004 and premiered in Circus Nikulin's production of Monsters' Island. In 2006, Dmitry presented Shaman at the 27th Festival Mondial du Cirque de Demain in Paris, where he was awarded a Silver Medal. One week later, he won silver again at the Festival Première Rampe in Monte Carlo. Back in Moscow, he established a juggling record by juggling seven soccer balls (with thirteen throws)—a feat that was duly recorded on video. The following year, he won a Bronze Elephant at the 5th International Youth Circus Festival in Moscow, followed in 2007 by the Europe Prize at the International Circus Festival of Budapest in Hungary.
Dmitry continued to perform for Circus Nikulin, either at home or abroad. While touring in Japan in the summer of 2011, Dmitry Chernov established a new juggling world record by juggling nine soccer balls (in one flashIn juggling, to flash is the act of juggling objects in a move that is sustained for only a very short time.), a feat that was also recorded on video. That same year, Dmitry made his American debut in the Big Apple Circus production of Dream Big. In addition to his performing, Dmitry has formed his own creative circus studio, Chernov Creation.
See Also
External Link
Image Gallery