Duo Adamo
From Circopedia
ANDREW ADAMS & ERIKA GILFETHER — Aerial Straps
By Dominique Jando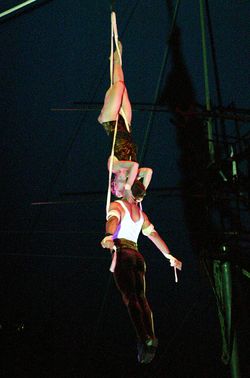 Andrew Adams and Erika Gilfether met in 1999 in Chicago, Illinois, while working with The
Midnight Circus
, a famous local circus/theater company. Andrew had just graduated from Bates College with a degree in Theatre, and he had spent the previous seven summers touring New England with
Circus Smirkus
, a youth circus based in Vermont. At Smirkus, he was trained by Zina & Vladimir Avgustov, graduates of Moscow's
Sate College for Circus and Variety Arts
, and Chimgee Haltarhu, of the Mongolian State Circus. He developed skills in
aerial straps
Pair of fabric or leather straps used as an apparatus for an aerial strap act.
, Chinese pole, and juggling.
Trained in ballet since childhood, Erika graduated from New York University's Tisch School of the Arts with a degree in dance. Prior to meeting Andrew, she had danced at the Kennedy Center and the Brooklyn Academy of Music, among many other theaters large and small. For three seasons, she had performed with Chicago-based Jan Erkert and Dancers, with whom she toured in Mexico and Uruguay, and taught at various colleges and universities where they were in residency. 
After meeting, it didn't take Andrew and Erika long to realize that they were embarking on a long partnership, both personal and professional. They began to train together, looking for ways to merge their skills. They developed their strap actAerial act performed hanging from a pair of fabric or leather straps. See Aerial Straps. duet over the course of six years, while continuing to work for The Midnight Circus.
In 2004, they began performing their act independently. They appeared at the Lyric Opera of Chicago, where they were choreographed by Cirque du Soleil alumna Debra Brown; they taught and performed with Pendulum Aerial Dance Theatre; and they performed their strap and adagioAcrobatic act, generally involving a man and a woman, presented in a slow or romantic mood. acts accompanied by world-renowned bassist Victor Wooten. In June 2006, they performed for the first time in the "spiegeltent" of Teatro ZinZanni in San Francisco, California, and they have since returned regularly to ZinZanni, in both Seattle and San Francisco. They have also appeared with Circus Flora, based in St. Louis, Missouri; in Europe with The Gourmet Circus in Rapperswil, Switzerland; and with Louis Knie's Austrian National Circus in Salzburg, Austria.
See Also
Image Gallery
External Links