Elena Panova
From Circopedia
Swinging Trapeze
By Dominique Jando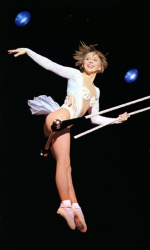 Elena Panova was born Elena Nikolaevna Borisova on July 18, 1964 in Murom, Russia. Her father, Nikolai, and her mother, Klavdia, had nothing to do with the circus: they both worked in a factory in Murom. Actually, Elena had never seen a live circus performance in Murom, which is too small a town to have a circus building.
Yet, Elena saw circus on television, and at age fourteen, she joined the local Amateur Circus—the Soviet equivalent of a European or American youth circus, albeit with a much higher level of training. "Amateur circuses" were burgeoning in the Soviet Union, a country where circus arts were held in high esteem.
During these years, Elena was trained in basic acrobatics, but her tastes led her to aerial apparatuses. She eventually created a "bambou(French - Russian: Bambuk) Aerial apparatus, generally a hanging perch, from where the performers hang with the help of hand or ankle loops. See also: Aerial perch." (aerial perchA hanging perch, from where the performers hang with the help of hand or ankle loops. (French: Bambou - Russian: Bambuk)) act with a fellow student. She performed in front of an audience for the first time in April 1978, with a static trapeze act in the show the Amateur Circus had staged in Murom's Grand Theatre for Easter.
Since she was bent on becoming a circus artist, and showed abilities to do so, her coach suggested that Elena apply for an audition to Moscow's State College for Circus and Variety Arts. She sent the proper forms and documents, and to her surprise, was invited to audition in Moscow. She was seventeen and had never left Murom.
After a strenuous exam, she was accepted, and would train for the next four years in all circus disciplines, acting, and ballet, eventually specializing in swinging trapeze. The creation of her act, which would drastically change the traditional concept of swinging trapeze acts, was however the result of a series of coincidences.
First, although Elena wanted to do a trapeze act, the five-year plan that dictated the Soviet circus industry didn't call for new trapeze acts. Yet, since she adamantly insisted on learning swinging trapeze, her teachers caved in and assigned a trapeze coach to her. Then, her coach suddenly had an opportunity to go and live for a time in Paris, which was too good to miss, especially in the Soviet era. The coach asked a friend, Tereza Durova, an act director who had recently joined the College staff, to create a swinging trapeze act for Elena.
Tereza Durova came from a famous dynasty of clowns and animal trainers and had never worked on an aerial act before. She asked another newcomer to the staff, Viktor Fomin—a former competition gymnast who had performed in a horizontal bar actEmdashto assume the technical part. To Fomin, who complained that he had never worked on an aerial act before, Durova just said, "A trapeze is a bar hanging from two ropes; go to the school library, and read every book you can find on the subject!"
Durova, Fomin, and Panova worked on the new act for a total of three years, trying to give life to Durova's often far-stretched ideas, coming up with new tricks, and experimenting with various techniques to achieve them. Some were found by sheer luck, others by trial and errors.
When ready, Elena Panova's act didn't look like anything that had been seen before: performed entirely in full swing, it included pirouettes between the ropes caught by the ankles and half-pirouettes caught by the heels, without ever interrupting the swing, or having it re-energized by an assistant.
Furthermore, Elena's act was not conceived around the notion of danger, but on the aestheticism of movements. It was a seductive ballet, danced in space (eventually, in 1987, to the accents of Vivaldi's Four Seasons—at a time when classical music was still a rarity in the circus). Elena made her professional debut in 1985, in a show presented by the Moscow Circus in Phnom Penh, Cambodia.
In 1987, Elena Panova was the great revelation of the Festival Mondial du Cirque de Demain in Paris: It that landmark edition, the new tendencies of the contemporary circus emerged for the first time. She won the Gold Medal, and ignited the imagination of André Simard, who saw her performance at the festival. Simard was then teaching acrobatics at the Ecole Nationale de Cirque in Montreal; back to Canada, he decided to build trapeze acts in this new style: adding his own ideas, he would develop a "Canadian school" of swinging trapeze. (After the fall of the Soviet regime, Viktor Fomin would eventually re-settle in Montreal, where he opened his own, very successful, trapeze school.)
In 1988, Elena Panova won the All-Union Circus Competition of the USSR, which was arguably, at the time, the world's most difficult circus competition. From 1985 to 1990, she performed in the Soviet Union and toured with various units of the Moscow Circus in Mongolia, Cambodia, Vietnam, France, Belgium, Austria, Germany, and Israel, before becoming an independent contractor in 1991, after the fall of the Soviet regime.
Elena's first independent engagement was with the Big Apple Circus in the United States, in 1991. She subsequently appeared in some of the world's leading circuses on four continents, including Circus Knie in Switzerland and the Cirque d'Hiver-Bouglione in Paris. She has performed her act under the nave of the Cathedral of St. John The Divine in New York, and at the Victorian Arts Festival in Melbourne, Australia, where she has been also featured in a musical, Amore.
Elena married the clown Serguei Panov in 1983. They divorced in 1990. Although she had settled in the United States in 1993, she continued to perform around the world, mostly in Europe. Her career lasted nineteen years: She retired from performing in 2003, after a last tour in the people's republic of China. She has since become a very successful aerial teacher at Circus Center, in San Francisco, California.
Image Gallery