Gilbert Houcke
From Circopedia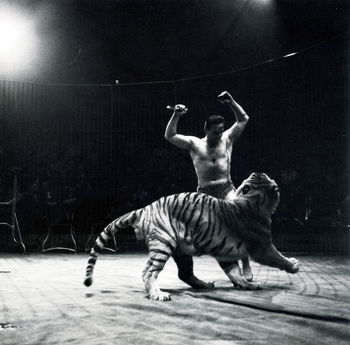 Equestrian, Animal Trainer
By Dominique Jando
Considered by many as the greatest and most innovative tiger trainer of all times, Gilbert Houcke (1918-1984) was, from the mid-1940s up to 1971, an undisputable European circus star whose name alone could sell tickets to any circus. His abundant charisma, his elegance, his gentle methods of training, the genuine love he showed to his animals, and the unforgettable beauty and originality of his presentations, which were much ahead of their time, have made his one of the great names of the twentieth century's European circus.
Family Roots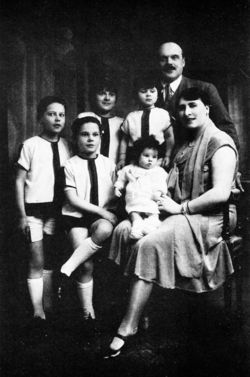 Gilbert Houcke was born May 28, 1918 in Grenoble, France, to old circus aristocracy. His father was the brilliant and daper equestrian and circus director
Jean Houcke
(1878-1973), whose old-world elegance (his white silk scarf, monocle and bowler hat—or, in the summer, a boater) was fondly remembered by the old circus folks and aficionados who were lucky to have known him. Jean Houcke was the grandson of
Jean Léonard Houcke
, a French equestrian who had settled in Sweden, where he originated his circus dynasty in the 19th century.
Gilbert's mother, born Marcelle Rancy (1894-1963), was the daughter of Alphonse Rancy (1861-1933) and granddaughter of Théodore Rancy (1818-1892). Théodore was the founder of one of France's oldest and most respected circus dynasties, allied to practically all of Europe's major circus families. Interestingly, Marcelle's own mother was born Jeanne Bidel and was the daughter of the famous cat trainer(English/American) An trainer or presenter of wild cats such as tigers, lions, leopards, etc. and menagerie owner François Bidel (1839-1909). Thus, although the Houckes and Rancys were mostly known as equestrians, there were traces of a cat trainer(English/American) An trainer or presenter of wild cats such as tigers, lions, leopards, etc. in Gilbert's DNA.
Gilbert Houcke was the third of Jean and Marcelle Houcke's five children: Huguette (1915-1982), Maurice (1917-2002), Gilbert, Sacha (1923-1994) and Nadia (1925-2011). He was born during an engagement of his parents in his grandfather's circus, the Cirque Alphonse Rancy, which was then showing in Grenoble, an important city southeast of Lyon at the foot of the French Alps. Like his talented brothers and sisters, Gilbert was trained at an early age in all circus basics, from tumbling and acrobatics to the family tradition, equestrianism in all its many facets.
His teachers were his parents, sometimes assisted by his young uncles, André and Albert Rancy. The Houcke brothers were soon performing together a jockeyClassic equestrian act in which the participants ride standing in various attitudes on a galoping horse, perform various jumps while on the horse, and from the ground to the horse, and perform classic horse-vaulting exercises. act and riding in high schoolA display of equestrian dressage by a rider mounting a horse and leading it into classic moves and steps. (From the French: Haute école) in the family's circuses. At age fifteen, the athletic Gilbert participated in Roman chariot races, and at twenty, he presented the classic and demanding equestrian act The CourierAn equestrian presentation created by Andrew Ducrow in 1827 as ''The Courier of St. Petersburg'', in which a rider stands on two galloping horses, one foot on each, and allows other horses to pass between his mounts, catching their reins as they pass, eventually holding the reins a group of galloping horses in front of him. (Also known in French as ''La Poste''.) (or la Poste) with nine horses. Gilbert was good-looking (as were his siblings) and blessed with an impressive musculature that was often on display in his presentations: Whether male or female, sex appeal has always been part of the circus's lure!
Alfred Court's Guidance
In 1938 Jean Houcke took the lease of Copenhagen's Cirkusbygningen, in Denmark, for the 1938-1939 season. Although circus equestrianism was still much appreciated in Europe, audiences had become captivated by wild animal acts; between the two World Wars, circuses that had combined with vast menageries were very much in vogue, especially in Germany. Gilbert bragged that he could present a cage act(English/American) Act performed in a cage, such as lion or tiger acts. in his father's show (he would profess later that it was his arrogance that led him to become a cat trainer(English/American) An trainer or presenter of wild cats such as tigers, lions, leopards, etc.), so Jean Houcke contacted his friend Alfred Court, whose "ready-to-wear" cage acts worked all over Europe.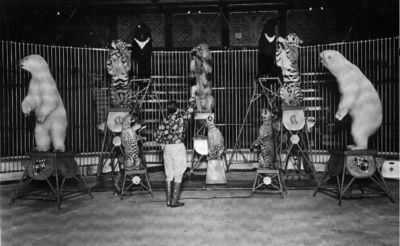 Court had a large group available, composed of eighteen animals: six lions, four tigers, two leopards, two polar bears, two black bears and two great Danes (who were used mostly to maintain order in the cage if necessary). The group had been trained in 1933-34, and had worked all over Europe, presented either by Court himself, or by his standby,
Fritz Schulz
. By then, the animals were well familiarized with their routines and could perform their act with any presenter. In a relatively short time, Alfred Court introduced the animals to Gilbert, explaining the character specifics of each individual, and then taught him the ropes.
Gilbert loved animals and he proved a good and quick learner, with a excellent understanding of animal psychology. After a successful opening night, Court was able to leave his pupil and Copenhagen without worry, and Gilbert Houcke became a cat trainer(English/American) An trainer or presenter of wild cats such as tigers, lions, leopards, etc. for the remaining of the season. Yet, although he was undeniably indebted to Alfred Court, Gilbert Houcke's training methods and performing style were to become very different from those of his original teacher.
In America, where Alfred Court went to perform at the outbreak of WWII, his quiet style was presented as a novelty: It contrasted sharply with the old "fighting" style of the celebrated cat trainer(English/American) An trainer or presenter of wild cats such as tigers, lions, leopards, etc. Clyde Beatty, which was extremely popular at the time and widely emulated in the United States. Beatty conveyed the image of a fearless, macho trainer facing his ferocious and dangerous charges. The trainer was the center of attention, the audience's "hero." Court's style, on the other hand, was in the line popularized by the great European cat trainers of the Hagenbeck school, which tended to privilege their animals' actions over the trainer's histrionics.
Yet the peaceful nature of Court's presentations belied a stern teacher whose methods were designed to work for his means. Court sought efficiency; his large acts had to run like clockwork, so that they could be easily presented by other trainers—as had been the case with Gilbert Houcke. The mixing of species in the cage, for which Court was famous, was also relatively dangerous, and his animals had to understand quickly what they were expected to do and not do (what trainers often call "good manners"). Since mixed groups were inherently fickle, there was not much room for improvisation or play during the performance.
Gilbert Houcke, on the other hand, will follow in the footsteps of the great Czech cat trainer(English/American) An trainer or presenter of wild cats such as tigers, lions, leopards, etc. Vojtech Trubka, another of Court's former pupils, who put the emphasis on the connivance between the animal and his trainer, and aimed at showing his cats in their best, most flattering light. Houcke, who would always demonstrate genuine love and respect for his animals, whether backstage, during training sessions, or in performance, adopted a style that was the opposite of Clyde Beatty's, and would be largely emulated in Europe. His real-life attitude towards his feline partners would powerfully impact the style of his acts.
The War Years
After his experiment with Court's animals, at the end of the 1939 Copenhagen season, World War II started in Europe. Like most circus folks, the Houcke family's citizenship was not necessarily what it seemed at first glance. If Gilbert was indeed a bona fide French citizen in France, the Houckes also held Swedish passports: Sweden was the Houcke dynasty's home (although Jean Houcke himself was born in Kristiana—today Oslo—in Norway!). Sweden was neutral and would remain so (not without difficulty) for the rest of the conflict. This gave the Houckes the possibility to work freely wherever they wanted in continental Europe.

Therefore, in 1940, they returned to Sweden where Jean Houcke was given the management of the small circus building of Furuviksparken, a zoo and amusement part in Gälve, by the Baltic Sea. Inaugurated in November 1940, the circus had been built for him by the park's manager, Gösta Nygren. There, Gilbert began to present elephants on top of his equestrian prowess. Then, in 1942, Gilbert, Sacha and Nadia Houcke were contracted by
Circus Busch
, which was performing under a tent in Berlin.
Paula Busch's Berliner building had been closed in 1934 and demolished in 1937 to clear the grounds for Albert Speers's utopian redevelopment of Berlin (which included a new Circus Busch). So, in 1935, Paula Busch agreed to buy at a bargain price the mighty Circus Strassburger with all its traveling equipment: A Jewish family, the Strassburgers were facing bankruptcy in Nazi Germany since their circus, one of Germany' largest, had been boycotted. Micaela Busch, Paula's daughter, and her husband, Emil Wacker (a Nazi sympathizer), were put in charge of the new traveling show. The couple divorced in 1942 and Micaela remained alone at the helm of the touring unit, while her mother oversaw what was left of the Busch circus empire.
The Houcke siblings were entrusted with Circus Busch's animals: Over the months, Sacha presented a huge carousel of sixty exotic animals and a high schoolA display of equestrian dressage by a rider mounting a horse and leading it into classic moves and steps. (From the French: Haute école) act, Nadia rode a jumping horse and presented ponies, and Gilbert took care of a camel act, a herd of five elephants, rode in high schoolA display of equestrian dressage by a rider mounting a horse and leading it into classic moves and steps. (From the French: Haute école) and performed The CourierAn equestrian presentation created by Andrew Ducrow in 1827 as ''The Courier of St. Petersburg'', in which a rider stands on two galloping horses, one foot on each, and allows other horses to pass between his mounts, catching their reins as they pass, eventually holding the reins a group of galloping horses in front of him. (Also known in French as ''La Poste''.) along with his brother Sacha. More significantly perhaps, they shared the bill with Vojtech Trubka, who presented a group of eight tigers that Paula Busch had acquired from the famous Austrian cat trainer(English/American) An trainer or presenter of wild cats such as tigers, lions, leopards, etc. Togare (Georg Kulovits): With the ongoing war, Togare couldn't find enough good contracts to keep his large group of fourteen tigers.
Free from the influence of Alfred Court, Trubka had already made a name for himself. Elegant, wearing white jodhpurs, white riding boots, white shirt and white gloves, he had already developed his own style of presentation, which privileged the cats' beauty and natural behavior over human theatrics. Thus, Houcke had ample time to observe Trubka's work during his engagement in Berlin and, subsequently, in Busch's circus building in Breslau (today the Polish city of Wrocław).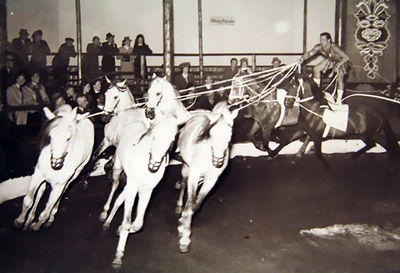 Gilbert had fallen in love with the tigers and longed to return to the big cage as a bona fide
cat trainer
(English/American) An trainer or presenter of wild cats such as tigers, lions, leopards, etc.
. Trubka was under contract with Switzerland's
Circus Knie
; Paula Busch's agreement with the Knie family was that Trubkka would present the cats in Berlin and Breslau and then return to Switzerland. Gilbert asked Paula Busch to let him take Trubka's place, but Paula preferred to give the tigers to a more experienced trainer, the Czech
Vaclav Beneš
, who revamped the act. Meanwhile, Houcke continued to pester Paula and Micaela Busch until he was finally allowed to present the tiger act at some matinee performances.
In 1943, Gilbert also made his film debut in Artur Maria Rabenalt's 'Zirkus Renz, a biopic loosely based on August Heinrich Kober's romanticized biography of Ernst Renz, also titled Zirkus Renz (1942). Gilbert replaced the actors to perform equestrian scenes, including bareback riding sequences with his sister Nadia and a nearly complete version of "The CourierAn equestrian presentation created by Andrew Ducrow in 1827 as ''The Courier of St. Petersburg'', in which a rider stands on two galloping horses, one foot on each, and allows other horses to pass between his mounts, catching their reins as they pass, eventually holding the reins a group of galloping horses in front of him. (Also known in French as ''La Poste''.)" in full Roman regalia. Neither Nadia nor Gilbert were credited, but the film provides us nonetheless with rare footage of Gilbert Houcke as an equestrian.
With the Nazi regime's persecutions of the Jews, most circus people closed ranks and took care of their own. Micaela Busch was no exception: She harbored Jewish performers and employees in her mother's circus; she and Paula had begun to do so as early as 1936 when they hired the last members of the Strassburger family who had not yet left Germany. But in November 1943, while Circus Busch was playing in its Breslau building, Micaela learned that she had been reported to the Gestapo. Before anything could happen, she gathered her animals and headed to neutral Sweden with the Houckes in tow. Her menagerie included forty horses, three elephants and the group of tigers.
Micaela was soon able to resume her activities in the Furuvik Park's circus building, most certainly with the help of Jean Houcke. (She also quickly married a Swedish champion swimmer, Sven Gerhold, which gave her Swedish citizenship.) Vaclav Beneš managed to cross to England, where he settled and worked for many years with Sir Robert Fossett's Circus. This opened the doors for Gilbert: He was finally able to present his own cat act at Furuvik Park in 1944, where the group had been reduced to six tigers. Then Micaela Busch sent him in engagement to the Swedish Cirkus Altenburg, which had just resumed its activities. Houcke performed there for three seasons, from 1944 to 1946, refining his act and developing his style.
Enter Tarzan
Originally, Gilbert Houcke presented his tigers in a white silk shirt and black trousers. His personal style was a mixture of complicity, playful confrontations, classic images such as pyramids and hoop jumping, and original figures on the ground such as his famous "carousel" with the tigers walking six or eight abreast around him. Yet, another detail has to be taken in consideration: Gilbert had also what makes exceptional artists, namely superb performing skills, good looks and a strong, charismatic presence. These qualities complemented ideally what would truly make him a genuine circus star: The costume he eventually adopted, the minimal leopard-skin outfit of Tarzan. (His was actually made of ocelot fur.)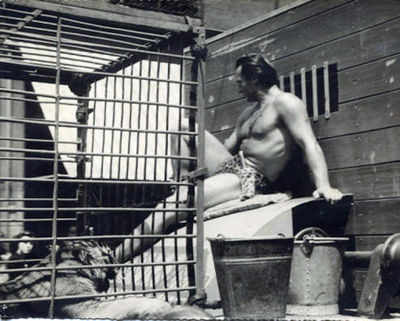 According to legend, the idea came to him when he was standing on a cage wagon that was being unloaded from a ship in Dublin: Someone in the watching crowd shouted, "Here comes Tarzan!" This event may have happened, but Houcke was already performing as "Tarzan" when he came to the British Isles in 1946. Posters and ads heralded him as "Tarzan and his tigers" (yet always specifying that "Tarzan" was Gilbert Houcke), and it is perhaps what the bystander referred to. (At that very moment, Gilbert, in working clothes, may have looked like anything but the "Lord of the Jungle!") In reality, Gilbert Houcke didn't need anyone to give him the idea.
Edgar Rice Burroughs's pulp novel, Tarzan of the Apes (1912), and the twenty-some subsequent Tarzan novels that were published up to WWII, were still very successful. They had been adapted in comics, on radio and in films: From 1932 to 1943 alone, Johnny Weissmuller had incarnated Tarzan eight times on screen and two of his films had been released in 1943, Tarzan Triumphs and Tarzan's Desert Mystery. Until 1939, when American films ceased to be distributed in Nazi-controlled Europe, Tarzan movies, with their simple storyline and limited dialogue, had been very popular out od the United States: Close to 90% of their gross receipts had come for foreign distribution, mostly from the European market.
If American films were not visible anymore in nazified Europe, they could still be seen in neutral Sweden, and the ongoing success of the Tarzan literature and movies was a testimony to the great popularity of the character. Therefore, adopting the image of Tarzan was not a farfetched choice for a cat trainer(English/American) An trainer or presenter of wild cats such as tigers, lions, leopards, etc.. Of course, the costume was not enough: In such an outfit, physique and looks were essential—and indeed, Gilbert Houcke displayed the goods.
So, "Tarzan" Gilbert Houcke became, and his act found its definite style. It was obviously a good idea: Gilbert Houcke-Tarzan became immediately an international sensation. A journalist said that Houcke was "a tiger among the tigers," and Swedish circus historian Alf Danielsson, in his book Cirkusliv (1973), gives this widely shared assessment of the trainer himself: "He was a muscular Tarzan with a personality that captured the audience's attention at least as much as his tigers." Gilbert Houcke had also a quality few cat trainers possessed: He appealed greatly to female audiences.
The Post-War Years
The postwar years were a boon for European circuses and soon, international offers were showered onto Gilbert Houcke: Circus producers quickly understood that the attractive Houcke would provide good press fodder and, consequently, draw large audiences. In the winter of 1946-47, Gilbert crossed the English Channel to star in one of Britain's top Christmas shows, Belle Vue Circus in Manchester. A rare occurrence for a single cage act(English/American) Act performed in a cage, such as lion or tiger acts., his was placed at the end of the show—the cherry on the Christmas pudding! His success was such that Belle Vue Circus hired him again, in the same conditions, for its 1947-48 Christmas season.
Before his second engagement at Belle Vue, he had appeared in London for the first time, at Clapham's Grand Theatre, with
Captain Prince-Cox Circus
, a popular stage circus of the time. Other star engagements followed: The
Belfast Hippodrome
,
Circus Mikkenie
in the Netherlands, the
Coliseu dos Recreios
in Lisbon, Portugal,
Tom Arnold
's prestigious and huge Christmas Circus at the
Harringay
Arena in London (1949-50), a return to Circus Busch at Suecia's circus building in Sweden,
Circus Barley
in East-Berlin, and for the summer of 1950, the legendary
Tower Circus
in Blackpool, England.
When Houcke was touring with Circus Roland in Germany in 1951, he acquired a new assistant named Charly Baumann. Baumann was to become a superb tiger trainer in his own right, and star for several years with Ringling Bros. and Barnum & Bailey Circus in the United States, before becoming its Performance Director. After his German tour, Gilbert Houcke returned at long last to his native France for the Christmas season of 1951-52, to perform at Peris's Cirque d'Hiver, the world's oldest circus building, where his success was phenomenal. When he reviewed his former pupil's act for the French magazine Le Cirque dans l'Univers, Alfred Court spoke of "a marvel of training" and qualified it as "exceptional."
As for the French poet and sometimes painter Yanette Delétang-Tardif (1902-1976), who was a circus lover, she described Houcke's act thus in 1951: "One of the most astonishing visions offered to us by the circus, and of a beauty such as the audience, raising on its feet, out of itself, shouted its enthusiasm and its intoxication." She added: "We have the sensation of an amorous fluid circulating between the man and the beasts, of a complicitous je ne sais quoi that places all this training in a miraculous halo, nearly sublime. A spell springs from this performance." She had indeed a way with words, but her enthusiasm was shared by all who saw Gilbert Houcke's act at the time.
"Sterne über Colombo"
Gilbert Houcke was featured in February 1952 at Circus Kronebau in Munich—his first engagement with the mighty Circus Krone, which was later to become his home. In early 1953, he returned to Circus Busch, with which he and his tigers sailed to Ceylon (today's Sri Lanka). The circus was to be used as a backdrop for a German film, Sterne über Colombo ("Stars over Colombo"), which starred Kristina Söderbaum, Willy Birgel and Adrian Hoven, and in which Gilbert would be prominently featured as Ambo, a handsome tiger trainer who was a heartthrob and a ladies' man.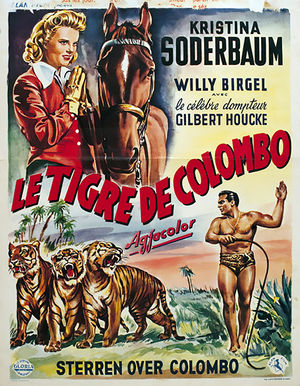 The film was shot in Agfacolor, the German answer to Technicolor, and was released in Germany at the end of 1953. Its dime-novel storyline is rather simplistic, and the film relies mostly on its exotic theme and location—but to circus aficionados, it has the great merit of showing a large excerpt of Gilbert's tiger act, which holds a relatively important place in the film. It is the best extant document of Houcke in his first "Tarzan" period. Houcke's appeal was clearly noticed by the film's publicists, who had him and his tigers featured prominently on the film's original posters.
Sterne über Colombo had a sequel, Die Gefangene des Maharadscha ("The Prisoner of the Maharaja"), released in 1954, in which Houcke was still featured, but less prominently and without his tigers. Then, the two films were combined and released as one, under the second title. (The combined film was released in the United States in 1954 as Circus Girl—not to be confused with the 1937 movie of the same title.) The film's star and co-producer was the Swedish/German actress Kristina Söderbaum, who had been Nazi Germany's quintessential movie star; its director was Söderbaum's husband, Veit Harlan, the notorious director of an infamous Anti-Semitic Nazi-propaganda film, Jud Süß ("Süss, the Jew")—in which Söderbaum had also appeared.
To say the least, their names seriously lacked drawing power in France and a few other European countries! Cosmopolis Films, the French distributors of the German film, found a better way to promote it in a potentially hostile market: The film, titled in French Le tigre de Colombo ("The Tiger of Colombo"), first advertised on its posters Gilbert Houcke as one of only two Söderbaum's co-stars, with his image as "Tarzan" with his tigers as their main illustration, and eventually made him the film's only credited star. If anything, it shows the degree of popularity Gilbert Houcke had already reached in Europe.
After his foray in film, Houcke toured with the East-German Circus Aeros (managed by Micaela Busch's former husband, Emil Wacker) and, in February 1954, he shared the bill with Buster Keaton at Brussel's Cirque Royal in Belgium. Then he went on tour with France's most successful traveling circus at the time, the Radio-Circus (which toured in association with the popular radio station, Radio-Luxembourg), before spending the 1955 season with Switzerland's prestigious Circus Knie, where he would return later in his career.
In the winter 1955-56, he became the star attraction(Russian) A circus act that can occupy up to the entire second half of a circus performance. of Paris's fabled Cirque Medrano, where, like at Bellevue, his act concluded the show. Then, on March 24, 1956 in Bouzeville, Calvados (in the Normandy region), Gilbert Houcke married a young French teacher, Jacqueline San Miguel, who was thirteen years his junior. Instead of a honeymoon, the couple went on to spend the 1956 summer season at Blackpool's Tower Circus in England. It was to be Houcke's last season with Circus Busch's tigers.
Circus Krone's Tigers
In 1935, the German cat trainer(English/American) An trainer or presenter of wild cats such as tigers, lions, leopards, etc. Carl Sembach married Frieda Krone, the daughter and only child of Carl and Ida Krone. Ida Krone had been a famous lion trainer and, like her husband, knew first-hand the precariousness of this occupation; she and her husband asked their son-in-law to stop working with wild animals and focus instead on Circus Krone's large collection of horses and its herd of elephants—a task for which Carl Sembach will eventually show an inordinate talent. Frieda was Circus Krone's heiress, and her parents wanted to be sure that her husband would still be at her side when she eventually took over the family's enterprise!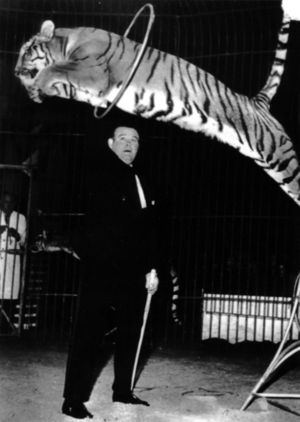 Circus Krone had a huge collection of wild animals that included a large group of twelve tigers originally put together by a trainer named Tromba and presented by the French trainer
Roger Debille
. It was, at the time, Europe's largest tiger group. In September 1953 in Hamburg, Debille was attacked by one of his tigers, Prince, the group's leader. As it often happens, the incident was prompted by a faulty judgement on the trainer's part, but Debille was nonetheless critically mauled and remained for some time between life and death.
Since it was impossible to find immediately a replacement for the rest of the season, Carl Sembach had to cast aside his wedding promise and take over the act. But he knew well that he couldn't take forever the risk of presenting such a huge group of tigers at the detriment of other duties—not to mention facing the disapproval of his aging mother-in-law—and he started hunting for a replacement. In his opinion, the best candidate was the brightest circus star of the time, Gilbert Houcke.
Despite Paula Busch's relentless efforts to revive Circus Busch in all its prewar glory, her circus had ceased to exist after the filming in Ceylon. The Busch empire's remaining buildings in Hamburg and Breslau had disappeared under the Allies' bombings, and Vienna's Circus Busch building had known the same fate in 1945—although it had long been transformed into a movie theater. (The Busch title didn't die however, but it was under another management: Oskar Hoppe's Circus Busch-Berlin.) In these conditions, Gilbert's association with Paula and Micaela Busch didn't have brilliant future!
So, after his 1956 engagement at Blackpool's Tower Circus, Gilbert Houcke, with a heavy heart, parted with his beloved tigers and joined the wealthy Circus Krone, which, unlike Circus Busch, had not only survived the war, but had also regained its prewar prestige and position as Europe's largest circus. As for Gilbert's tigers, they were taken over by Emmanuel Quartino for the following season, then from1958 to 1961, they went to the German Democratic Republic (East Germany), where they were presented by a well-known cat trainer(English/American) An trainer or presenter of wild cats such as tigers, lions, leopards, etc., Ludo Palos.
Gilbert Houcke took possession of Sembach's tiger act (whose number had been reduced to eleven animals) at the start of Circus Krone's 1957 season. At that point, it had been presented by Carl Sembach for more than three years, and indeed the act had acquired his personal style—which was relatively laid-back (an elegant trainer, Sembach wore a tuxedo in the cage). This didn't prevent Gilbert from bringing his own personality to the presentation, including his Tarzan persona, but it was difficult to change much of the act itself, especially with so many animals. Nevertheless, Gilbert's strong and charismatic presence and the unique way he interacted with his tigers were enough to transform Sembach's act into his own.
Gilbert Houcke toured with Circus Krone for the 1957, 58 and 59 seasons. In doing so, he had also rejoined his brother Maurice, who was Krone's house trainer in charge of horses and exotic animals. For the 1957-58 Holiday season, Gilbert returned to Paris, where Circus Krone performed at the Palais des Sports, invited by the circus impresario Hubert de Malafosse for his Grand Cirque 58. Carl Sembach and Frieda Sembach-Krone had remained in Munich to tend to the Kronebau season, and Maurice Houcke replaced them with Krone's horses and elephants. Yet, in Paris like everywhere, Gilbert Houcke was the true star of the show.
Changes and Tragedies
Fredy and Rolf Knie were very appreciative of Houcke's talent; his training and performing styles were akin to theirs, and they had good memories of their 1955 season with him. Circus Krone had toured its tiger act for more than seven years by then (whether with Debille, Sembach or Houcke), and although the circus visited different cities from one season to the other, it was a good idea to rent it out for a while. The Knies, who had good relations with Carl and Frieda Sembach-Krone, were indeed very interested in having Gilbert back, and they signed him and the Krone tigers for their 1960 season.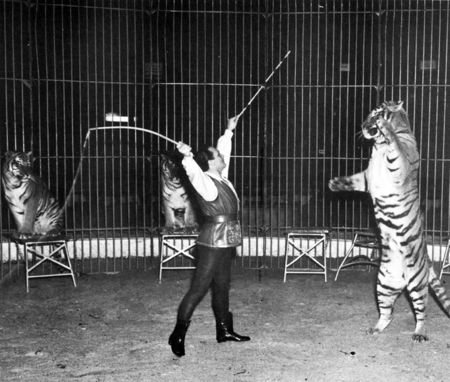 Gilbert was now forty-two and although he was still a superb athlete, his metabolism was changing, and he was becoming a little heavier. A master showman, he wisely decided it was time to adopt a different look, more suited to his age. Thus began his "Robin Hood" period. The costume he chose was an open white shirt with ample sleeves, black heavy tights with short black leather boots, and a leather vest (ornamented with silver nails), black at first, and later dark green, with a large black belt. It was theatrical enough! From his Tarzan days, he kept his dagger and his ebony cross—which he always wore. It is in this costume, which he kept until the end of his career, that he started the Knie season.
Gilbert had quite a scare in August during that season: In Lucerne, Circus Knie's big topThe circus tent. America: The main tent of a traveling circus, where the show is performed, as opposed to the other tops. (French, Russian: Chapiteau) was blown off by a wind storm just as he had brought his tigers back to their living quarters. A few minutes earlier, the catastrophe could have taken an even more dramatic turn! After the Knie season, Houcke appeared in an all-star show at Vienna's Wienerstadthalle, in Austria, where he shared the bill with another cage act(English/American) Act performed in a cage, such as lion or tiger acts., Circus Knie's spectacular group of four lions, three tigers, two pumas, two black leopards, two polar bears and two black bears that the young Swiss trainer Eugen Weidmann presented in Germany at Circus Friederike Hagenbeck (which belonged to Carola Williams).
Following that engagement, Gilbert returned to Circus Krone for the 1961 season. On February 15, 1962, during a performance at Göppingen (southwest of Stuttgart), tragedy struck: His favorite tigress, Daisy, lost her footing on the stool from which she was going to jump over Gilbert, who was facing her; all claws out, she caught herself on her trainer, deeply mauling him in the heart region. Gilbert had to be transported urgently to a heart specialist in Grenoble, who, in turn, sent him to Paris for open-heart surgery. Incapacitated for many months, Gilbert Houcke had to sever his ties with Circus Krone. (He was replaced by Walter Cupial, then by Walter Milde; the group was eventually dissolved around 1968.)
It had not been Houcke's first accident in the cage, but this one put him out of commission for a long time. He was not only injured but also jobless. Fredy and Rolf Knie came to the rescue and invited him to convalesce at their circus as soon as he was able to travel. When Circus Knie went on tour in 1963, audiences were treated with an unusual and fascinating attraction(Russian) A circus act that can occupy up to the entire second half of a circus performance.: In a cage erected at the center of the menagerie, they could observe Gilbert Houcke beginning the training of a group of young tigers. Things were looking better at last—although that same year, he was saddened by the loss of his mother.
Circus Knie's Tigers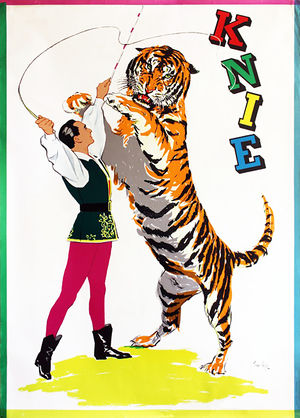 It was for Gilbert a wonderful opportunity: He was at long last able to train his tigers the way he wanted; the Knies provided him with the right animals, even changing some of them when they didn't show the right aptitudes. Having never liked the constant shuffling of furniture in the cage during his performance, he conceived an act that dispensed with the usual props: He limited these to low round stools on which his tigers took their place around the ring; beside those, the cage was devoid of any other prop.
Houcke had two to three training sessions with his tigers every day throughout the entire nine-month tour, and he continued to work during the circus's recess at its winter quarters, in Rapperswil. When Circus Knie hit the road again in March 1964 for its new season, Gilbert Houcke was back in the ring with a brand-new tiger act of a genre that had never been seen before. It was, to audiences as well as to the circus world, a true novelty and a sensation. The act consisted of four Bengal tigers, two Siberian tigers, and two cross-bred Siberian/Bengal. (Early on, one tiger, the sweet Nadia, had been taken out of the act: She was in love with her trainer and was only interested in being with Gilbert and rubbing against him—and nothing else!)
All the act was performed on the ground and presented like an equestrian liberty"Liberty act", "Horses at liberty": Unmounted horses presented from the center of the ring by an equestrian directing his charges with his voice, body movements, and signals from a ''chambrière'' (French), or long whip. act. The tigers jumped over their stools, over one another, waltzed alone or in pair, sat up, rolled over, walked together in the famous carousel figure—all natural movements that emphasized their natural beauty. There were also nice humoristic touches in the form of references to more traditional acts: Gilbert had a hoop for which his tigers showed a blatant lack of interest, walking under it or around it, or ignoring it completely. (Only one tiger eventually made the effort to jump through it, as if wanting to show that it was really no big deal!)
The only prop used in the act was a huge contraption made of a revolving hoop surrounded by six stools, which was lowered down into the cage from the cupola toward the end of the act: Three tigers jumped one after another through the revolving hoop, in what looked like a beautifully choreographed ballet. Then the contraption was hauled back up and the cage was empty again. The act ended with a spectacular series of standing jumps by one of Houcke's huge Siberian tigers. The act would remain practically unchanged until the end.
After his season with Circus Knie, Gilbert Houcke and his tigers appeared in Berlin for the Holiday season in one of Europe's most prestigious Christmas shows,
''Menschen-Tiere-Sensationen''
at the Deutschlandhalle. Then, in February and March, he returned to Wien, Austria, in the no-less prestigious
"Artisten, Tiere, Attraktionen"
(or ATA) at the Wienerstadthalle. After these two relatively short engagements, he went on tour for the 1965 season with the French
Cirque Pinder
, which was then associated with the French national broadcasting company (ORTF)—and thus, like its predecessor the Radio-Circus, enjoyed an immense popularity. Gilbert shared the bill with his brother Sacha, who presented a
liberty
"Liberty act", "Horses at liberty": Unmounted horses presented from the center of the ring by an equestrian directing his charges with his voice, body movements, and signals from a ''chambrière'' (French), or long whip.
act from Circus Knie.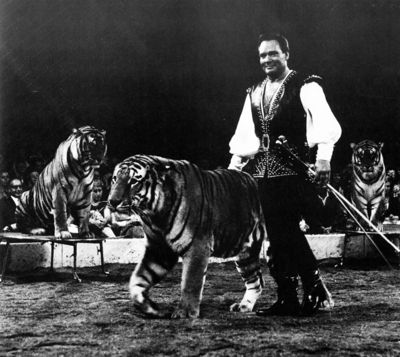 In December 1965, Gilbert returned to the Cirque d'Hiver, in a superb program where he shared the bill with Gunther Gebel-Williams and his wife, Jeanette Williams. Gunther presented his tiger on elephants and Circus Williams's herd of eleven pachyderms, and Jeanette rode in high schoolA display of equestrian dressage by a rider mounting a horse and leading it into classic moves and steps. (From the French: Haute école) and presented, in alternance with her husband, Circus Williams's spectacular group of twenty-four Lipizzan horses. However, in the cage, Gilbert had the star position, appearing just before intermission after Gunther, whose amazing act was nonetheless the curtain opener!
While the Williamses stayed at the Cirque d'Hiver for the rest of the winter season, Gilbert Houcke embarked with his tigers on a ship to South Africa, where he would spend the 1966 season with Circus Boswell-Wilkie, the African continent's premier circus and a favorite of European performers because of its two-year, advantageous contracts (although Houcke spent only one year there). During this tour, Gilbert lost a tiger, Madras, to a dental infection; he returned to Europe with seven tigers. (This number would remain the same until Gilbert's final season in 1972, when a new tiger was added to the act).
Back in Europe, he spent the next two seasons (1967 and 1968) with Circus Busch-Roland in West Germany—a circus that had a steadfast association with Circus Knie which provided its animal acts (generally presented by Sacha Houcke). After winter engagements at Circus Kronebau in Munich and ATA at the Wienerstadthall in Wien, Gilbert Houcke returned for the 1969 season to Circus Knie. This would mark the end of his professional association with the Swiss circus: At the end of the season, the Knie brothers sold Houcke's tigers to the French actor, comedian and amateur cat trainer(English/American) An trainer or presenter of wild cats such as tigers, lions, leopards, etc. Jean Richard, who was on his way to become France's premier circus impresario.
The Final Years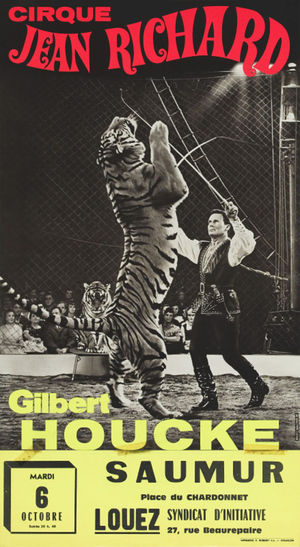 Gilbert went with his tigers to Ermenonville, near Paris (where Jean Richard had an important private zoo adjacent to his home) to prepare the act for the 1970 season of the brand-new
Cirque Jean Richard
, which had been launched the previous year. The program was star-studded: Beside Gilbert Houcke, the featured acts were the celebrated
auguste
In a classic European clown team, the comic, red-nosed character, as opposed to the elegant, whiteface Clown.
Achille Zavatta
—a star of first magnitude in France—the Master Equestrian
Alexis Gruss
, and
the Zemgannos
, who performed a
bar-to-bar
A flying trapeze act in which flyers leap from a trapeze to another, instead of from a trapeze to a catcher as is most commonly seen today.
flying act
Any aerial act in which an acrobat is propelled in the air from one point to another.
in U.V. lights. Added to the drawing power of
Jean Richard
's name, it made for a very attractive line-up!
For the 1971 season, Gilbert Houcke was still starring with Alexis Gruss and The Zemgannos, while the extremely popular clowns Les Bario had replaced Zavatta. In 1971 as in 1970, Jean Richard's star acts were hugely advertised in the press and with personalized posters. Meanwhile, Jean Richard had bought France's oldest circus, the illustrious Cirque Pinder, which hit the road in 1972 as Cirque Pinder-Jean Richard. The star attractions were Achille Zavatta and Gilbert Houcke, who was also listed as Artistic Director of the new enterprise. Beside his tiger act, Gilbert presented a group of Portuguese stallions, while Jackie, his wife, was in charge of a group of Shetland ponies. It was, in a way, a return to his sources. He had come full circle: 1972 was in fact Gilbert Houcke's farewell season—although this was not publicized.
Since his open-heart surgery in 1962, Gilbert's health and stamina had not been the same. Now fifty-five years old, he felt it was time for him to get a less stressful (and dangerous) occupation. During or after his final season with Jean Richard, he was approached by the creators of France's first "safari park," the Parc Animalier de Saint-Vrain, located in the lands adjacent to the Château de Saint-Vrain, in the Essonne department, south-west of Paris (and not far from Ermenonville). The château belonged (and still belongs) to the old Rochechouart de Mortemart family, who were developing the park with the Wolkonsky family (an old aristocratic Russian family that had settled in France after the Soviet Revolution), along the lines of the very successful Safari Park that Jimmy Chipperfield had helped create at Longleat, in England.
It was a perfect opportunity and Gilbert agreed to take charge of the park's large wild animal collection. But in 1973, before he could fully enjoy his conversion to a new life, tragedy struck: His beautiful wife, Jacqueline, died suddenly of a viral infection that had not been diagnosed in time. To make matters worse, Jean Houcke, Gilbert's father, passed away at age ninety-three a few weeks later. Gilbert was totally devastated and became despondent. Nevertheless, he took the job at Saint-Vrain, preparing the opening of the new park scheduled for March 1974. Being still in the company of wild cats was his only consolation.
However, without Jackie to look after him, he became oblivious to his health, which had remained fragile, and he didn't take regularly his medications. One day, in January 1974, he failed to show up at work. The park personnel became worried and finally went to check his bungalow: Gilbert was lying on the floor, unable to move: He had been victim of a stroke. When medical help finally came, it had been too long a time since the stroke; one side of his body was paralyzed, and he would be henceforth confined to a wheelchair.
Epilogue
Gilbert Houcke retired to an apartment he had in Uzès, in the southwest of France. Luckily, he had now a devoted companion, Bernadette, a woman who loved him and took care of him. To ensure he had enough to live on, Fredy and Rolf Knie paid him a pension. Each summer, Gilbert and Bernadette went to Switzerland and spent their vacation on tour with Circus Knie. In 1976, he helped the young Louis Knie create an act similar to his, with a group of nine tigers. Thus, his training methods and elegant style were carried on by the Knie family—the last gift of a great circus family that had never failed him.
Prince Rainier of Monaco, an amateur cat trainer(English/American) An trainer or presenter of wild cats such as tigers, lions, leopards, etc., invited Gilbert Houcke as a guest of honor every year at the International Circus Festival of Monte Carlo, where Gilbert was always introduced to cheering audiences and presented awards to wild animal trainers. In spite of his health condition, he was still, in the eyes of the public and to circus professionals, the great Gilbert Houcke. To the immense chagrin of circus aficionados, he passed away in his home on December 13, 1984; he was sixty-six years old. He was put to rest in the vault of the Bidel and Rancy families at the cemetery of Asnières, a borough of Paris.
Gilbert Houcke was a quiet and private man, an avid and curious reader who had acquired over the years a solid culture. About his tigers, he said: "I trust them, and they trust me. (...) I would never even think of chastening a cat who had injured me. The fault, if there is a fault, is mine. I love my tigers and they love me, I am sure. (...) My job consists in discerning their individual talents and take advantage of these, without ever asking them to do something that would be against their nature. Something that, unfortunately, so many cat trainers have never understood…"
In 1984, in the eulogy he wrote for the magazine Le Cirque dans l'Univers, the French novelist Guy des Cars said, "Those who have never seen Gilbert Houcke wearing only, like Tarzan, a loincloth made of leopard skin, leading in a soft voice and bare-handed a group of tigers, ignore the impression created by an act in which the cats seem to work because they like it. To the beauty of this presentation was added the male power, made of calm and courage, that emanated from the very person of their trainer."
Suggested Reading
Frédéric Bollmann and Hubert Tièche, Gilbert Houcke, Voyage au Pays du Souvenir (Sorvilier, Editions de la Gardine, 1984)
Hans-Jürgen und Rosemarie Tiede, Die hohe Schule der Raubtierdressur (Kaufbeuren, Freizeit News Verlag, 1997) — ISBN 3-928871-04-8
See Also
Image Gallery