Irina Naumenko
From Circopedia
Hand Balancer, Contortionist
By Dominique Jando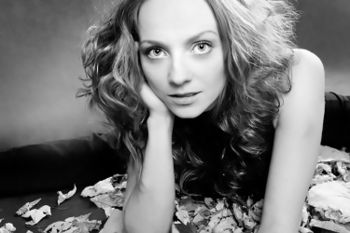 Irina Naumenko was born March 4, 1983 in Marks (spelled Marx in the West, since it was named after Karl Marx), a small town northeast of Saratov, in southwestern Russia. Her parents had no connection with the circus: Her father, Viktor, was a mechanics and a driving instructor, and her mother, Elena, was an office-building administrator. Irina was a very physical child: She held a yellow belt in Taekwondo, a rather violent Korean martial art.
When a circus clubA juggling pin. (the Russian equivalent of a Youth Circus, but at a much higher level) opened in Marks in 1995, one of her mother's friend suggested that it would be a good outlet for Irina to channel her natural energy. Irina had often seen shows at the State Circus of Saratov, but she had never considered a career in the circus. Nonetheless, she joined the Circus Club and found herself in her element, giving a special attention to balancing. She spent seven year at the Club, participating regularly in its public performances; this is where RosGosTsirk, the Russian State Circus central organization, spotted her and took her under contract in 2001.
An International Career
In Moscow, Irina trained in contortion under Natalya Goncharova, and created a hand-balancing act with which she won a Gold Medal the following year at the International Circus Festival of Enschede, in the Netherlands. When Olga Pikhienko one of Cirque du Soleil's star hand-balancers, decided to leave Varekai, the show in which she was performing, she contacted Natalya Goncharova to find a replacement. Goncharova suggested Irina, who had gained a respectable pedigree. Irina thus joined Cirque du Soleil in 2003, and toured the world with Varekai for nine years, until 2011. She had settled in Montréal by then, and married a former Cirque du Soleil's artistic director, Mathieu Gastien, with whom she had a son, Mathieu, born in 2011.
After a break following her son's birth, Irina resumed her career with a new act she had created with Julie Perron, a young and edgy Canadian choreographer. She has appeared since in many special and corporate events, in circus and variety shows—notably with Cirque Éloize and in Le Noir in Singapore with Stardust International Entertainment—and she has been featured in Cirque du Soleil's diner-show Joyá at Playa de Carmen in Mexico from 2014-2016.
See Also
Image Gallery
External Link