Difference between revisions of "Jakob Busch"
From Circopedia
 

Line 1:
Line 1:
−

[[File:Jakob_Busch_portrait.jpg|thumb|right|300px|Jakob Busch (c.1930)]]

+

[[File:Jakob_Busch_portrait.jpg|right|300px]]

 

==Circus Owner==

 

==Circus Owner==

 
 
---
Latest revision as of 00:15, 21 September 2023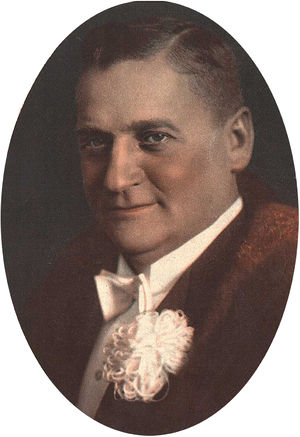 Circus Owner
By Raffaele De Ritis

Jakob Busch (1879-1948) was the founder and owner of the itinerant Circus Busch (also known as Circus Busch-Nürnberg and Circus Busch Wanderschau), which was one of Germany's (and Europe's) most important traveling circuses in the 1930s. Based originally in Nuremberg, in Bavaria, Circus Busch found itself in Saxony at the end of WWII, in what had become East Germany; under the Communist regime, it was eventually nationalized and incorporated in 1960 into the VEB Zentral-Zirkus, the State circus company of the German Democratic Republic.
From Traveling Menagerie To Traveling Circus
The Circus Busch of Jakob Busch was not connected with the homonymous and contemporary circus buildings of the Busch circus empire, which was started in 1884 by Paul Busch: Paul and Jakob Busch were not related. It must not be confused either with the itinerant Circus Busch that went on the road under the management of Paul Busch's daughter, Paula Busch, after she lost her Berlin building in 1937. Paula Busch's traveling circus was known as Circus Busch-Berlin, and eventually became Circus Busch-Roland, when it merged in 1963 with Circus Roland-Bremen.
Jakob Busch was born on November 5, 1879 in Würzburg, in Northern Bavaria, Germany, in a family of fairground entertainers. His parents, Georg Busch and his wife, Karolina, née Geuder, ran a small traveling menagerie where Karolina presented wild animals as Miss Hélia. Jakob began his career as a strongman. In 1903, at age twenty-four, he launched a small one-pole tenting show of his own named Raubtier-Attraktion Zirkus Busch ("Wild-Animal Show Circus Busch"). Although it had definitely circus ambitions, the show was still in essence a small traveling menagerie, whose main draw was a cyclist turning around the walls of a bottomless basket hanging above a cage filled with lions: this was a popular type of attraction(Russian) A circus act that can occupy up to the entire second half of a circus performance. then on the fairgrounds.
Yet Jakob Busch's enterprise quickly grew, following the path of such similar contemporary shows as Sarrasani, Krone, and Kludsky, which in the same decade went from small traveling menageries to becoming Europe's largest itinerant circuses. Jakob Busch, however, didn't try to create an American-style giant three-ring circus like Krone and Kludsky (and several other German shows); like Sarrasani, he preferred to stick to the traditional one-ring format—albeit on a grander scale. In 1911, eight years after its modest beginnings, a poster of Circus Busch heralded Otto Sailer-Jackson—who was on his way to become one of the most famous cat trainers of the era. And Circus Busch was to become one of Europe's most flamboyant circuses.
Revues And Water Pantomimes
In the late 1920s, Jakob Busch made his mark as one of the first circus directors to adapt water spectaculars (popularized by Paula Busch in her Berlin circus) to an itinerant big topThe circus tent. America: The main tent of a traveling circus, where the show is performed, as opposed to the other tops. (French, Russian: Chapiteau), and to bring to his traveling show, under the artistic direction of Alfred Delbosq, the hitherto purely urban concept of the revue—replete with chorus line, singers, and theatrical tableaux. Using equipment especially designed for his traveling circus, Jakob Busch dedicated the full second half of his shows to carefully dramatized water pantomimes, for which the ring was completely flooded. Their themes ranged from oriental tales to Venetian feasts, and even to an elaborate six-part spy story, From the Equator to the Pole, which included all sorts of exotic animals, and a polar tableau with penguins, sea lions, and a couple of ice skaters.
True to its beginnings, Circus Busch traveled with a large menagerie, including a herd of twelve elephants trained by the legendary Indian trainer Epi Vidane, and at times, its program included no less than four cage acts. Jakob Busch presented first-class acts such as the Lorch Family's Risley actAct performed by Icarists, in which one acrobat, lying on his back, juggles another acrobat with his feet. (Named after Richard Risley Carlisle, who developed this type of act.), the celebrated cat trainer(English/American) An trainer or presenter of wild cats such as tigers, lions, leopards, etc. Vojtech Trubka with a mixed group of 18 animals, the Zacchini family of daredevils, large troupes of acrobats (notably the "gladiators" Romanos), various members of the Gautier equestrian dynasty, and even the legendary equestrienneA female equestrian, or horse trainer, horse presenter, or acrobat on horseback. Therese Renz (1859-1938), among many others. The famous Italian bareback riding troupe of Enrico Caroli performed during all WWII with Circus Busch, where they originated their popular clown act, The Francescos, in 1939.
Circus Busch's advertising stated that its big topThe circus tent. America: The main tent of a traveling circus, where the show is performed, as opposed to the other tops. (French, Russian: Chapiteau) could accommodate 7,000 spectators—in all probability an inflated number, but it was indeed a large circus. It had its winter quarters in Nuremberg (thus its name, Circus Busch-Nürnberg), traveled by rail on two special trains, and didn't limit its tours to Germany: It performed regularly in neighboring Czechoslovakia and Austria, and even became popular in Italy, which it visited in 1931 and 1932, due to the close ties between the Fascist and Nazi regimes.
The Post-War Era
After WWII, Circus Busch had lost much of its former glory. During the War, the circus had relocated its quarters near Chemnitz in Saxony, which was now on the Eastern part of a newly divided Germany. However, Circus Busch was permitted to continue as a private entity (as was another famous German circus also stranded in East Germany, Circus Barlay). But Jakob Busch didn't survive the decline of his circus very long: He died on April 16, 1948 in Nuremberg, where he had returned to settle his affairs.
After its founder's death, the circus was briefly managed by Jakob's wife, Wilhelmina (1888-1950), then by Jakob's heir and adoptive son, Fritz van der Heydt (1885-1951). In 1951, both circuses Busch and Barlay were nationalized and, in 1960, they became part of the VEB Zentral-Zirkus, the State central circus company. In the GDR's circus system, Circus Busch remained a prominent name, and one of the top circuses in the country. In 1990, with the dismantlement of the German Democratic Republic, Circus Busch was closed and dismissed along with the State circus company itself. The Western-German Circus Busch-Roland, heir to the other Busch circus organization, bought the name and what was left of Circus Busch's equipment.
In 1953, a strange story appeared in the German press. Carl Stelzenmüller, a former policeman from a small village in the Bayern region, changed his family name to Busch, claiming that his mother had told him on her deathbed that he was the illegitimate son of Jakob Busch. He created and ran for a little while a modest Carl Busch circus, surviving without much success in the midst of complicated legal battles over the use of the Busch title. In the early 1980s, the circus director Alfred Scholl bought the name Carl Busch from Carl Stelzenmüller-Busch and opened a new Circus Carl Busch. Upon Scholl's death, the circus was taken over by Alfons Willeam (1941-2009), from the Wille circus family. His family manages today Circus Carl Busch, a mid-size German circus enterprise of good quality.
Image Gallery
External Link