John Bill Ricketts
From Circopedia
AND THE FIRST CIRCUS IN AMERICA
By Dominique Jando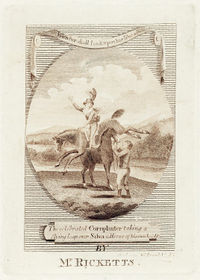 On April 3, 1793, a crowd of theatergoers, horsemanship enthusiasts and prying citizens gathered at the corner of Market and Twelfth streets, in Philadelphia, to witness the first performance of Mr. Ricketts' company at the
Circus
. The
Circus
was a roofless arena of some eight hundred seats (divided between pit and boxes) surrounding a circular riding space filled with a mixture of soil and sawdust, forty-two feet in diameter—the ring. The wooden
construction
(French) A temporary circus building, originally made of wood and canvas, and later, of steel elements supporting a canvas top and wooden wall. Also known as a "semi-construction."
had been erected in a few weeks by John Bill Ricketts, a British equestrian who had arrived from Scotland the previous year, and established a riding school in Philadelphia, then the capital of the newly formed United States of America. In doing so, Ricketts had followed the example of
Philip Astley
, who had established such a riding school in London in 1768, at the foot of Westminster Bridge, before creating there the first circus as we know it two years later.
Soon, a small group of performers from his former British company would join Ricketts in Philadelphia. Among them were his brother Francis, an equestrian and tumbler; Mr. Spinacuta, the rope-dancer, and his wife, an attractive equestrienneA female equestrian, or horse trainer, horse presenter, or acrobat on horseback. who rode two horses at a full gallop; Mr. McDonald, another tumbler who performed comic acrobatic intermezzos as the Clown; and Ricketts' pupil, young Master Strobach. The performance included a great many "feats of horsemanship," most of them presented by Ricketts himself, some tumbling, rope dancing and McDonald's acrobatic parodies. This was the first circus show ever presented in America.
Young, good-looking, talented and enterprising, Ricketts became an instant sensation. But if his contemporaries have described his acts extensively, little is known of his life. Fortunately, Gilbert Stuart left a superb, if unfinished, portrait which is now in the collection of the National Portrait Gallery in Washington, and John Durang, one of the first American actors, who worked for Ricketts as a dancer, equestrian, acrobat, clownGeneric term for all clowns and augustes. '''Specific:''' In Europe, the elegant, whiteface character who plays the role of the straight man to the Auguste in a clown team., scenic painter and deputy manager from 1795 to 1800, has given some hints of the man's character in the Memoir he composed circa 1820. (1)
Before crossing the ocean, John Bill Ricketts was little known, although he was beginning to make his mark in the United Kingdom. A former pupil of Charles Hughes—Philip Astley's rival, and the founder of London's Royal Circus—Ricketts was the star equestrian of a troupe managed jointly by the actor-manager James Jones and the equestrian George Jones (they were not related). The Joneses would later establish a permanent circus in Edinburgh, where their company had become a regular visitor. Jacob Decastro, Astley's and Hughes' first biographer, who saw Ricketts perform in Whitechapel with the Joneses, declared him "the first rider of real eminence."(2) Later, many of the members of Ricketts' first American company would be fellow performers of the Joneses' circus company.
The Ricketts family, who was from Norman extraction and whose original patronymic was Ricard, had long belonged to the landed gentry of Staffordshire. At the turn of the eighteenth century the elder branch went to Jamaica and settled there, although several members of this very large branch of the family returned to England, either to study or to resettle, and some established themselves in the colony of New Jersey, in North America. Thus Ricketts was not in unknown territory when he landed in the newly formed United States, neither would he be heading to unknown territories when, at the end of his American adventures, he sailed to the West Indies.
George Washington attended at least one performance at Ricketts' Circus on the 22nd of April 1793. The Philadelphia season ended in July and Ricketts, his company and the horses he had recently acquired in Pennsylvania, moved to New York City, in a new circus he had erected on Broadway, near the Battery. As in Philadelphia, this first arena was roofless, and the performances were given in daylight, at 4:00pm. The weather must have been clement that year, since Ricketts kept the circus open until the 4th of November, before moving south to Charleston, South Carolina.
For seven years, John Bill Ricketts and his company (whose composition varied from one season to another) introduced the circus to North America, from South Carolina to the Province of Québec. His home base, however, remained Philadelphia, and most of his travels concentrated around New England and Virginia.
In May 1794, Norfolk and Richmond, Virginia, saw their first circus; in July, Ricketts was in Baltimore, "near the Windmill," and back to Philadelphia in September. In November, the industrious manager was in New York, where he opened a "new and commodious Amphitheatre" at the southwest corner of Broadway and Exchange Alley (then Oyster Pasty Lane). The new circus had a roof and was "superbly illuminated" with "upwards of 200 wax candles and Patent lamps," while "convenient stoves" provided some heating. From May to July, Bostonians in turn gathered at Ricketts' Equestrian Pantheon, which the showman had erected on the Mall (at what today is the corner of Tremont and Boylston streets); then Rhode Island and Connecticut enjoyed their first circus before the troupe attempted a return engagement in New York, unfortunately aborted by the Yellow Fever epidemic. In October, Ricketts' Art Pantheon and Amphitheatre, a brand new circus building erected at the corner of Sixth and Chestnut Streets, was inaugurated in Philadelphia. It was a circular construction(French) A temporary circus building, originally made of wood and canvas, and later, of steel elements supporting a canvas top and wooden wall. Also known as a "semi-construction.", 97 feet in diameter, with a conical roof that reached 50 feet in height, and a capacity of 1,300. In the manner of European circuses, the Art Pantheon was equipped with a ring for the equestrian displays, and a theater stage for the performance of pantomimes and some acrobatic acts—a concept developed by Charles Dibdin, a prolific author of pantomimes, who had been the partner of Ricketts' mentor, Charles Hughes. (A print showing Ricketts' new building is in the Harvard Theater Collection.) Indefatigable, Ricketts opened a similar circus in New York on Greenwich Street, north of Rector Street, in 1797; he would eventually lease it to his only competition, British equestrian Philip Lailson, who had arrived in the United States from Sweden the previous year, and would later travel to Central America.
In 1797 Ricketts sent a second company, led by his brother Francis, to Montréal, where yet another circus opened in August near Recollet Gate. The show, accompanied by musicians of the 60th American Royal Regiment, received such an enthusiastic response that it prompted Ricketts to maintain a circus there and to replace his wooden construction(French) A temporary circus building, originally made of wood and canvas, and later, of steel elements supporting a canvas top and wooden wall. Also known as a "semi-construction." with a new stone building (this, in turn, had be prompted by a city ordinance that required permanent buildings to be built in stone to prevent fires). Later, he sent the company to the city of Québec, where the second Canadian circus was built in May 1798, outside St. Louis Gate.
On December 17, 1799, Mr. Miller, the circus carpenter, left a candle in the scenery storage-room of Ricketts' Pantheon in Philadelphia. The circus caught fire and burnt to the ground, and many adjacent buildings were badly damaged in the catastrophe. This was a terrible financial blow for the British equestrian. Ricketts tried to take the company to New York, where his circus was still standing but had been put for sale and left without care. The project proved too costly and did not materialize. In April 1800, still stranded in Philadelphia, Ricketts finally settled in the once-elegant building erected by Lailson at the corner of Prune and Fifth streets, the roof of which had collapsed two years before. While the audience was still covered, the performers were exposed to the weather and, so Durang tells us, "the lights in the night made a dim reflection which caused the performance to go off gloomy." So did the spectators, whose patronage dwindled.
Disheartened, Ricketts resolved to leave the country. He chartered a small ship and, with some horses, his brother, a stable boy, a pupil and Mr. Miller, his faithful, if calamitous, carpenter, he sailed to the West Indies. After a series of uncanny circumstances involving French pirates, the shrewdness of his groom and the generosity of a Guadeloupe merchant, Ricketts eventually managed to recoup his loss. Before the end of the year, he sold all his horses "to great advantage" and set sail for England. Unfortunately, as Durang reports without flourish, "the vessel floundered and he was lost with all his money at sea." Ricketts was probably in his early thirties.
Fifty years after Ricketts' departure, the circus had become America's most popular form of entertainment and American equestrians reigned supreme on the circus world. But they were no longer the managers Ricketts and his immediate successors had been. The circus had developed into a lucrative business and, in some ways a victim of its success, had been taken over by impresarios, entrepreneurs, and a fair number of artful swindlers who found a relative comfort in the newly itinerant nature of the trade. By then, the artistry of Ricketts' performances and the comfort of his amphitheaters had been supplanted by grandiose spectacles given under gigantic traveling arenas—so large indeed that the ring had to be multiplied, in order to give each spectator a chance to see some of the action under the elongated canvas. Eventually, the art form lost its identity in the process.
Reflecting on Ricketts' concept of his art, John Durang noted in his Memoir: "A circus within its own sphere, well regulated and conducted as Mr. John B. Ricketts established his in America, must succeed and please, and meet the admiration of the public and give general satisfaction."
Footnotes
1. The Memoir of John Durang, American Actor (1785-1816), edited by Alan S. Downer (Pittsburgh, University of Pittsburgh Press, 1966).
2. The Memoir of J. Decastro, Comedian, edited by R. Humphreys (London, Sherwood Jones & Co., 1824).