John Herriott
From Circopedia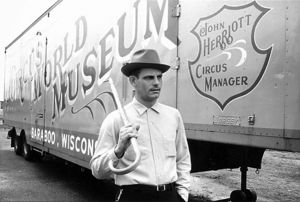 Animal Trainer, Circus Owner
By Dominique Jando

A man of great charm and outstanding talents, John Milton Herriott (1931-2015) was a highly respected equestrian, animal trainer and circus owner, third-generation of one of the few truly American circus dynasties. He was born on January 15, 1931 in St. Peter, Minnesota to Milton Lindsay Herriott (1901-1962) and his wife, Viola (1905-1981), née Engesser. John was the second of their two children; he had an elder sister, Jean.
The Herriotts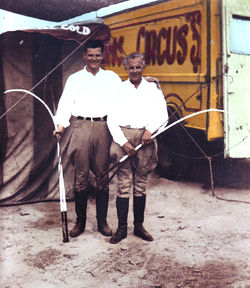 John Herriott's grandfather was Osmer Pike Herriott (1871-1936), who is said to have been a descendent of the legendary explorer Zebulon Pike (1779-1813), who explored the southern Louisiana Territory and Colorado. Pike Herriott entered circus life as a cook, at a time when American circuses were huge affairs that traveled with a full Dining Department. Pike started with the Miller Brothers'
101 Ranch Wild West Show
, the last of the great American Wild West shows, which toured the United States from 1907 to 1939.
Pike's son, Milton (known as Milt), began to work in the circus at a relatively early age, taking care of animals. He eventually went on to training them, and over the years, he presented all sorts of animal acts, with a preference for horses and elephants. He was also for a time Manager of the Cole Bros. Circus. Milt Herriott's circus career spanned a half-century.
John Herriott, quite naturally, would follow in his father's footsteps. He made his debut in the ring at age six, appearing in his father's elephant act. Then John went to school, rejoining his father and the circus during summer breaks, where he continued his apprenticeship. In 1943, at age twelve, he presented for the first time by himself an elephant in an end ring of the Kelly-Miller Circus.
After he had graduated from High School in 1949, John became a full-time circus performer. In 1950, he toured with the Cole Bros. Circus, where he presented a group of eight horses at liberty"Liberty act", "Horses at liberty": Unmounted horses presented from the center of the ring by an equestrian directing his charges with his voice, body movements, and signals from a ''chambrière'' (French), or long whip. in a show whose star was the film and television legendary character Hopalong Cassidy (impersonated by the actor William Boyd), who was then at the peak of his popularity. At the end of the season, the circus sold its animals to the King Bros. Circus, and the Herriotts, father and son, moved with them.
John and Mary Ruth
The Korean War began in June 1950 (it lasted until July 1953); a strong patriot, John Herriott enlisted at the end of 1952, and was awarded the Combat Infantryman Badge. Upon his return to the United States in 1953, he entered the Minnesota School Of Business, which he left after one year to resume the only life he truly loved, and he returned to the King Bros. Circus. There, on Thanksgiving Day, November 25, 1954, he married in the center ring Mary Ruth James (1936-2015), a young equestrian on the show who, as they say, had "run away to join the circus." Gunther Wallenda was John's best man. John and Mary Ruth had been introduced to each other by Ringmaster Harry Thomas, whom John Herriott considered as his hero and mentor. John and Mary Ruth's marriage would last 60 years—until John's death.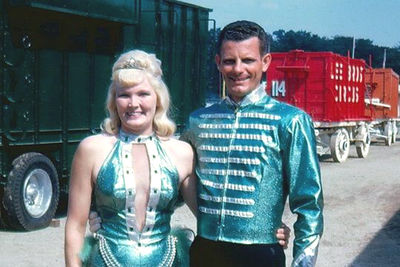 Then, John and Mary Ruth Herriott embarked on a long and rich career that would take them from "mud shows" to
Ringling Bros. and Barnum & Bailey
and everything in-between, and eventually to their own circus. Whatever circus it was, big or small, John Herriott loved it; circus was his passion, his life. Their career also included a few stints in television and film. In time, Mary Ruth would develop her own pony and dog, and aerial acts, and also assisted her husband in presenting elephants, horses, and exotic animals—to the exclusion of big cats (lions, tigers, leopards, etc.): John's philosophy on that matter was clear, he didn't want to work with animals that could conceivably enjoy him as their meal!
In November 1955, John Herriott was contracted to present elephants and exotic animals from the Gil Gray Circus at the brand-new Mickey Mouse Club Circus in Disneyland. In spite of all the Disney hoopla, the show was short-lived: it would close early January 1956. John would then remain with the Gil Gray Circus for a few years, before moving to the Hunt Bros. Circus, where he presented a group of horses at liberty"Liberty act", "Horses at liberty": Unmounted horses presented from the center of the ring by an equestrian directing his charges with his voice, body movements, and signals from a ''chambrière'' (French), or long whip..
At the end of 1962, he was contacted by circus historian "Chappie" Fox, the Director of the newly created (in 1959) Circus World Museum in Baraboo, Wisconsin—the Ringling Brothers' former hometown. Chappie was developing the Museum, and wanted an associate to manage the circus that was part of the project. In many aspects, John Herriott was a perfect match for the Museum: He knew the circus scene well, he had a natural authority, he had some business education, he could train and present animals for the show—and in addition, he had a passion for the circus and a keen interest in American circus history; in essence, he was a true circus fan, albeit a highly knowledgeable one!
John stayed at Circus World Museum until 1969, working other dates in the winter season. During his tenure there, he produced a new show each season, and created a wide variety of animal acts, including equestrian (high schoolA display of equestrian dressage by a rider mounting a horse and leading it into classic moves and steps. (From the French: Haute école) and liberty"Liberty act", "Horses at liberty": Unmounted horses presented from the center of the ring by an equestrian directing his charges with his voice, body movements, and signals from a ''chambrière'' (French), or long whip.), elephant, and exotic animal acts—with animals that belonged to the Museum's growing menagerie—and Mary Ruth's performed her own dog and pony acts. This flurry of activity didn't remain unnoticed; in 1969, Irvin Feld came to Baraboo and offered him a two-year contract with Ringling Bros. and Barnum & Bailey Circus, which Feld had acquired two years earlier, and for which he also purchased the Museum's menagerie.
In And Out Of The Ringling Show
At the end of their contract with The Greatest Show On Earth, John and Mary Ruth went to the Hoxie Bros. Circus, and then spent the summer of 1973 at the Storytown Town USA amusement park in Queensbury, New York (today Six Flags Great Escape park). They spent the following season with the Clyde Beatty-Cole Bros. Circus, returned for a short while to Hoxie Bros. Circus, and toured with the Diamond "S" Rodeo show, where John served as performance director.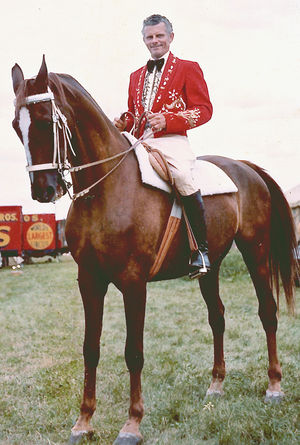 It is in this latter capacity that John Herriott returned to the Ringling show, on its Red Unit, in 1977. The following year, Irvin Feld sent him to
Circus World
, the Ringling theme park in Haines City, Florida, which had opened in 1974 and was still expanding. There, John Herriott served as Entertainment Director, with his family performing in various shows within the park; John and Mary Ruth had had four daughters, Laura (b.1955), Cindy (Wells, b.1960), Heidi (Koch, b.1961), and Christine (Plunkett, b.1963), all of whom would continue in their parents' footsteps, and maintain the Herriott heritage. (Another daughter, Julie, sadly died when she was 14 months old, in 1958.)
Circus World was an ambitious project of the Mattel Company, Inc.—at the time Ringling's parent company—which was never completed as originally planned and never really took off. Mattel sold it in 1984, and after various incarnations and rebuilding, the park finally closed in 1990 (it was known by then as the Boardwalk and Baseball theme park). John Herriott stayed only one year at Circus World, and then took his family and animals to Circus Vargas, and later to Mexico's premier circus (and oldest one), Circo Atayde, where he presented horses and elephants.
The summer of 1980 saw the Herriotts back to Baraboo's Circus World Museum, where John presented a trio of elephants from Carson & Barnes Circus. In the fall, John Herriott joined Clyde Beatty-Cole Bros. Circus as Performance Director of a new arena unit the circus had just launched. This was not a successful experiment and the unit soon closed, but the Herriotts continued the season under canvas with Beatty-Cole.
In 1981, John and Mary Ruth were with the newcomer Big Apple Circus, with which they toured the New York boroughs and a few New England spots with their horses and dogs. This was at the time a relatively short tour, with a show that was different from what the Big Apple Circus presented at New York's Lincoln Center during their winter engagement. For the Big Apple Circus's 1982 spring and summer tour, John created a Maximum & Minimum horse act with a Clydesdale and a Shetland pony, which was presented by his daughter Heidi. Heidi Herriott also performed her solo trapeze act for the 1983 tour.
In 1984, John and Mary Ruth launched their own tent show, a small one-ring affair titled Herriott Trained Animal Circus, which performed at fair dates, usually as a free attraction(Russian) A circus act that can occupy up to the entire second half of a circus performance.. The show lasted until 1989. In the meantime, Mary Ruth presented her dog act in another Herriott show in residence at Kid's World, an amusement park at the pier on Long Branch's boardwalk, in New Jersey (the pier burned down in 1987 and was never rebuilt).
John Herriott returned to the Ringling show for the last time in 1988. Kenneth Feld, who had succeeded his father, Irvin, at the helm of the Feld organization, was launching a new Gold Unit that was to perform under a state-of-the-art big topThe circus tent. America: The main tent of a traveling circus, where the show is performed, as opposed to the other tops. (French, Russian: Chapiteau) in Japan. The show opened in Tokyo in June; John had trained and presented the equestrian acts, and he remained with the new show until the end of the season in October. The experiment was not a success for Ringling, and the Gold Unit left Japan to be revived in the United States, where it now (2015) plays small arenas in a one-ring format.
Later Years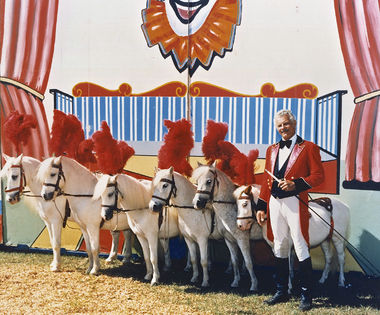 After this final experience abroad, John and Mary Ruth took over the management of
Land Of Little Horses
, a farm park with performing animals in Gettysburg, Pennsylvania. Besides their performing at the park, they continued to appear off-season with their acts at circus dates, notably Shrine dates with the
Royal Hanneford Circus
and
Tarzan Zerbini
.
John Herriott had settled in Sarasota, Florida—former home of the Ringling show, and known as America's "Circus City"—with his family and animals in 1969. For someone interested in circus history, it was a paradise. John was surrounded by its living memory: all the retired (and non-retired) major stars of the American circus, and circus people of all walks of life, called Sarasota their home. (Not to mention Sarasota's balmy weather; John Herriott used to say, "We thank God that John Ringling chose to move his winter quarters to Sarasota, or we'd all be freezing our asses off in Baraboo, Wisconsin!")
In time, John Herriott began to accept engagements to speak of circus history and circus life. He had a conservative approach to the latter, and rightly believed in the respect of its tenets and traditions, and in proper circus etiquette. John proved to be an excellent, charismatic speaker, with a solid sense of humor. He also wrote poetry about the circus; the Sarasota Herald Tribune had even called him "The Poet Laureate of the Circus." Upon his retirement from performing, these became steady activities. He was also actively involved in Showfolks of Sarasota, the famous circus folks clubA juggling pin. in Sarasota, of which he was President in 1982-1983.
In 2000, John Herriott was honored with a plaque on the Circus Ring of Fame at St. Armands Circle in Sarasota. In 2005, he was inducted into the International Circus Hall Of Fame in Peru, Indiana. He had also been inducted into the Ringling Museum of Art's Circus Celebrity Circle in 1976. John Herriott had written a poem titled The Old Showman's Heaven; on February 26, 2015, the old showman he was rejoined there the people he had loved and admired. He was 84. Mary-Ruth followed him soon after, on November 1, 2015. The Herriott dynasty continues with his four daughters, ten grandchildren and two great-grandchildren.
Image Gallery