Difference between revisions of "Main Page"
From Circopedia
Line 29:
Line 29:
 

==In The Spotlight==

 

==In The Spotlight==

 
 
−

===THE POMPOFF THEDY FAMILY===  

+

======  

 
 
−

[[File:Pompoff_Thedy_Emilio_Zampabollos.jpeg|right|250px]]The Aragón family is one of Europe's most prolific clown dynasties. A Spanish family with French circus ancestry, it has produced five generations of funnymen, some of whom have become major circus stars in Spain as well as abroad: Pompoff y Thedy, arguably the greatest Spanish clown duet of their generation, which morphed into The Pompoff Thedy Family with the third and fourth generations and have enjoyed an outstanding international career; and Gaby, Fofó y Miliki, from the fourth generation, who became major stars on Spanish television. The founder of the dynasty, Gabriel Aragón Gomez, was a former seminarian who had "run away and joined the circus," and eventually became a clown under the name of Pepino. Gabriel married the equestrienne Virginie Foureaux (?-1930), who came from one of France's oldest circus dynasties. Gabriel and Virginie had fifteen children—and four sons among them. ([[Pompoff Thedy Family|more...]])

+

[[File:.|right|]]one of . circus , of , in as as of the , , . of , , was a and under the name of . the equestrienne(-), who . and had —and . ([[|more...]])

 
 
 

==New Biographies==

 

==New Biographies==
---
Revision as of 22:16, 30 June 2012
In The Spotlight
JENDA SMAHA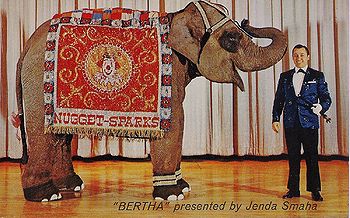 Jenda Smaha (1932-2006) was considered one of the best elephant trainers of his generation. Although he came from a well-established European circus family, he spent most of his career on stage in the United States, working in casinos and variety shows. To the public at large, his name is certainly not as famous as that of the elephants he presented,
Bertha
, and then a string of
Tanyas
. Born Jan Vinicky on January 8, 1932 in Bad Salzelmen, a district of Schönebeck in Saxony-Anhalt, Germany, he was fifth generation of a celebrated German family of equestrians and animal trainers who worked under the stage name of Smaha. Jan, nicknamed Jenda, was the son of Antonin and Ingebord Vinicky. His father was a famous circus equestrian known as Tony Smaha (1908-1986), and his mother was also a remarkable

equestrienne

. Jenda had two brothers, Antonin Joszi, known as Tony Smaha, Jr. (1949-2008), and Pero, equestrians and animal trainers as well. Jenda's uncle (Tony Smaha's brother) was Joszi Vinicky, who had also a brilliant career in Europe as a Master Equestrian and animal trainer. Jenda's grandfather, Joszi Vinicky, Sr., was born in the traveling menagerie business, and had worked as an elephant trainer with the legendary Austro-Czech circus Kludsky—which owned, at the time of its fateful bankruptcy in 1934, a group of 24 elephants. Joszi's children, Tony and Joszi (Jr.), became accomplished equestrians as well as all-around animal trainers. (
more...
)
New Biographies
New Videos
Featured Oral Histories
A Message from the Editor
CIRCOPEDIA is a constantly evolving and expanding encyclopedia of the international circus. New videos, biographies, essays, and documents are added to the site on a weekly—and sometimes daily—basis. Keep visiting us: even if today you don't find what you're looking for, it may well be here tomorrow!
Dominique Jando
Editor/Curator