Difference between revisions of "Main Page"
From Circopedia
(28 intermediate revisions by the same user not shown)
Line 15:
Line 15:
 

==In The Spotlight==

 

==In The Spotlight==

 
 
−

===WALTER NONES===

+

======

−

[[File:Walter_Nones_and_tiger.jpeg|right|400px]]Even though he was not born in the circus, Walter Nones (1934-2016) was, in Italy, a reformer of the classic circus form, one of the few circus visionaries who have marked the second half of the 20th century (from Arturo Castilla to Jean Richard and Gerry Cottle) and built true circus empires in their own countries equating in strength the circus empires of yore.

+

[[File:.jpeg|right|]](-) was a of the , one of the the and and in in the .

 
 
−

Walter Nones was also a remarkable acrobat and a superb animal trainer; he had an engaging personality—as much when ha addressed his audience as when, away from the spotlight, he acted as the "general" of his enterprises, or in his dealing with the media and the Italian administration. Endowed with a solid intuition and a rare ability for taking calculated risks, he was able to change directions and diversify his company many times; his constant imperative was novelty, for which he was faithful to the style and methods of the great Italian variety entrepreneurs.

+

was , , the of in the the and , to his company to the and of the .

 
 
−

Walter Nones was able to build with his wife, Moira Orfei, a legend that went well beyond their circus—a circus that was certainly unique in the fact that it traveled constantly for fifty-five years without ever taking a true break! Nones was among the Italian pioneers of the internationalization of show business and, as such, he even became instrumental in the establishment of new relations between the former URSS and the Vatican.

+

was a -of , in the of . , , , and his a . ; he and the , .... ([[|more...]])

−

 

+
−

Walter Nones was born in Trent, capital of the Trentino province in northern Italy, on June 18, 1934, the oldest of the four children of Giuseppe Nones and his wife, Adele, née Medini, a circus artist. Giuseppe was a cabinet maker; he spent his life between his workshop and the gym, following in that an old Trent tradition: A great number of its citizens had developed over the years a passion for gymnastics.... ([[Walter Nones|more...]])

+
 
 
 

==New Biographies==

 

==New Biographies==

Line 34:
Line 32:
 

==New Videos==

 

==New Videos==

 
 
−

* [[Gambys_Video_(1960)|Les gambys]], Perch-Pole Balancing (1960)

+

* [[()|]], -Balancing ()

−

* [[Gil_Dova_Video_(1965)|Gil Dova]], Juggler (1965)

+

* [[()|]], ()

−

* [[Stynka_Trio_Video_(2017)|Stynka Trio]], Russian Barre (2017)

+

* [[()|]], ()

−

* [[China_Troupe_Diabolo_Video_(2005)|The China Acrobatic Troupe]], Diabolo Act (2005)

+

* [[()|The ]], Act ()

−

* [[Picaso_Jr_Video_(2015)|Picaso, Jr.]], Juggler (2015)

+

* [[()|]], ()

 
 
 

==Featured Oral Histories==

 

==Featured Oral Histories==
---
Revision as of 03:06, 10 November 2017
Welcome! ✫ Bienvenue! ✫ Willkommen! ✫ Добро Пожаловать!
Bienvenida! ✫ Benvenuto! ✫ 歡迎 ! ✫ Vítejte! ✫ Καλώς ήρθατε!
Üdvözöljük! ✫ Добре Дошли! ✫ Welkom! ✫ Ласкаво Просимо!
Velkommen! ✫ Tervetuloa! ✫ Дабро Запрашаем! ✫ Välkommen!
In The Spotlight
PINITO DEL ORO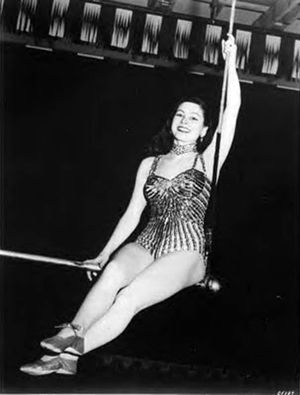 Pinito del Oro (1931-2017) was a genuine circus star, an iconic personality of the Spanish entertainment scene, and one of the world's top aerialists in the 1950s and 1960s. Beautiful, with a natural elegance and a radiant smile—and indeed extremely talented—she was featured with her outstanding
Washington trapeze
(orig.: "trapèze à la Washington" – French) A heavy trapeze with a flat bar, on which an aerialist performs balancing tricks. Originated by the American aerialist H. R. Keyes Washington (1838-1882).
act in Europe's most prestigious circuses, and had been a center-ring headliner with Ringling Bros. and Barnum & Bailey Circus in the United States for seven consecutive seasons. She was also courageous and resilient: she survived three near-fatal accidents, and each time resumed her precarious career on the trapeze.
She was born Cristina María del Pino Segura on November 6, 1931 in Las Palmas de Gran Canaria (on Gran Canaria, one of Spain's Canary Islands off the coast of southern Morocco). Spain was in political turmoil at the time, entering a period of disorder that would lead to the Spanish Civil War, and Pinito's father, José Segura, had decided to take his small family circus company to the Canary Islands, far from the mainland's troubles, and in an area also totally devoid of competition. (The Spanish circus scene at the time was particularly active.)
José Segura was not born into the circus: He came from a middle-class family of Alcoy, in the Province of Alicante (southeast of Spain), where his parents ran a delicatessen. They wanted José to be a doctor, but alas, José's father died unexpectedly, and there was no money left to pay for his studies. One of José's uncles stepped in—but he wanted José to enter a seminary and embrace priesthood. This didn't suit José's bohemian lifestyle and his taste for pretty girls; he ran away and joined a traveling comedian and puppeteer named Anastasiano, who initiated him to the performing arts and taught him rudiments of acrobatics, juggling and other circus skills.... (more...)
New Biographies
New Videos
Featured Oral Histories
A Message from the Editor
CIRCOPEDIA is a constantly evolving and expanding archive of the international circus. New videos, biographies, essays, and documents are added to the site on a weekly—and sometimes daily—basis. Keep visiting us: even if today you don't find what you're looking for, it may well be here tomorrow! And if you are a serious circus scholar and spot a factual or historical inaccuracy, do not hesitate to contact us: we will definitely consider your remarks and suggestions.
Dominique Jando
Founder and Curator