Difference between revisions of "Main Page"
From Circopedia
(10 intermediate revisions by the same user not shown)
Line 15:
Line 15:
 

==In The Spotlight==

 

==In The Spotlight==

 
 
−

===BARRY LUBIN===

+

======

−

For a quarter of a century, Barry Lubin, better known as ''Grandma'', his clown persona, has been the iconic face of the Big Apple Circus. Although his career began and continued with other circuses in the U.S. and in Europe, to many New Yorkers and Bostonians in particular, Grandma ''is'' the Big Apple Circus. Many felt a strong sense of loss when he bid farewell to the Big Apple Circus's audiences in 2012: They had laughed at Grandma's antics when they were children, and in turn, their own children were growing up laughing with Lubin's beloved character. Thankfully, he returned to the Big Apple Circus for its Lincoln Center revival season in 2017.

+

a , iconic of the and in the . and in , and in the . : , and the .

 
 
−

Barry Lubin was born July 3, 1952 in Atlantic City, New Jersey, the son of Edythe Weinberg Lubin, a homemaker, and George Simon Lubin, an audiovisual engineer. Barry nurtured hopes of becoming a television director, but the social turmoil of the late sixties and early seventies led to a period of self-questioning—as indeed it did for many disappointed youths at the time.

+

was born , in , the of , a , and , , the the and of at the time .

 
 
−

When a friend of Barry's applied for Ringling Bros. and Barnum & Bailey Clown College, a new, offbeat learning institution, Barry decided to go along and audition with him. To his surprise, he was among the 48 applicants that were accepted that year (along with Bill Irwin, and Barry's occasional partner, Dick Monday). After eight weeks of training, Barry graduated and was hired by Ringling Bros. and Barnum & Bailey: the college, in effect a training program for the show's Clown Alley, principally taught its students how to become a "Ringling clown," able to work efficiently in the specific context of The Greatest Show On Earth. ... ([[Barry Lubin|more...]])

+

a of , , his , , , . of and . and for a , to the of .... ([[|more...]])

 
 
 

==New Biographies==

 

==New Biographies==

Line 32:
Line 32:
 

==New Videos==

 

==New Videos==

 
 
−

* [[Trio_Beautiful_Video_(2007)|Trio Beautiful]], Hand-to-Hand Balancing (2007)

+

* [[()|]], Hand-to-Hand Balancing ()

−

* [[Housch-Ma-Housch_Flea_Paper_Video_(2005)|Housch-Ma-Housch]], Clown (2005)

+

* [[()|]], ()

−

* [[Shirley_Dean_Video_(2001)|Shirley Dean]], Juggler (2001)

+

* [[()|]], ()

−

* [[Victor_et_Kati_Video_(2005)|Victor et Kati]], Hand-to-Hand Balancing (2005)

+

* [[()|]], ()

−

* [[Alexis_Gruss_-_Liberty_Video_(2001)|Alexis Gruss]], Horses at Liberty (2001)

+

* [[()|]], ()

 
 
 

==Featured Oral Histories==

 

==Featured Oral Histories==
---
Revision as of 04:06, 10 November 2017
Welcome! ✫ Bienvenue! ✫ Willkommen! ✫ Добро Пожаловать!
Bienvenida! ✫ Benvenuto! ✫ 歡迎 ! ✫ Vítejte! ✫ Καλώς ήρθατε!
Üdvözöljük! ✫ Добре Дошли! ✫ Welkom! ✫ Ласкаво Просимо!
Velkommen! ✫ Tervetuloa! ✫ Дабро Запрашаем! ✫ Välkommen!
In The Spotlight
PINITO DEL ORO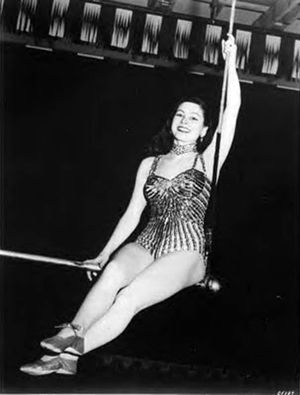 Pinito del Oro (1931-2017) was a genuine circus star, an iconic personality of the Spanish entertainment scene, and one of the world's top aerialists in the 1950s and 1960s. Beautiful, with a natural elegance and a radiant smile—and indeed extremely talented—she was featured with her outstanding
Washington trapeze
(orig.: "trapèze à la Washington" – French) A heavy trapeze with a flat bar, on which an aerialist performs balancing tricks. Originated by the American aerialist H. R. Keyes Washington (1838-1882).
act in Europe's most prestigious circuses, and had been a center-ring headliner with Ringling Bros. and Barnum & Bailey Circus in the United States for seven consecutive seasons. She was also courageous and resilient: she survived three near-fatal accidents, and each time resumed her precarious career on the trapeze.
She was born Cristina María del Pino Segura on November 6, 1931 in Las Palmas de Gran Canaria (on Gran Canaria, one of Spain's Canary Islands off the coast of southern Morocco). Spain was in political turmoil at the time, entering a period of disorder that would lead to the Spanish Civil War, and Pinito's father, José Segura, had decided to take his small family circus company to the Canary Islands, far from the mainland's troubles, and in an area also totally devoid of competition. (The Spanish circus scene at the time was particularly active.)
José Segura was not born into the circus: He came from a middle-class family of Alcoy, in the Province of Alicante (southeast of Spain), where his parents ran a delicatessen. They wanted José to be a doctor, but alas, José's father died unexpectedly, and there was no money left to pay for his studies. One of José's uncles stepped in—but he wanted José to enter a seminary and embrace priesthood. This didn't suit José's bohemian lifestyle and his taste for pretty girls; he ran away and joined a traveling comedian and puppeteer named Anastasiano, who initiated him to the performing arts and taught him rudiments of acrobatics, juggling and other circus skills.... (more...)
New Biographies
New Videos
Featured Oral Histories
A Message from the Editor
CIRCOPEDIA is a constantly evolving and expanding archive of the international circus. New videos, biographies, essays, and documents are added to the site on a weekly—and sometimes daily—basis. Keep visiting us: even if today you don't find what you're looking for, it may well be here tomorrow! And if you are a serious circus scholar and spot a factual or historical inaccuracy, do not hesitate to contact us: we will definitely consider your remarks and suggestions.
Dominique Jando
Founder and Curator