Difference between revisions of "Main Page"
From Circopedia
(16 intermediate revisions by the same user not shown)
Line 14:
Line 14:
 

|}

 

|}

 

==In The Spotlight==

 

==In The Spotlight==

−

[[File:Chiarini_Poster_1881.jpg|right|300px]]

+

[[:.jpg|right|]]

−

===GIUSEPPE CHIARINI===

+

======

 
 
−

Giuseppe Chiarini (1823-1897) was perhaps the most influential circus director of the nineteenth century: During a professional career that spanned fifty-eight years, his extensive and incessant international tours led him from Europe to North and South America, to India and Asia, and down to Australia. In many places that had not yet been exposed to the circus, Chiarini's was the first circus the locals had ever seen—and this exposure sometimes triggered there the creation of an indigenous circus inspired by Chiarini's shows.

+

the of , and to and , and , and to . that to the circus was the the the circus.

 
 
−

Over the years, Chiarini performed for Tsar Nicholas I of Russia, Emperors Maximilian I of Mexico, Dom Pedro of Brazil, Mitsuhito of Japan, King Rama V of Siam, an assortment of Indian Rajahs, and for various government officials and politicians. His Royal Italian Circus—which could become Royal Spanish Circus when needed—was in fact an American enterprise based in California. A true circus man, Chiarini was indubitably a citizen of the world.

+

in ., a . a and , the -of , . , to , , , , and (), the of ;, , , , , —Astley . ([[|more...]])

−

 

+
−

Giuseppe Chiarini came from a large and ancient Italian family of traveling entertainers, whose first recorded appearance was at the Foire Saint-Laurent, one of France's oldest fairs, in 1580. Many Chiarinis, more or less directly related to Giuseppe, have since been chronicled in popular entertainment and circus history—a very diverse crowd of acrobats, ropedancers, puppeteers, ballet dancers, and equestrians.

+
−

 

+
−

In his novel, Die Vagabunden (1895), the German poet Karl von Holtei immortalized one of them, Francesco Chiarini; in the 1780s, this Chiarini managed a company of acrobats and puppeteers, and ran a very successful ''Théâtre d'Ombres Chinoises'' (shadow puppet theater). His daughter, Angélique, a celebrated equestrienne, had been featured in 1793 at the Amphithéâtre Franconi—the former Amphithéâtre Astley—in Paris, and later in the troupe of Jacques Tourniaire.... ([[Giuseppe Chiarini|more...]])

+
 
 
 

==New Biographies==

 

==New Biographies==

 
 
 
+
 

* [[Irina Naumenko]], Hand Balancer

 

* [[Irina Naumenko]], Hand Balancer

 

* [[The Owl and The Pussycat]], Trapeze Act

 

* [[The Owl and The Pussycat]], Trapeze Act

 

* [[Walter Nones]], Circus Director, Animal Trainer

 

* [[Walter Nones]], Circus Director, Animal Trainer

 

* [[Norman Crider]], Juggler

 

* [[Norman Crider]], Juggler

−

* [[Zhejiang Acrobatic Troupe]], Chinese Acrobatics

 
 
 
 

==New Videos==

 

==New Videos==

 
 
−

* [[Duss_Video_(2001)|Petra & Roland Duss]], Sea Lion Act (2001)

+

* [[()|]], Act ()

−

* [[Samoylenko_Video_(2016)|Yulia Samoylenko]], Foot Juggler (2016)

+

* [[()|]], ()

−

* [[Anton_and_Antoschka_Video_(1981)|Anton & Antoschka]], Clowns (1981)

+

* [[()|]], ()

−

* [[Rokardy_Video_(2017)|Rokardy]], Chair Balancing (2017)

+

* [[()|]], ()

−

* [[Charlie_Rivel_Video_(1965)|Charlie Rivel]], Clown (1965)

+

* [[()|]], ()

 
 
 

==Featured Oral Histories==

 

==Featured Oral Histories==
---
Revision as of 02:16, 14 February 2018
Welcome! ✫ Bienvenue! ✫ Willkommen! ✫ Добро Пожаловать!
Bienvenida! ✫ Benvenuto! ✫ 歡迎 ! ✫ Vítejte! ✫ Καλώς ήρθατε!
Üdvözöljük! ✫ Добре Дошли! ✫ Welkom! ✫ Ласкаво Просимо!
Velkommen! ✫ Tervetuloa! ✫ Дабро Запрашаем! ✫ Välkommen!
In The Spotlight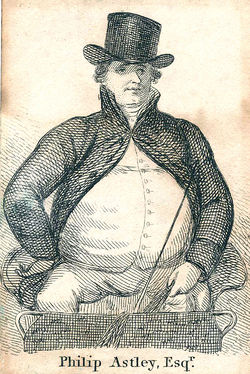 A SHORT HISTORY OF THE CIRCUS
If the history of theater, ballet, opera, vaudeville, movies, and television is generally well documented, serious studies of circus history are sparse, and known only to a few circus enthusiasts and scholars. What little the public at large knows, on the other hand, is circus history as told over the years by imaginative circus press agents, and repeated—and often misunderstood and distorted—by writers of popular fiction, Hollywood screenwriters, and journalists too busy to investigate further. One of the most popular misapprehensions about circus history is the oft-repeated idea that circus dates back to the Roman antiquity. But the Roman circus was in actuality the precursor of the modern racetrack; the only common denominator between Roman and modern circuses is the word itself, circus, which means in Latin as in English, "circle".
The modern circus was actually created in England by Philip Astley (1742-1814), a former cavalry Sergeant-Major turned showman. The son of a cabinet-maker and veneer-cutter, Astley had served in the Seven Years' War (1756-63) as part of Colonel Elliott's 15th Light Dragons regiment, where he displayed a remarkable talent as a horse-breaker and trainer. Upon his discharge, Astley chose to imitate the trickAny specific exercise in a circus act.-riders who performed, with increasing success, all over Europe. Jacob Bates, an English equestrian based in the German States, who performed as far away as Russia (1764-65) and America (1772-73), was the first of these showmen to make a mark. Bates's emulators—Price, Johnson, Balp, Coningham, Faulkes, and "Old" Sampson—had become fixtures of London's pleasure gardens and provided Philip Astley with his inspiration. (more...)
New Biographies
New Videos
Featured Oral Histories
A Message from the Editor
CIRCOPEDIA is a constantly evolving and expanding archive of the international circus. New videos, biographies, essays, and documents are added to the site on a weekly—and sometimes daily—basis. Keep visiting us: even if today you don't find what you're looking for, it may well be here tomorrow! And if you are a serious circus scholar and spot a factual or historical inaccuracy, do not hesitate to contact us: we will definitely consider your remarks and suggestions.
Dominique Jando
Founder and Curator