Difference between revisions of "Main Page"
From Circopedia
 

(37 intermediate revisions by the same user not shown)
Line 13:
Line 13:
 

|}

 

|}

 

|}

 

|}

−

 
−

 
 

==In The Spotlight==

 

==In The Spotlight==

 
+
 
+
 
 
−

[[File:Gia_Eradze_and_Horse.jpeg|right|300px]]

+

in , , , to and . , , , and . His to , , the . was and the of a and would .  

−

===GIA ERADZE===

+
−

 

+
−

In his early youth, Gia Eradze fell in love with the circus and decided he would become an animal trainer. From then on, nothing stopped him. Not only did he become a successful animal trainer, but his rich, extravagant visual imagination led him to create extremely successful shows that helped revive the creative image of the Russian circus at home and abroad, and eventually propelled him to new heights in the Russian circus artistic hierarchy.

+
−

 

+
−

Gia Giulevich Eradze was born October 3, 1979 in Tbilisi, Georgia—which was then part of the Soviet Union. His father managed a supermarket, and his mother was Rector of Economics at the Tbilisi State University. His was a well-to-do family with no connection whatsoever with the performing arts in general, and the circus in particular.

+
−

 

+
−

Yet, then as now, Tbilisi was a circus town: In 1888, the Nikitin Brothers had built a wooden circus on Golovinsky Prospect (today Rustaveli Prospect), and what was then Tiflis became their home base. From there, they created a touring circuit for which they used circus buildings they erected over the years in several other cities, including Moscow.

+
−

 

+
−

The original Circus Nikitin's structure was destroyed by a fire in 1911, and Tbilisi's new circus was housed for a long time in a former factory before being rebuilt in 1939 in its present location, on a hill on the left bank of the Kura river. It is there that a young Gia Eradze fell in love with the circus—and especially with animal acts. There and then, he decided he would be an animal trainer.

+
 
 
−

He enrolled in the local Amateur Circus (Youth Circus) and began training in various circus disciplines, but he quickly discovered that Amateur Circuses (and circus schools for that matter) did not teach animal training. Working with animals is something you learn hands on, working with other animal trainers in a circus.

+

in the and began , he and . , in a .

 
 
−

Gia was a precocious and strong-willed kid, and his determination eventually led him to truancy: when his father's car took him to school in the morning, Gia waited until the chauffeur had left and changed trajectory, landing inevitably at the circus. In 1990, at age eleven, he managed to get a job as an assistant (or as a groom) with Nana Milkatze's ''Horsemen of Georgia'' troupe of Cossack riders... ([[Gia Eradze|more...]])

+

his , and the circus. In , , he with of ... ([[|more...]])

 
 
 

==New Biographies==

 

==New Biographies==

 
 
 
+
 

* [[Gia Eradze]], Circus Director, Animal Trainer

 

* [[Gia Eradze]], Circus Director, Animal Trainer

 

* [[Rob Torres]], Clown

 

* [[Rob Torres]], Clown

 

* [[Tianjin Acrobatic Troupe]], History

 

* [[Tianjin Acrobatic Troupe]], History

 

* [[Nino Frediani]], Juggler

 

* [[Nino Frediani]], Juggler

−

* [[Henrik Henricksen]], Animal Trainer

 
 
 
 

==New Videos==

 

==New Videos==

 
 
−

* [[Houcke_Courier_Video_(1943)|Gilbert Houcke]], ''The Courier'' (1943)

+

* [[()|]], ()

−

* [[David_Larible_Video_(2014)|David Larible]], Clown (2014)

+

* [[()|]], ()

−

* [[Rastellis_Video_(2000)|The Rastellis]], Clowns (2000)

+

* [[()|]], Clowns ()

−

* [[Kulakov_Video_(1985)|Vladimir Kulakov]], Juggler (1985)

+

* [[()|]], ()

−

* [[Gilbert_Houcke_Video_(1949)|Gilbert Houcke]], Tiger Act (1949)

+

* [[()|]], ()

 
 
 

==New Oral Histories==

 

==New Oral Histories==
---
Latest revision as of 01:48, 27 June 2019
Welcome! ✫ Bienvenue! ✫ Willkommen! ✫ Добро Пожаловать!
Bienvenida! ✫ Benvenuto! ✫ 歡迎 ! ✫ Vítejte! ✫ Καλώς ήρθατε!
Üdvözöljük! ✫ Добре Дошли! ✫ Welkom! ✫ Ласкаво Просимо!
Velkommen! ✫ Tervetuloa! ✫ Дабро Запрашаем! ✫ Välkommen!
In The Spotlight
ROB TORRES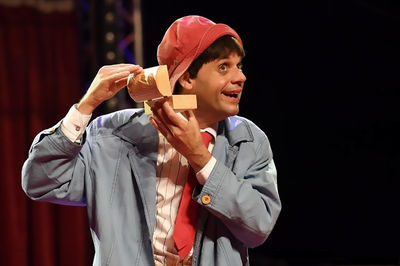 Rob Torres (1973-2018) had become, in a few short years, one of the world's most successful clowns, working with equal success in the Americas, Asia, and Europe—where he was on his way to becoming a genuine star. His untimely death stopped short the brilliant career of a young, talented clown that had conquered the affection of a large international audience.
Rob Torres was born Robert Joseph Torres in Rockland County, New York, on September 10, 1973 to Marguerite and Efrein Torres. He had one sister, Allison, and two brothers, Thomas and Andrew. His parents later moved to Hillsdale, New Jersey, where Rob attended the Pascack Valley High School. Hillsdale was not far from Manhattan and the dazzling lights of Broadway: Rob developed a taste for performance and show business that would inform the rest of his life.
While in high schoolA display of equestrian dressage by a rider mounting a horse and leading it into classic moves and steps. (From the French: Haute école), he was a member of the cross-country track team and the marching band and he began to show his generous and compassionate nature; always ready to help and reach out, he was a member of the Hillsdale Boy Scout Troop and the United Methodist Church's Youth Group, and he was a Peer Counselor. In 1990, he was inducted into the National Caring Hall of Fame in Washington, D.C. This warm side of his personality was fully visible in Rob Torres's sensitive work as a performer.
In his teens, he became interested in juggling and magic and developed a love for the circus. In 1992 he joined Ringling Bros. and Barnum & Bailey's Clown College in Venice, Florida, where he was trained in the traditional ways of American clowning. Upon graduation, he toured for three years with Clyde Beatty-Cole Bros. Circus, where he honed his comedic skills in front of large audiences and developed his juggling and acrobatic abilities with fellow performers.... (more...)
New Biographies
Alisher Aliyev, acrobat, equestrian,

aerialist

Any acrobat working above the ring on an aerial equipment such as trapeze, Roman Rings, Spanish web, etc.

Gia Eradze, Circus Director, Animal Trainer
Rob Torres, Clown
Tianjin Acrobatic Troupe, History
Nino Frediani, Juggler
New Videos
New Oral Histories
Circopedia Books
A Message from the Editor
CIRCOPEDIA is a constantly evolving and expanding archive of the international circus. New videos, biographies, essays, and documents are added to the site on a weekly—and sometimes daily—basis. Keep visiting us: even if today you don't find what you're looking for, it may well be here tomorrow! And if you are a serious circus scholar and spot a factual or historical inaccuracy, do not hesitate to contact us: we will definitely consider your remarks and suggestions.
Dominique Jando
Founder and Curator