Difference between revisions of "Main Page"
From Circopedia
 

(235 intermediate revisions by the same user not shown)
Line 14:
Line 14:
 

|}

 

|}

 

==In The Spotlight==

 

==In The Spotlight==

−

[[File:Lola_Dobritch_GSOE.jpg|right|400px]]

 
−

===LOLA DOBRITCH===

 
−

A fourth-generation circus performer (through her mother), Lola Dobritch (1922-2008) was one of the great tight-wire artists of the mid-twentieth century, famous for crossing her wire on her toes like a ballerina—still a rare feat in her times—which, along with her natural grace and her use of a feather fan instead of an umbrella for balancing, won her to be advertised as "The Pavlova of the Silver Strand."

 
 
 
−

She was born Vera Dobrich—the correct English spelling of her name—on October 14, 1922 in Sofia, Bulgaria, to Alexandre and Anna Dobrich. Alexandre and his brother, Lazar (1881-1970), owned the Royal Dobrich Circus in Bulgaria. "Lola," as Vera would become known (she was often featured as "Miss Lola"), learned all traditional circus disciplines from her parents and took ballet classes in Sofia, before specializing as a tight-wire dancer. She made her debut on the wire at age ten, in 1932, in the family circus.

+
 
 
−

In 1946, Lola Dobritch married the German acrobat on unicycle Emil Goetschi (1921-2002), whose remarkable novelty act with brothers Carl and Hans was well known all over Europe, and she became part of the Goetschis' act while continuing to perform her own tight-wire act. The following year, 1947, the Goetschis signed a contract for their two acts with Ringling Bros. and Barnum & Bailey Circus, and went to the United States.... ([[Lola Dobritch|more...]])

+

, the (-), with and was

 
+

 

 
+

, and of the to -.

 
+

 

 
+

The , , with . and , and to .... ([[|more...]])

 
 
 

==New Biographies==

 

==New Biographies==

 
 
−

* [[Dimitri]], Clown

+

* [[]],

−

* [[Oleg Popov]], Clown

+

* [[]],

−

* [[The Steben Sisters]], Aerialists

+

* [[]],

−

* [[Gilbert Houcke]], Equestrian, Animal Trainer

+

* [[]],

−

* [[Alisher Aliyev]], Acrobat, Equestrian, Aerialist

+

* [[]],

 
 
 

==New Videos==

 

==New Videos==

 
 
−

* [[China_Troupe_Hand-to-Hand_Video_(2015)|China Acrobatic Troupe]], Hand-To-Hand Balancing (2015)

+

* [[()|]], ()

−

* [[Sidorkina_Bear_Video_(1953)|Irina Sidorkina]], Bear Act (1953)

+

* [[()|]], ()

−

* [[Khailafov_Video_(1995)|Khailafov Troupe]], Perch-Pole Balancing (1995)

+

* [[()|]], ()

−

* [[Beautour_Video_(1995)|Alfred Beautour II]], Tiger Act (1995)

+

* [[()|]], ()

−

* [[Gaston_Palmer_Video_(1939)|Gaston Palmer]], Comedy Juggling (1939)

+

* [[|]], ()

 
 
 

==New Oral Histories==

 

==New Oral Histories==
---
Latest revision as of 22:39, 23 October 2020
Welcome! ✫ Bienvenue! ✫ Willkommen! ✫ Добро Пожаловать!
Bienvenida! ✫ Benvenuto! ✫ 歡迎 ! ✫ Vítejte! ✫ Καλώς ήρθατε!
Üdvözöljük! ✫ Добре Дошли! ✫ Welkom! ✫ Ласкаво Просимо!
Velkommen! ✫ Tervetuloa! ✫ Дабро Запрашаем! ✫ Välkommen!
In The Spotlight
FRANZ ALTHOFF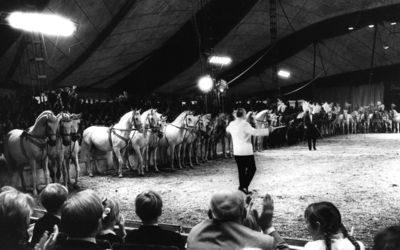 Germany's Circus Franz Althoff, "Europe's Largest Hippodrome-Circus," was truly, in the 1950s and 1960s, one of the continent's largest and more original circuses. Although it was active for no more than two decades after WWII, it was a circus industry's trendsetter in several aspects. Its director, Franz Althoff (1908-1987), brilliantly developed collaborative strategies with foreign colleagues, and his circus was the first to regularly visit countries outside the German borders in the early postwar era. Circus Franz Althoff was also the first European circus of that era to develop an acceptable compromise between the grandiosity of the American-style three-ring circus and the refinement and intimacy of the traditional European circus.
Franz Althoff also improved the circus performing space, introducing innovative concepts in big-top engineering and design. At the same time, he foresaw the potential the development of large indoor sport arenas offered to the European circus industry, and he participated in the emergence of the so-called "circus festivals" of the 1950-60s, which were held in these arenas and proved an efficient way to catch the attention of a public solicited by an increasing number of new forms of entertainment such as music recording, television and wide-screen movie spectacles.
The broadness and scope of his circus project, as well as his genial personality, helped him close important deals with the American movie industry. A remarkably gifted animal trainer, he created spectacular yet elegant presentations of horses and elephants; his forty-eight-horse liberty"Liberty act", "Horses at liberty": Unmounted horses presented from the center of the ring by an equestrian directing his charges with his voice, body movements, and signals from a ''chambrière'' (French), or long whip. act remains the largest in circus history. His shows, with their impressive variety of animal acts, spectacular production numbers and top international talents, are remembered as a modern paradigm of what a large-scale classic traveling circus was meant to be.... (more...)
New Biographies
New Videos
New Oral Histories
Circopedia Books
A Message from the Editor
CIRCOPEDIA is a constantly evolving and expanding archive of the international circus. New videos, biographies, essays, and documents are added to the site on a weekly—and sometimes daily—basis. Keep visiting us: even if today you don't find what you're looking for, it may well be here tomorrow! And if you are a serious circus scholar and spot a factual or historical inaccuracy, do not hesitate to contact us: we will definitely consider your remarks and suggestions.
Dominique Jando
Founder and Curator