Difference between revisions of "Main Page"
From Circopedia
 

(51 intermediate revisions by the same user not shown)
Line 14:
Line 14:
 

|}

 

|}

 

==In The Spotlight==

 

==In The Spotlight==

−

[[File:Dimitri_Knie_1979.jpg|right|300px]]

+

[[File:.jpg|right|300px]]

−

===DIMITRI===

+

======

 
 
−

Although he was mostly known internationally as a theater clown, Dimitri (1935-2016) had started his clown career in the ring of the legendary Cirque Medrano in Paris, and had been featured three times at Circus Knie in Switzerland and once at the Big Apple Circus in the United States. He had also inspired, and sometimes trained, many clowns who pursued a career in the circus and, therefore, he is indeed an important figure of circus history.

+

was a () ringof , and three and at . , and the circus and .  

 
 
−

Born Dimitri Jakob Müller on September 18, 1935 in Ascona, on the Lake Maggiore, near Locarno in Switzerland, Dimitri was a clown, as well as a director, actor, musician, folk singer, and also an artist who expressed himself in pottery, sculpture and painting. The recipient of several international awards and celebrated worldwide as an outstanding performer, he attained a rare international popularity for a clown, and was considered in Switzerland a cultural ambassador of his country.

+

, in , , a , ,, , in , of , and his .

 
 
−

With a solid background in post-war Europe's emerging physical theater community, he had a major influence in reshaping the western clown image. Merging traditional circus clown techniques and classic theatrical pantomime, while escaping the clichés attached to these two specialties, he gave a new legitimacy to the clown's role in the contemporary culture, both on stage and in the ring.

+

, the the to , the in the , the .

 
 
−

Dimitri's art was rooted in the ancient and versatile bases of true clown technique: Pantomime, acrobatics, dance, music, and even work with animals. His own research had led to an essential aesthetic of purity, discreetly balancing seemingly separate influences such as western clowning and pantomime, various ethnic traditions, popular rituals, Japanese theater, Commedia dell' Arte, folk music, and storytelling. His talents as an artist and craftsman also helped him create a theatrical universe of remarkable fertility, conceiving the clown as a multi-faceted expression of life itself.... ([[Dimitri|more...]])

+

the and of , and . , and . of , the of .... ([[|more...]])

 
 
 

==New Biographies==

 

==New Biographies==

 
 
 
+
 
+
 

* [[Kio]], Magician

 

* [[Kio]], Magician

 

* [[Dimitri]], Clown

 

* [[Dimitri]], Clown

 

* [[Oleg Popov]], Clown

 

* [[Oleg Popov]], Clown

−

* [[The Steben Sisters]], Aerialists

 
−

* [[Gilbert Houcke]], Equestrian, Animal Trainer

 
 
 
 

==New Videos==

 

==New Videos==

 
 
−

* [[Mercure_Video_(2019)|Nicole Faubert & Guillaume Paquin]], Strap Act (2019)

+

* [[()|]], ()

−

* [[Hebei_Video_(1994)|Hebei Acrobatic Troupe]], Balancing Act (1994)

+

* [[()|Acrobatic Troupe]], Act ()

−

* [[Klopov_Video_(2007)|Denis Klopov]], Juggler (2007)

+

* [[()|]], ()

−

* [[Rastelli_Video_(1930)|Enrico Rastelli]], Juggler (1930)

+

* [[()|]], ()

−

* [[Nazarova_Video_(1969)|Margarita Nazarova]], Lion & Tiger Act (1969)

+

* [[()|]], ()

 
 
 

==New Oral Histories==

 

==New Oral Histories==
---
Latest revision as of 21:50, 19 January 2020
Welcome! ✫ Bienvenue! ✫ Willkommen! ✫ Добро Пожаловать!
Bienvenida! ✫ Benvenuto! ✫ 歡迎 ! ✫ Vítejte! ✫ Καλώς ήρθατε!
Üdvözöljük! ✫ Добре Дошли! ✫ Welkom! ✫ Ласкаво Просимо!
Velkommen! ✫ Tervetuloa! ✫ Дабро Запрашаем! ✫ Välkommen!
In The Spotlight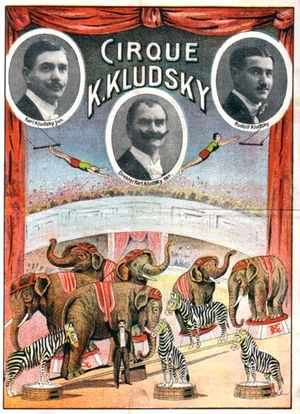 CIRKUS KLUDSKY
Cirkus Kludský, the most famous Czech circus and one of Europe's largest ever, was at its peak a colossal enterprise traveling with an 86 x 54 meters (approximately 280 x 178 feet) three-ring, four-pole big topThe circus tent. America: The main tent of a traveling circus, where the show is performed, as opposed to the other tops. (French, Russian: Chapiteau) that could seat 10,000 spectators. Its menagerie included a herd of 25 elephants, 160 horses, 74 wild animals (lions, tigers, leopards, etc.), and a vast assortment of exotic animals, among which three giraffes and a hippopotamus—an ensemble advertised at some 700 heads. Cirkus Kludský boasted two hundred performers from thirty-five nations, including two large bands, and two hundred wagons traveling by train were used to transport the circus equipment and house the personnel.
In 1929, when Cirkus Kludsky was invited to perform in Rome, Italy, for a run of fifty-two days, more than 600,000 spectators attended its performances. This gigantic organization belonged to the Czech Kludský family, and had been created before WWI by Karel Kludský (Carl Kludsky, as he became known in the West-European circus business). From humble beginnings, Karel Kludský had managed to build one of the biggest traveling circuses in Europe, which was subsequently continued and improved by his sons.
According to family lore, the founder of the Kludský Dynasty was an adjutant to Jan Sobiesky (1629-1696), the Polish King who saved Vienna from the Turkish invasion in 1683. (The Czech Kingdom—or Kingdom of Bohemia—was then part of the Austro-Hungarian Empire.) Whether the legend is true or not, the Kludskýs eventually became a family of traveling entertainers.
The Ottoman Empire had remained at odds with the Austro-Hungarian Empire and other Western European countries until its defeat in the Russo-Turkish War of 1877-78, and its ensuing rapid decline. Therefore, traveling entertainers from the Austro-Hungarian Empire (and the Holy Roman Empire in general) were not authorized to perform farther than Constantinople (today's Istanbul). The first member of the Kludský dynasty who demonstrably obtained this authorization was Josef Kludský, from the village of Strážovice in South Bohemia, in 1789.... (more...)
New Biographies
New Videos
New Oral Histories
Circopedia Books
A Message from the Editor
CIRCOPEDIA is a constantly evolving and expanding archive of the international circus. New videos, biographies, essays, and documents are added to the site on a weekly—and sometimes daily—basis. Keep visiting us: even if today you don't find what you're looking for, it may well be here tomorrow! And if you are a serious circus scholar and spot a factual or historical inaccuracy, do not hesitate to contact us: we will definitely consider your remarks and suggestions.
Dominique Jando
Founder and Curator