Difference between revisions of "Main Page"
From Circopedia
 

(180 intermediate revisions by the same user not shown)
Line 14:
Line 14:
 

|}

 

|}

 

==In The Spotlight==

 

==In The Spotlight==

−

[[File:Kio_Poster_Carriage.jpg|right|300px]]

+

[[File:.jpg|right|]]

−

===KIO===

+

======

 
 
−

From the 1920s to about 2010, three magic acts have been performed under the name "Kio," first by Emil Kio (1894-1965), then by his sons, Igor (1944-2006) and Emil (b.1938). Kio, whether the original Emil Kio or his sons, had an exceptionally brilliant career in the Soviet Union (and later, the Russian Federation) as well as around the world, where they performed extensively on international tours of the "Moscow Circus." Kio's illusions had a unique particularity: they were created to be performed exclusively in the ring. Together, Emil Kio, Igor Kio and Emil Kio, Jr. have performed for an estimated audience of 180 million worldwide, which arguably makes theirs the most widely seen act in the history of Magic.

+

", , his , (-)and ), his (), of had a in the , in the .

 
 
−

Even more than their illustrious father, who was a bona fide star of the Soviet circus, Emil, Jr. and Igor became celebrities in their own right; they appeared on television, either as program hosts or in their own magic shows, and on film, and they were regularly and, sometimes, opulently chronicled in the Russian press—and by the Soviet gossipmongers, who showed a tabloid interest for the peculiar intricacies of their multiple marriages, notably Igor's matrimonial and extra-marital adventures.  

+

father, was a , on in and , , in the , a , and .

 
 
−

Advertised simply as "KIO," the various Kio magic acts were what the Russians call an ''attraction'', a presentation that can fill up to the entire second half of a circus performance. Kio's original act had been created by magician Emil Hirschfeld-Renard in 1932. After his death in 1965, the act was inherited by Emil's younger son and assistant, Igor (who presented it in his father's version until 1976, and then completely revamped it), and was reproduced in 1966 as a second Kio unit presented until the early twenty-first century by Igor's elder brother, Emil, Jr.... ([[Kio|more...]])

+

, '', a the . -. , was 's and in until , and in , , .... ([[|more...]])

 
 
 

==New Biographies==

 

==New Biographies==

 
 
 
+
 
+
 
+
 
+
 

* [[William Vos]], Animal Trainer

 

* [[William Vos]], Animal Trainer

−

* [[Jürg Jenny]], Animal Trainer

 
−

* [[Kio]], Magician

 
−

* [[Dimitri]], Clown

 
−

* [[Oleg Popov]], Clown

 
 
 
 

==New Videos==

 

==New Videos==

 
 
−

* [[Francescos_Castle_Video_(1968)|The Francescos]], Clown Entrée (1968)

+

* [[()|]], ()

−

* [[Ionova_Reznikov_Video_(1953)|L. Ionova & E.G. Reznikov]], Aerial Perch (1953)

+

* [[()|]], ()

−

* [[Yunnan_Troupe_Video_(1994)|Yunnan Acrobatic Troupe]], Balancing Act (1994)

+

* [[|]], Act ()

−

* [[Tashkenbaev_Video_(1953)|Tashkenbaev Troupe]], High Wire (1953)

+

* [[()|Troupe]], ()

−

* [[Shirokalov_Video_(2015)|Andrey & Natalya Shirokalov]], Tigers and Leopards Act (2015)

+

* [[()|]], Act ()

 
 
 

==New Oral Histories==

 

==New Oral Histories==
---
Latest revision as of 00:20, 17 September 2020
Welcome! ✫ Bienvenue! ✫ Willkommen! ✫ Добро Пожаловать!
Bienvenida! ✫ Benvenuto! ✫ 歡迎 ! ✫ Vítejte! ✫ Καλώς ήρθατε!
Üdvözöljük! ✫ Добре Дошли! ✫ Welkom! ✫ Ласкаво Просимо!
Velkommen! ✫ Tervetuloa! ✫ Дабро Запрашаем! ✫ Välkommen!
In The Spotlight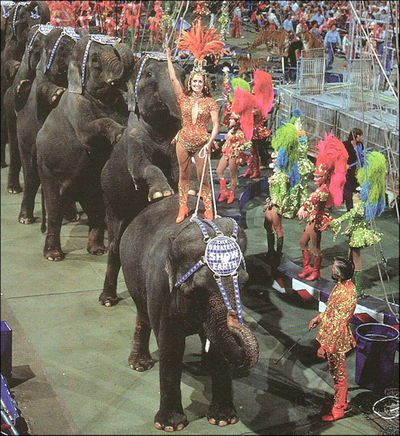 BILL & BARBARA WOODCOCK
William "Buckles" Woodcock was born on February 26, 1935 in Lancaster, Missouri, to an old American circus family. Although his father, William H. Woodcock (1904-1963), was a first-generation circus man (and became a legendary elephant trainer with a passion for circus history), his mother was Sarah "Babe" Orton (1902-1988), whose grandfather, Hiram , a former sailor and tavern-keeper of British origin, had started a circus in Wisconsin in 1854. As the feisty Babe would often say, "My family was in the circus when the Ringling brothers were still wearing wooden shoes."
Bill (to differentiate him from his father, William) Woodcock grew up around animals, elephants in particular. When he was a toddler, he was often buckled to his mother on a harness to keep him in check and safe around his father's elephants, thus his nickname. At age 11, he began working in the circus as a candy butcher(American) Concession vendor; so named because one of the first successful concessionaires of the American circus was a former butcher.. But Buckles had other plans: in 1951, over his father's objections, he found a job as an animal handler with another elephant trainer, Eugene "Arky" Scott, who worked with Ringling Bros. and Barnum & Bailey.
Obviously, there was not much William Senior could do. He and Buckles reunited two years later and began working together. Since his father's vision was failing, Buckles's role in the partnership became increasingly more prominent. In 1951, William Woodcock had acquired a four-year old Burmese woodland elephant, Anna May, from the Al G. Kelly-Miller Bros. Circus, and Buckles began working with her. Anna May, who was a remarkably smart and talented performer, would become America's most famous elephant and stay in the Woodcock family until May 2004, when she went into retirement at Riddle's Elephant and Wildlife Sanctuary in Greenbrier, Arkansas. She died there that same year, on December 21.... (more...)
New Biographies
New Videos
New Oral Histories
Circopedia Books
A Message from the Editor
CIRCOPEDIA is a constantly evolving and expanding archive of the international circus. New videos, biographies, essays, and documents are added to the site on a weekly—and sometimes daily—basis. Keep visiting us: even if today you don't find what you're looking for, it may well be here tomorrow! And if you are a serious circus scholar and spot a factual or historical inaccuracy, do not hesitate to contact us: we will definitely consider your remarks and suggestions.
Dominique Jando
Founder and Curator