Difference between revisions of "Main Page"
From Circopedia
 

(30 intermediate revisions by the same user not shown)
Line 14:
Line 14:
 

|}

 

|}

 

==In The Spotlight==

 

==In The Spotlight==

 
+
 
+
 
 
−

===THE CIRCUSES OF MOSCOW===

+
 
 
−

Although the name Moscow Circus is familiar to the public all over the world, there has never been one specific "Moscow Circus" whose troupe toured internationally. The name was a generic term for the circus shows from the USSR traveling abroad during the Soviet Era. It has, over time, become synonymous with "Russian circus." Yet, there are today (2020) two resident circuses in Moscow, Circus Nikulin on Tsvetnoy Boulevard, and the Bolshoi Circus (''bolshoi'' means big, in Russian) on Vernadsky Avenue—and there have been indeed several others before them.

+

was , in (), in the Russian . , the and , was . was in , to the of the of .

−

[[File:Bolshoi_Circus_by_night.jpeg|right|400px]]

+
−

The first circus built in Russia was established by the French equestrian Jacques Tourniaire, who settled in 1827 in what was then the Russian capital, St. Petersburg. The building, designed by the architect Smaragd Shustov and named Cirque Olympique, was located near the Fontanka canal, practically where St. Petersburg's Circus Ciniselli stands today. Tourniaire's circus had only a short existence: it was bought back by the government of St. Petersburg in 1828 to be transformed into a theater. Still, the event didn't fail to catch the attention of the Muscovites, who always took exception to the influence of Peter The Great's Baltic capital.

+
 
 
−

The previous year, Tourniaire had exhibited his equestrian prowess in Moscow, in the manège of the Pashkov mansion (today the Russian State Library), on Mokhovaya Street. Another famous trick rider, Jacob Bates, had long preceded him in the former Russian capital, where he performed in 1864, and since then, Moscow had welcomed several equestrian companies—among which that of Pierre Mayheu, the famous Spanish rider, in 1790—but contrary to most European major cities, the great Russian metropolis didn't have a permanent circus of its own.

+

his the of . , in , and to a . on of , a . , in , the . , and .... ([[|more...]])

−

 

+
−

In 1830, Mikhail Zagoskin, a popular novelist who was Moscow's Director of the Theaters, supported the creation of a summer circus in the Neskuchny Garden, on the banks of the Moskva River, southwest of central Moscow. The circus, which was probably a light wooden construction, lasted only three seasons. For the ensuing twenty years, Russian circus history was written exclusively in St. Petersburg: Although Moscow was still the commercial hub of Tsarist Russia, the giant city didn't have yet the rich cosmopolitan atmosphere of the Russian capital, or its cultural diversity.

+
−

 

+
−

German, Italian and, mostly, French influences were quite noticeable in St. Petersburg, a city wide open on Western Europe, as its builder, Peter The Great, had wanted it. By reaction, Moscow took pride in its being the true heart of eternal Russia, conservative, religious and nationalistic. Even though its wealth attracted traveling entertainers as much as entrepreneurs and merchants, the city was particularly slow in attuning itself to the rest of Europe.... ([[The Circuses Of Moscow|more...]])

+
 
 
 

==New Biographies==

 

==New Biographies==

 
 
 
+
 
+
 

* [[Nell Gifford]], Circus Owner

 

* [[Nell Gifford]], Circus Owner

 

* [[William Vos]], Animal Trainer

 

* [[William Vos]], Animal Trainer

 

* [[Jürg Jenny]], Animal Trainer

 

* [[Jürg Jenny]], Animal Trainer

−

* [[Kio]], Magician

 
−

* [[Dimitri]], Clown

 
 
 
 

==New Videos==

 

==New Videos==

 
 
−

* [[Dias_Video_(2019)|César Dias]], Clown (2019)

+

* [[|]], ()

−

* [[Royal_Video_(2011)|The Royal Brothers]], Hand-to-Hand Balancing (2011)

+

* [[|]], ()

−

* [[Seaworld_Video_(2004)|Seaworld]], Hand-to-Hand Balancing (2004)

+

* [[|]], ()

−

* [[Marco_Video_(1962)|Marco]], Sword Balancing (1962)

+

* [[()|]], ()

−

* [[Begbudi_Elephants_Video_(1981)|Elya & Sarvat Begbudi]], Elephant Act (1981)

+

* [[()|]], ()

 
 
 

==New Oral Histories==

 

==New Oral Histories==
---
Latest revision as of 21:56, 1 June 2020
Welcome! ✫ Bienvenue! ✫ Willkommen! ✫ Добро Пожаловать!
Bienvenida! ✫ Benvenuto! ✫ 歡迎 ! ✫ Vítejte! ✫ Καλώς ήρθατε!
Üdvözöljük! ✫ Добре Дошли! ✫ Welkom! ✫ Ласкаво Просимо!
Velkommen! ✫ Tervetuloa! ✫ Дабро Запрашаем! ✫ Välkommen!
In The Spotlight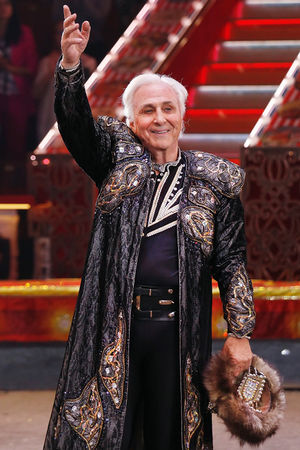 TAMERLAN NUGZAROV
Tamerlan Nugzarov (1942-2020) was one of the greatest horsemen in the long history of the Russian circus, an artist of strong personality and great distinction, who brought theatricality to his spectacular Cossack riding acts. His many awards, including a Gold Clown at the International Circus Festival of Monte Carlo in 1984, and the great respect in which he was held in the circus world at large are a testimony to his immense talent.
He was born Tamerlan Temirsoltanovich Khabriev on June 1st, 1942 in Ordzhonikidze (today Vladikavkaz), in the Russian Republic of North Ossetia-Alania. His father, Temirsolt Khabriev, was Ingush (a Muslim ethnic group of the North Caucasus) and his mother, Zinaida Kharitonovna Dzugutova, was Ossetian. Tamerlan was not even two years old when, in 1944, his father was deported along with many Ingush people: Not considering themselves Russian, they were wrongly suspected to have sided with the Nazis. They were cleared of suspicion after the death of Joseph Stalin in 1953, but twenty-nine years passed before Tamerlan could see his father again.
Tamerlan was raised by his maternal grandparents. His grandfather was a Tsarist officer who lived to the ripe age of one hundred and one. Unfortunately, his grandmother died in 1952, and ten-year-old Tamerlan decided himself to join a local orphanage. The orphanage kept stables on its piece of land, and it is there that Tamerlan developed a long-lasting passion for horses. Then, in 1958, his mother re-married with the circus horseman Kazbek Borisovich Nugzarov (1905-1979). Tamerlan rejoined her, and his stepfather gave him his name.... (more...)
New Biographies
New Videos
New Oral Histories
Circopedia Books
A Message from the Editor
CIRCOPEDIA is a constantly evolving and expanding archive of the international circus. New videos, biographies, essays, and documents are added to the site on a weekly—and sometimes daily—basis. Keep visiting us: even if today you don't find what you're looking for, it may well be here tomorrow! And if you are a serious circus scholar and spot a factual or historical inaccuracy, do not hesitate to contact us: we will definitely consider your remarks and suggestions.
Dominique Jando
Founder and Curator