Difference between revisions of "Main Page"
From Circopedia
 

(55 intermediate revisions by the same user not shown)
Line 17:
Line 17:
 

==In The Spotlight==

 

==In The Spotlight==

 
 
−

===IRINA BUGRIMOVA===

+

======

 
 
−

[[File:Bugrimova_Poster.jpeg|right|300px]]A former competitive track and field champion with a taste for dangerous stunts, Irina Bugrimova (1910-2001) was a true legend of the Soviet circus. She had performed as a circus daredevil and a high-school rider before finding her true calling as a very successful lion trainer. She became a major star of the Soviet circus in an era where female cat trainers were unheard of in the USSR: For a time, Bugrimova's only competition in that domain was Margarita Nazarova (1926-2005), another Soviet circus legend, who began performing in the cage fourteen years after her!

+

[[File:.|right|300px]]and for a of as as . in the , , circus , the

 
 
−

Irina Nikolaevna Bugrimova (Ирина Николаевна Бугримова) was born March 13, 1910, in Kharkov in Ukraine, which was then part of the Russian Empire. Her father, Nikolai Bugrimov, was a professor of veterinary medicine. Her mother, Aleksandra, came from an aristocratic family: Her father, Iosif Iosifovich Fedorovich, had been Admiral of the Russian Fleet. Alksandra had a strong artistic bent; she was an accomplished pianist, an artist, and showed a great interest in the art of photography. Irina was the fourth child of Nikolai and Aleksandra Bugrimovi, who, coincidentally, bore the first names of the Russian ill-fated Tsar and Tsarina; it is just as the Bolshevik revolution started that Irina, who was seven years old, began studying music and ballet at the Kharkov Opera studio.  

+

(), then , , . , from a , a the of the , the of the -.

 
 
−

A restive child, Irina became interested in competitive sports; she played hockey, did speed skating, and competed in track and field, from long and high jumps to discus, spear, and weight throwing. She won many competitions and, in 1927, became the weight throw Ukrainian champion, and in 1928, she won the same title for discus. Meanwhile, as a teenager, young Irina often helped her father when he treated horses and wild animals at the state circus of Kharkov, and she thus became familiar with animals of all sorts—as well as with the circus world, for which she developed a keen interest. ([[Irina Bugrimova|more...]])

+

, , , in , and . , in , , in

 
+

 

 
+

the . , a , her , and —as as circus . ([[|more...]])

 
 
 

==New Essays and Biographies==

 

==New Essays and Biographies==

 
 
 
+
 

* [[Irina Bugrimova]], Lion Trainer

 

* [[Irina Bugrimova]], Lion Trainer

 

* [[Mikhail Shuydin]], Clown

 

* [[Mikhail Shuydin]], Clown

 

* [[Yury Nikulin]], Clown, Actor, Circus Director

 

* [[Yury Nikulin]], Clown, Actor, Circus Director

 

* [[Serge]], Circus Chronicler and Illustrator

 

* [[Serge]], Circus Chronicler and Illustrator

−

* [[Alexandre Palisse]], Clown, Circus Owner

 
 
 
 

==New Videos==

 

==New Videos==

 
 
−

* [[Rokashkov_Troupe_Video_(2003)|Rokashkov Troupe]], horizontal bars (2003)

+

* [[()|Troupe]], ()

−

* [[Darkan_Video_(2019)|Darkan]], strap act (2019)

+

* [[()|]], ()

−

* [[Slavina_Video_(2007)|Slavina]], aerial straps/tissu (2007)

+

* [[()|]], ()

−

* [[Super_Silva_Video_(2011)|Super Silva]], aerial daredevil (2011)

+

* [[()|]], ()

−

* [[Red_Sails_Video_(2020)|Red Sails]], double tissu (2020)

+

* [[()|]], ()

 
 
 

==New Oral Histories==

 

==New Oral Histories==
---
Latest revision as of 22:25, 6 August 2022
Welcome! ✫ Bienvenue! ✫ Willkommen! ✫ Добро Пожаловать!
Bienvenida! ✫ Benvenuto! ✫ 歡迎 ! ✫ Vítejte! ✫ Καλώς ήρθατ ε!
Üdvözöljük! ✫ Добре Дошли! ✫ Welkom! ✫ Ласкаво Просимо!
Velkommen! ✫ Tervetuloa! ✫ Дабро Запрашаем! ✫ Välkommen!
In The Spotlight
CIRCUS KRONE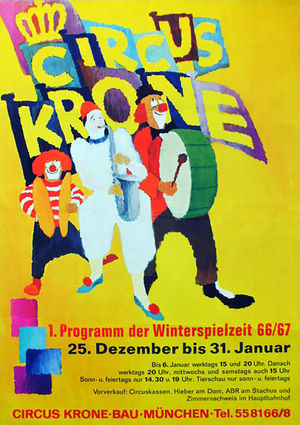 Circus Krone is the world's oldest circus company: It has been owned and operated continuously by the same family for more than a century and has maintained throughout the years the standards of quality initiated by its founder, Carl Krone, as well as its original menagerie's heritage. Its tours in many European countries, especially between the two world wars, have established its fame beyond the confines of Germany, its homeland. In addition, under various incarnations, its permanent circus building in Munich, the Kronebau, has been home to regular winter circus productions since 1919.
Founded by Carl Krone (1833-1900), then developed by his son, Carl Krone, Jr. (1870-1943), the Krone organization typically grew from a fairground menagerie to a giant circus, according to a pattern quite common at the turn of the twentieth century in Europe, triggered by the European tour of the giant American circus Barnum & Bailey, which introduced European audiences to their first three-ring circus traveling with a full-fledged menagerie.
Yet, unlike other enterprises that followed the same model, Circus Krone's discreet owners remained financially conservative, avoiding the dangerous ostentation of some of their colleagues; in doing so, they averted the crises and failures that had often plagued their competition. They developed international tour strategies that followed the ever-changing European economic cycles, which were strongly sustained by their successful activities in their home-based circus building, Munich's Kronebau, established in 1919.
After WWII and the death of Carl Krone Jr. in 1943, Circus Krone became, remarkably, a woman affair: It has been first led magnificently by Frieda Krone Sembach (1915-1995), Carl's daughter, then by her daughter, Christel Krone Sembach (1956-2017), and today by Jana Mandana Krone, Christel's adoptive daughter—the three of them having excelled in equestrian and animal presentations as much as in circus management. Krone has proudly remained during all that time Größter Circus Europas ("Europe's Largest Circus").... (more...)
New Essays and Biographies
New Videos
New Oral Histories
Circopedia Books
A Message from the Founder
CIRCOPEDIA is a constantly evolving and expanding archive of the international circus. New videos, biographies, essays, and documents are added to the site on a weekly—and sometimes daily—basis. Keep visiting us: even if today you don't find what you're looking for, it may well be here tomorrow! And if you are a serious circus scholar and spot a factual or historical inaccuracy, do not hesitate to contact us: we will definitely consider your remarks and suggestions.
Dominique Jando
Founder and Curator