Main Page
From Circopedia
Welcome! ✫ Bienvenue! ✫ Willkommen! ✫ Добро Пожаловать!
Bienvenida! ✫ Benvenuto! ✫ 歡迎 ! ✫ Vítejte! ✫ Καλώς ήρθατε!
Üdvözöljük! ✫ Добре Дошли! ✫ Welkom! ✫ Ласкаво Просимо!
Velkommen! ✫ Tervetuloa! ✫ Дабро Запрашаем! ✫ Välkommen!
In The Spotlight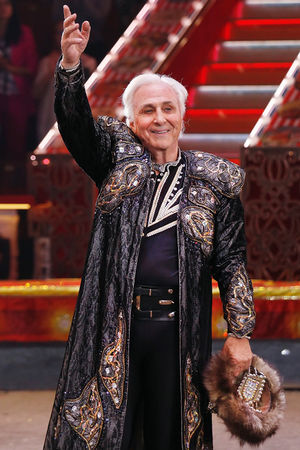 TAMERLAN NUGZAROV
Tamerlan Nugzarov (1942-2020) was one of the greatest horsemen in the long history of the Russian circus, an artist of strong personality and great distinction, who brought theatricality to his spectacular Cossack riding acts. His many awards, including a Gold Clown at the International Circus Festival of Monte Carlo in 1984, and the great respect in which he was held in the circus world at large are a testimony to his immense talent.
He was born Tamerlan Temirsoltanovich Khabriev on June 1st, 1942 in Ordzhonikidze (today Vladikavkaz), in the Russian Republic of North Ossetia-Alania. His father, Temirsolt Khabriev, was Ingush (a Muslim ethnic group of the North Caucasus) and his mother, Zinaida Kharitonovna Dzugutova, was Ossetian. Tamerlan was not even two years old when, in 1944, his father was deported along with many Ingush people: Not considering themselves Russian, they were wrongly suspected to have sided with the Nazis. They were cleared of suspicion after the death of Joseph Stalin in 1953, but twenty-nine years passed before Tamerlan could see his father again.
Tamerlan was raised by his maternal grandparents. His grandfather, Aleksandr Bytaev, was a former Tsarist officer who lived to the ripe age of one hundred and one. Unfortunately, his grandmother, Fuzha, died in 1952, and ten-year-old Tamerlan decided himself to join a local orphanage. The orphanage kept stables on its piece of land, and it is there that Tamerlan developed a long-lasting passion for horses. Then, in 1958, his mother re-married with the circus horseman Kazbek Borisovich Nugzarov (1905-1979). Tamerlan rejoined her, and his stepfather gave him his name.... (more...)
New Biographies
New Videos
New Oral Histories
Circopedia Books
A Message from the Editor
CIRCOPEDIA is a constantly evolving and expanding archive of the international circus. New videos, biographies, essays, and documents are added to the site on a weekly—and sometimes daily—basis. Keep visiting us: even if today you don't find what you're looking for, it may well be here tomorrow! And if you are a serious circus scholar and spot a factual or historical inaccuracy, do not hesitate to contact us: we will definitely consider your remarks and suggestions.
Dominique Jando
Founder and Curator