Main Page
From Circopedia
Welcome! ✫ Bienvenue! ✫ Willkommen! ✫ Добро Пожаловать!
Bienvenida! ✫ Benvenuto! ✫ 歡迎 ! ✫ Vítejte! ✫ Καλώς ήρθατε!
Üdvözöljük! ✫ Добре Дошли! ✫ Welkom! ✫ Ласкаво Просимо!
Velkommen! ✫ Tervetuloa! ✫ Дабро Запрашаем! ✫ Välkommen!
In The Spotlight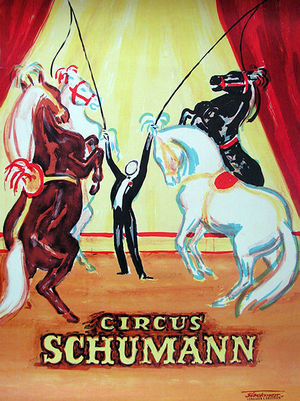 THE SCHUMANN DYNASTY
Founded by the German equestrian Gotthold Schumann (1824-1908), the Schumann Dynasty holds a prominent place in Scandinavian circus history and ran one of Europe's most respected circus companies until the closure of the Danish Cirkus Bröderna Schumann in 1969. They also have an important place in German circus history, especially through Gotthold's son Albert Schumann, Sr. (1858-1939), who created his own circus and settled in (and then purchased) Ernst Renz's flagship circus in Berlin in 1899—which remained active under Schumann's ownership until the end of World War I.
As circus equestrians, the Schumanns displayed a superlative talent and artistry; for five generations, they have maintained a commanding position in the circus world as horse trainers and high-schoolA display of equestrian dressage by a rider mounting a horse and leading it into classic moves and steps. (From the French: Haute école) riders. Albert Schumann, Sr. is widely acknowledged as having been his generation's greatest liberty"Liberty act", "Horses at liberty": Unmounted horses presented from the center of the ring by an equestrian directing his charges with his voice, body movements, and signals from a ''chambrière'' (French), or long whip. horse trainer, and his Scandinavian nephews Willy, Ernst and Oscar, and later, Oscar's sons Albert and Max, steadfastly preserved their family's place in the equestrian circus's firmament with exceptional brio.
Gotthold Wilhelm Daniel Schumann was born on November 25, 1824 in Weimar, in the state of Thuringia, then part of the German Confederation. His father was a saddle maker, and Gotthold became indeed familiarized with horses at an early age. Although he was not interested in following in his father's footsteps, horses were his passion, and he often helped groom and taking care of the neighbourhood horses. Gotthold had a brother who shared the same passion, Gustav.
Upon their father's death in 1839, fifteen-year-old Gotthold and his brother Gustav joined the famous French company of Benoît and François Tourniaire, which was very popular in the German states since their father, Jacques Tourniaire (1772-1829), had established his company there at the beginning of the nineteenth century—before introducing the circus to Russia in 1825. Gotthold and Gustav became accomplished equestrians, as both bareback and high-schoolA display of equestrian dressage by a rider mounting a horse and leading it into classic moves and steps. (From the French: Haute école) riders, and Gotthold also developed a very good juggling act on horseback. In 1841, they were hired by Eduard Wollschläger (1811-1875), whose company included such future circus luminaries as Wilhelm Carré, Wilhelm Salamonsky and Heinrich Herzog.... (more...)
New Essays and Biographies
New Videos
New Oral Histories
Circopedia Books
A Message from the Editor
CIRCOPEDIA is a constantly evolving and expanding archive of the international circus. New videos, biographies, essays, and documents are added to the site on a weekly—and sometimes daily—basis. Keep visiting us: even if today you don't find what you're looking for, it may well be here tomorrow! And if you are a serious circus scholar and spot a factual or historical inaccuracy, do not hesitate to contact us: we will definitely consider your remarks and suggestions.
Dominique Jando
Founder and Curator