Main Page
From Circopedia
Welcome! ✫ Bienvenue! ✫ Willkommen! ✫ Добро Пожаловать!
Bienvenida! ✫ Benvenuto! ✫ 歡迎 ! ✫ Vítejte! ✫ Καλώς ήρθατε!
Üdvözöljük! ✫ Добре Дошли! ✫ Welkom! ✫ Ласкаво Просимо!
Velkommen! ✫ Tervetuloa! ✫ Дабро Запрашаем! ✫ Välkommen!
In The Spotlight
THE BIG APPLE CIRCUS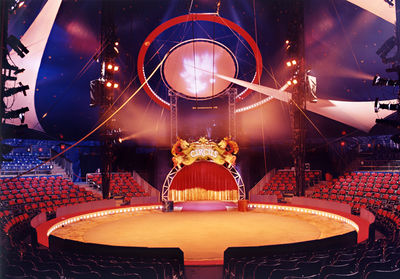 A cherished New York Institution, the original, not-for-profit Big Apple Circus was created in 1977 by Paul Binder and his juggling partner, Michael Christensen, as the performing arm of the New York School for Circus Arts. Its enormous success soon put the school in the shadows, and the circus took over as the principal activity of the organization. It became one of the world's most respected and successful circuses—until the economic crisis of 2008, which dramatically impacted its fund-raising capacity, sadly led it to file for bankruptcy eight years later.
Its name and equipment were sold to private investors who brought the Big Apple Circus back to life in September 2017 in its traditional winter venue, Damrosch Park, in New York's prestigious Lincoln Center for The Performing Arts. The new Big Apple Circus quickly abandoned its spring-summer tours of the northeast United States and beyond, and limited its activity to its Lincoln Center four-month winter season. However, the Covid pandemic prevented it from performing in the winter of 2020-21. (As of August 2021, it is not yet known when or if it will resume its performances.)
As a child, Paul Binder was occasionally taken to the circus by his parents at Madison Square Garden. "I do have one very powerful memory," Paul said, "a spotlighted Unus, alone in the center ring, doing his one-finger stand on a lighted globe. It was very dramatic!" However, the idea that within the circus ring would lie his career never entered his mind.
Later, Paul attended Dartmouth College, where he joined the Dartmouth Players and the Hopkins Center Repertory Theatre, and then earned an MBA at Columbia University. After a brief stint at Boston University's School of Fine and Applied Arts, he went to work on television as stage manager for Julia Child's cooking shows, and later as talent coordinator for The Merv Griffin Show. It was the end of the 1960s, and Paul was restless with the times.
Meanwhile, in Walla-Walla, Washington, where he was born, Michael Christensen was struggling with a difficult childhood. Somehow, he needed to act out the feelings stirred by his uneasy life, so, quite naturally, he enrolled in the Professional Actor Training program at the University of Washington. As for the circus: "When the circus came to town in the summer, I helped setting up the tents with my brother in exchange for free passes. I also remember laughing uncontrollably at a clown gag—but I don't remember who the clown was nor what was the gag.".... (more...)
New Essays and Biographies
New Videos
New Oral Histories
Circopedia Books
A Message from Dominique Jando
CIRCOPEDIA is a constantly evolving and expanding archive of the international circus. New videos, biographies, essays, and documents are added to the site on a weekly—and sometimes daily—basis. Keep visiting us: even if today you don't find what you're looking for, it may well be here tomorrow! And if you are a serious circus scholar and spot a factual or historical inaccuracy, do not hesitate to contact us: we will definitely consider your remarks and suggestions.
Dominique Jando
Founder and Curator