Main Page
From Circopedia
Welcome! ✫ Bienvenue! ✫ Willkommen! ✫ Добро Пожаловать!
Bienvenida! ✫ Benvenuto! ✫ 歡迎 ! ✫ Vítejte! ✫ Καλώς ήρθατ ε!
Üdvözöljük! ✫ Добре Дошли! ✫ Welkom! ✫ Ласкаво Просимо!
Velkommen! ✫ Tervetuloa! ✫ Дабро Запрашаем! ✫ Välkommen!
In The Spotlight
LITTLE BILLY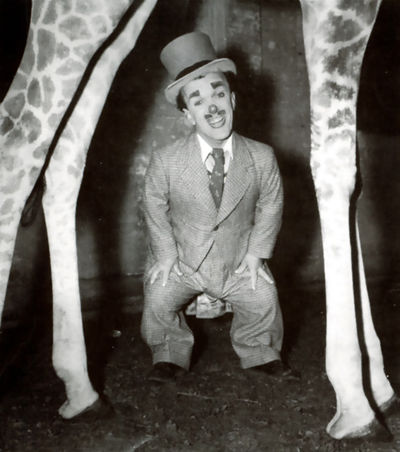 Little Billy (1919-2001) was a very popular English augusteIn a classic European clown team, the comic, red-nosed character, as opposed to the elegant, whiteface Clown. whose long and rich career, which began on the music-hall stage, took him to some of the most prestigious circuses of Britain and Europe. He truly came to the spotlight when he eventually partnered with the popular augusteIn a classic European clown team, the comic, red-nosed character, as opposed to the elegant, whiteface Clown. Jacko Fossett, a successful association that began at Bertram Mills Circus and morphed into a lifelong friendship.
He was born William Alfred Merchant on July 31, 1919, in Bristol, England. His father was unknown—and practically nothing is known of his mother, either. This lack of a father may be the reason why—along with the fact that William was afflicted with achondroplasia (dwarfism)—his mother chose to abandon him at an early age. Billy, as he became known, was placed in an orphanage in Bristol where he spent his childhood and adolescence.
As a teenager, he became increasingly attracted to show business and spent his free time visiting the local music-halls, notably Bristol's Hippodrome and Empire theatres. In 1937, the Empire featured the celebrated troupe of performing "midgets" of John Lester (1870-1950), a former American aerialistAny acrobat working above the ring on an aerial equipment such as trapeze, Roman Rings, Spanish web, etc. turned impresario. Lester's troupe was mostly composed of little people, perfectly proportioned, as opposed to dwarves such as Billy. Nonetheless, he went to the theater to see John Lester. Asked by the impresario what he could do, Billy answered that he could tumble; that was good enough for a comedy part, and he was hired.
Billy did a tumbling act with two diminutive partners that was in effect a visual parody of popular acts of the genre, such as The Craddocks and, later, The Charlivels. Lester was not the easiest of directors, and after a while, Billy, who now had stage experience, joined the acrobatic troupe of Joe Boganny (John Clifton, 1874-1943), whose act, very popular on the British variety circuit, traditionally included dwarf acrobats. With Boganny, Billy became truly exposed to "big time" variety and what is more, he could fully express his nascent comedic talents. He finally was in show business, and there to stay.... (more...)
New Essays and Biographies
New Videos
New Oral Histories
Circopedia Books
A Message from the Founder
CIRCOPEDIA is a constantly evolving and expanding archive of the international circus. New videos, biographies, essays, and documents are added to the site on a weekly—and sometimes daily—basis. Keep visiting us: even if today you don't find what you're looking for, it may well be here tomorrow! And if you are a serious circus scholar and spot a factual or historical inaccuracy, do not hesitate to contact us: we will definitely consider your remarks and suggestions.
Dominique Jando
Founder and Curator