Main Page
From Circopedia
Welcome! ✫ Bienvenue! ✫ Willkommen! ✫ Добро Пожаловать!
Bienvenida! ✫ Benvenuto! ✫ 歡迎 ! ✫ Vítejte! ✫ Καλώς ήρθατε!
Üdvözöljük! ✫ Добре Дошли! ✫ Welkom! ✫ Ласкаво Просимо!
Velkommen! ✫ Tervetuloa! ✫ Дабро Запрашаем! ✫ Välkommen!
In The Spotlight
MAY WIRTH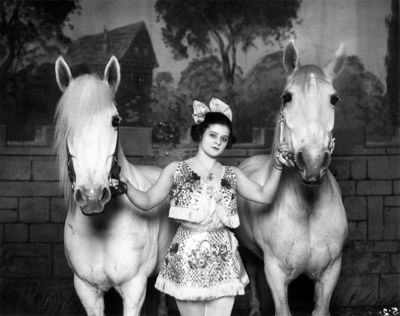 One of the greatest female acrobats on horseback of all times, May Emmeline Wirth (1894-1978) was born on June 6, 1894 at Bundaberg, Queensland, in Australia, the daughter of John Edward Zinga, a circus artist from Mauritius (an island nation off the southwest coast of Africa) whose original name was Despoges, and his Australian-born wife Marie Dezeppo. In 1901, after her parents separated, May was adopted by Marizles ("Rill") Martin (1868-1948), an equestrienneA female equestrian, or horse trainer, horse presenter, or acrobat on horseback. and a sister of the Wirth brothers, proprietors of one of Australia's largest circuses.
Having already been taught by her father to turn "flip-flaps," May soon featured in Wirth Bros. Circus in balancing and tumbling acts, and as a tight wireA tight, light metallic cable, placed between two platforms not very far from the ground, on which a wire dancer perform dance steps, and acrobatic exercises such as somersaults. (Also: Low Wire) performer and contortionist. From the Wirths, May also learned equestrian skills. At the age of ten, she was a "real trickAny specific exercise in a circus act. rider." In Melbourne in 1906, aged twelve, she was billed as "May Ringling," the "American fearless hurricane hurdle rider." Like the most adroit of circus performers, bareback riders in particular, May was short but strong. She grew to be only 150 centimetres tall (about five feet)
Contortion work and tumbling, the earliest and most basic performing skills she acquired, were the basis of the technical precision and artistry she brought to her career as a bareback rider. By 1910, May's work on horseback was clearly the most outstanding of her versatile accomplishments. But for all her skill as an equestrienneA female equestrian, or horse trainer, horse presenter, or acrobat on horseback. by that time, she did not rank highly on the Wirth program.... (more...)
New Biographies
New Videos
Featured Oral Histories
A Message from the Editor
CIRCOPEDIA is a constantly evolving and expanding archive of the international circus. New videos, biographies, essays, and documents are added to the site on a weekly—and sometimes daily—basis. Keep visiting us: even if today you don't find what you're looking for, it may well be here tomorrow! And if you are a serious circus scholar and spot a factual or historical inaccuracy, do not hesitate to contact us: we will definitely consider your remarks and suggestions.
Dominique Jando
Founder and Curator