Main Page
From Circopedia
Welcome! ✫ Bienvenue! ✫ Willkommen! ✫ Добро Пожаловать!
Bienvenida! ✫ Benvenuto! ✫ 歡迎 ! ✫ Vítejte! ✫ Καλώς ήρθατε!
Üdvözöljük! ✫ Добре Дошли! ✫ Welkom! ✫ Ласкаво Просимо!
Velkommen! ✫ Tervetuloa! ✫ Дабро Запрашаем! ✫ Välkommen!
In The Spotlight
CIRQUE MEDRANO, PARIS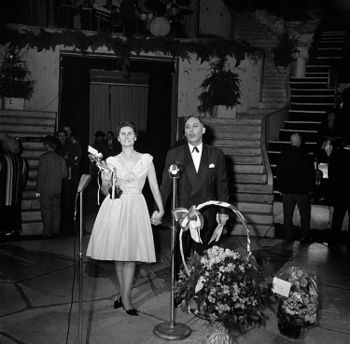 (...) In February of 1959, following the advice of his lawyers, Jérôme Medrano created a new corporate entity for the exploitation of his circus—in all probability to generate new legal hurdles for the Bougliones and continue to stall a situation whose obvious conclusion was unfortunately inexorable. When the 1959-60 Season began in September, Violette Medrano was conspicuously listed on the program as the circus's sole Director. (She was also the Director of the new corporation.) Although he was still in actuality at the artistic helm of his circus, Jérôme remained in the shadows.
Yet Violette's personal touch could be felt: The overall style of Medrano was modernized and refreshed, notably with usherettes in elegant and colorful dresses instead of circus uniforms, and the use of air freshener in the corridors and the bar to mask the smell of the menagerie. (The latter innovation was strongly criticized by hardcore circus fans!) Marcellys took over the orchestra, in addition to his role as host. Violette also conceived the idea of an already built-up steel arena coming down from the cupola for the cage acts. This was a good innovation, although it couldn't be used in conjunction with major aerial acts, such as flying trapezeAerial act in which an acrobat is propelled from a trapeze to a catcher, or to another trapeze. (See also: Short-distance Flying Trapeze) and high wireA tight, heavy metallic cable placed high above the ground, on which wire walkers do crossings and various acrobatic exercises. Not to be confused with a tight wire., and thus influenced to some extent the composition of the programs (either big aerial act or cage act(English/American) Act performed in a cage, such as lion or tiger acts., but not both). Covered with fabric(See: Tissu), it also served as a ring curtain in a few productions.
In May 1960, the season ended with an interesting show titled Cavalcade sur Glace 60. It was entirely performed on ice, including Erie Klant's polar-bear act presented Corry Vermeeren, Stella Fratellini and her chimpanzee Georgie, and, most amazingly, the high schoolA display of equestrian dressage by a rider mounting a horse and leading it into classic moves and steps. (From the French: Haute école) act of Elvira Vonderp. The featured star of the show was the former French champion ice-skater Raymonde Du Bief, but its true stars were the Barios, who had spent most of the 1959-60 Season at Medrano, and were at the height of their creative and comedic talents. They performed wonderful original entrées (on skates, like everyone else in the show), and gave the production its soul as well as its laughs. (more...)
New Biographies
New Videos
Featured Oral Histories
Featured Circopedia Book
A Message from the Editor
CIRCOPEDIA is a constantly evolving and expanding archive of the international circus. New videos, biographies, essays, and documents are added to the site on a weekly—and sometimes daily—basis. Keep visiting us: even if today you don't find what you're looking for, it may well be here tomorrow! And if you are a serious circus scholar and spot a factual or historical inaccuracy, do not hesitate to contact us: we will definitely consider your remarks and suggestions.
Dominique Jando
Founder and Curator