Main Page
From Circopedia
Welcome! ✫ Bienvenue! ✫ Willkommen! ✫ Добро Пожаловать!
Bienvenida! ✫ Benvenuto! ✫ 歡迎 ! ✫ Vítejte! ✫ Καλώς ήρθατε!
Üdvözöljük! ✫ Добре Дошли! ✫ Welkom! ✫ Ласкаво Просимо!
Velkommen! ✫ Tervetuloa! ✫ Дабро Запрашаем! ✫ Välkommen!
In The Spotlight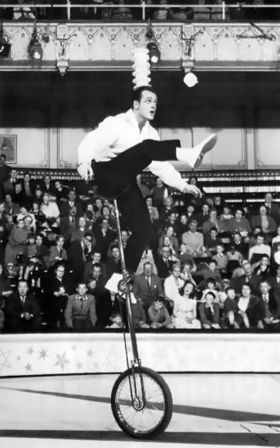 RUDY HORN
Rudy Horn (1933-2018) was one of the best and most successful jugglers of the post-WW2 era; he was not only a great technician: It took a long time for his cup and saucers juggling routine on unicycle, which was his trademark and was unique in its time, to be emulated—principally by Chinese acrobats!
He was born Rudolf Horn in Nuremberg, Germany, on February 14, 1933, in a circus family. His father, Rupert Horn, had worked as a strong man before appearing in a teeterboardA seesaw made of wood, or fiberglass poles tied together, which is used to propel acrobats in the air. act and eventually creating an aerial duet, the Duo Rupertis, with his wife, Brigitte. Rudy was initiated to juggling a little by accident, on Christmas Eve 1940. His father started juggling with three apples to entertain Rudy and his baby sister, and did a series of passes to Rudy, who showed an innate ability to catch and return the fruits; after ten minutes, he could juggle them by himself! His professional path was decided then and there.
Rudy went through the usual training of all circus children, starting with acrobatics, to which were added tap dance and, four hours a day, juggling practice with his father and his maternal grandfather, Benedikt Schiefer, the family's juggler, who owned a small touring circus. In late 1942, Rupert Horn contacted the manager of Nuremberg's WinterGarten Theater and suggested that he hired his son for the WinterGarten's Christmas show. (Rupert had been drafted by the Wehrmacht, and although he was based in Nuremberg, he and his wife couldn't work anymore.)
Rudy, who was only nine years old, was indeed very young, but he could fit in the "young prodigy" category: He juggled three balls, three clubs, five hoops, and ended with sending atop his head with his foot a saucer, a cup in the saucer, a spoon in the cup, and a piece of sugar to crown it all. The manager was reluctant at first, but he eventually caved in: As the war dragged on, good performers were increasingly hard to find. Thus, Rudy made his debut in 1942 in the WinterGarten's Christmas Show in Nuremberg, adding to his act a little acrobatic routine and some passing that he performed with his grandfather: Young Rudy stopped the show! (more...)
New Biographies
New Videos
New Oral Histories
Circopedia Books
A Message from the Editor
CIRCOPEDIA is a constantly evolving and expanding archive of the international circus. New videos, biographies, essays, and documents are added to the site on a weekly—and sometimes daily—basis. Keep visiting us: even if today you don't find what you're looking for, it may well be here tomorrow! And if you are a serious circus scholar and spot a factual or historical inaccuracy, do not hesitate to contact us: we will definitely consider your remarks and suggestions.
Dominique Jando
Founder and Curator