Main Page
From Circopedia
Welcome! ✫ Bienvenue! ✫ Willkommen! ✫ Добро Пожаловать!
Bienvenida! ✫ Benvenuto! ✫ 歡迎 ! ✫ Vítejte! ✫ Καλώς ήρθατε!
Üdvözöljük! ✫ Добре Дошли! ✫ Welkom! ✫ Ласкаво Просимо!
Velkommen! ✫ Tervetuloa! ✫ Дабро Запрашаем! ✫ Välkommen!
In The Spotlight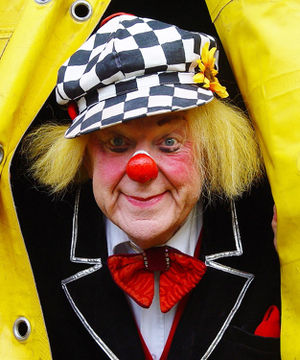 OLEG POPOV
From the second half of the twentieth century to the first decades of the twenty-first century, Oleg Popov (1930-2016) was perhaps the most recognizable clown name in the world. Popov was, during his Russian career when he toured the world with the Moscow Circus, the Soviet Union's de facto "Goodwill Ambassador." After the fall of the Soviet Union, with Russia in turmoil, he decided to settle in Germany, where he toured for a while with his own Moscow Circus. Yet, his return to Russia in 2015, for the first (and short-lived) Master Festival in Sochi, became a national cultural event of first magnitude.
Oleg Konstantinovich Popov was born on July 31, 1930 in the small village of Vyrubov, in the Kuntsevo District of the Moscow Region. (Today, the village has become part of an urban settlement.) When Oleg was about five years old, his parents moved to Moscow, where his grandparents lived. They settled in an apartment on Leningradsky Avenue, near the old Dynamo Central Stadium. Oleg's father, Konstantin, made a living as a watch repairman. According to Oleg, he drank heavily—which unfortunately was not a rare occurrence in Russia then.
In 1941, when Oleg was eleven years old, his father was arrested for unknown reasons. Two years later, in 1943, the family learned that he had died, probably one of the many victims of Stalin's purges. This situation, added to war privations, had put Oleg's mother in a dire financial state and, at age thirteen, he had to leave school and get a job to help her. He found a place as an apprentice mechanic in the printing plant of the Communist Party's daily, Pravda, which was the Soviet era's newspaper of record.
Young Oleg was a very physical kid. Living near the Dynamo Stadium, he had taken a strong interest in football (soccer). The Dynamo Sports Society (which was affiliated with the KGB) was home to the famous Dynamo Football Club, Moscow's celebrated team, and every day, Oleg and his friends tried to emulate its star players in their building's courtyard. Then, when he began working at the Pravda plant, he joined the Krilya Sovietov (Крылья Советов, "Wings of the Soviets") gymnastics clubA juggling pin., where he started training in basic acrobatics.... (more...)
New Biographies
New Videos
New Oral Histories
Circopedia Books
A Message from the Editor
CIRCOPEDIA is a constantly evolving and expanding archive of the international circus. New videos, biographies, essays, and documents are added to the site on a weekly—and sometimes daily—basis. Keep visiting us: even if today you don't find what you're looking for, it may well be here tomorrow! And if you are a serious circus scholar and spot a factual or historical inaccuracy, do not hesitate to contact us: we will definitely consider your remarks and suggestions.
Dominique Jando
Founder and Curator