Main Page
From Circopedia
Welcome! ✫ Bienvenue! ✫ Willkommen! ✫ Добро Пожаловать!
Bienvenida! ✫ Benvenuto! ✫ 歡迎 ! ✫ Vítejte! ✫ Καλώς ήρθατε!
Üdvözöljük! ✫ Добре Дошли! ✫ Welkom! ✫ Ласкаво Просимо!
Velkommen! ✫ Tervetuloa! ✫ Дабро Запрашаем! ✫ Välkommen!
In The Spotlight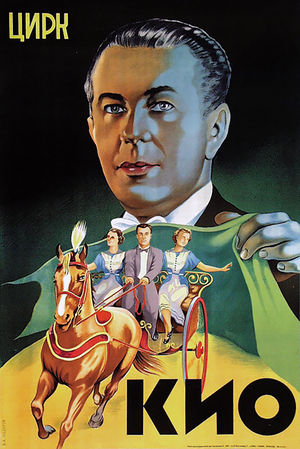 KIO
From the 1920s to about 2010, three magic acts have been performed under the name "Kio," first by Emil Kio (1894-1965), then by his sons, Igor (1944-2006) and Emil (b.1938). Kio, whether the original Emil Kio or his sons, had an exceptionally brilliant career in the Soviet Union (and later, the Russian Federation) as well as around the world, where they performed extensively on international tours of the "Moscow Circus." Kio's illusions had a unique particularity: they were created to be performed exclusively in the ring. Together, Emil Kio, Igor Kio and Emil Kio, Jr. have performed for an estimated audience of 180 million worldwide, which arguably makes theirs the most widely seen act in the history of Magic.
Even more than their illustrious father, who was a bona fide star of the Soviet circus, Emil, Jr. and Igor became celebrities in their own right; they appeared on television, either as program hosts or in their own magic shows, and on film, and they were regularly and, sometimes, opulently chronicled in the Russian press—and by the Soviet gossipmongers, who showed a tabloid interest for the peculiar intricacies of their multiple marriages, notably Igor's matrimonial and extra-marital adventures.
Advertised simply as "KIO," the various Kio magic acts were what the Russians call an attraction(Russian) A circus act that can occupy up to the entire second half of a circus performance., a presentation that can fill up to the entire second half of a circus performance. Kio's original act had been created by magician Emil Hirschfeld-Renard in 1932. After his death in 1965, the act was inherited by Emil's younger son and assistant, Igor (who presented it in his father's version until 1976, and then completely revamped it), and was reproduced in 1966 as a second Kio unit presented until the early twenty-first century by Igor's elder brother, Emil, Jr.... (more...)
New Biographies
New Videos
New Oral Histories
Circopedia Books
A Message from the Editor
CIRCOPEDIA is a constantly evolving and expanding archive of the international circus. New videos, biographies, essays, and documents are added to the site on a weekly—and sometimes daily—basis. Keep visiting us: even if today you don't find what you're looking for, it may well be here tomorrow! And if you are a serious circus scholar and spot a factual or historical inaccuracy, do not hesitate to contact us: we will definitely consider your remarks and suggestions.
Dominique Jando
Founder and Curator