Main Page
From Circopedia
Welcome! ✫ Bienvenue! ✫ Willkommen! ✫ Добро Пожаловать!
Bienvenida! ✫ Benvenuto! ✫ 歡迎 ! ✫ Vítejte! ✫ Καλώς ήρθατε!
Üdvözöljük! ✫ Добре Дошли! ✫ Welkom! ✫ Ласкаво Просимо!
Velkommen! ✫ Tervetuloa! ✫ Дабро Запрашаем! ✫ Välkommen!
In The Spotlight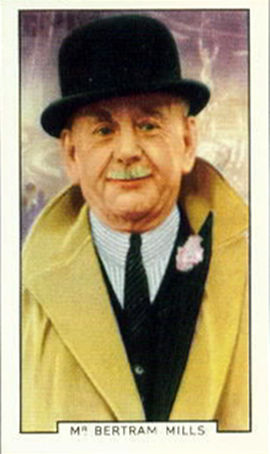 BERTRAM MILLS
The death of Bertram W. Mills (1873-1938) from pneumonia on April 16, 1938—the date on which his tenting circus was due to open at Luton for its 1938 tour—was a momentous event in the history of the British circus. Within five hours of the announcement, the boardings for the evening newspapers in London were proclaiming "Bertram Mills Dead." His name was truly a household one: One national newspaper announced the "Death of Britain's Nº1 Showman" and the "King of the Modern Circus," indicating the unrivalled position in which the showman was revered.
The status in which he was regarded led to a French circus critic describing him as "the renovator of the British circus," and throughout the British Isles, the show he had created in 1920 had become known as "The Quality Show"—a title it bore proudly until its closure in 1967. Without a shadow of doubt, Mills did indeed prove to be the saviour of the British circus for his generation, and perhaps, the United Kingdom will never see another era in which this form of entertainment was held in such reverence.
Lady Eleanor Smith, a great British circus lover and one of the founders of the Circus Fans' Association of Great Britain, described Mills, always known as "The Guv'nor" to his staff, as "a short, stocky man with a bald head, a ruddy pugnacious face, a grey moustache, and twinkling, shrewd blue eyes. His eyes were as blue as the cornflower he invariably wore in his button-hole. He would have looked undressed without that cornflower…"
Bertram Wagstaff Mills was born in London on August 11, 1873. He was the son of Halford Lewis Mills of Smarden, Kent, and Mary Fenn Wagstaff. Halford Mills was the proprietor of a coach building firm in Paddington, London, and he owned small farms in the country, one at Harefield, the other at Chalfont St. Giles—the latter being where he stabled his horses for rest periods.... (more...)
New Essays and Biographies
New Videos
New Oral Histories
Circopedia Books
A Message from the Editor
CIRCOPEDIA is a constantly evolving and expanding archive of the international circus. New videos, biographies, essays, and documents are added to the site on a weekly—and sometimes daily—basis. Keep visiting us: even if today you don't find what you're looking for, it may well be here tomorrow! And if you are a serious circus scholar and spot a factual or historical inaccuracy, do not hesitate to contact us: we will definitely consider your remarks and suggestions.
Dominique Jando
Founder and Curator