Main Page
From Circopedia
Welcome! ✫ Bienvenue! ✫ Willkommen! ✫ Добро Пожаловать!
Bienvenida! ✫ Benvenuto! ✫ 歡迎 ! ✫ Vítejte! ✫ Καλώς ήρθατε!
Üdvözöljük! ✫ Добре Дошли! ✫ Welkom! ✫ Ласкаво Просимо!
Velkommen! ✫ Tervetuloa! ✫ Дабро Запрашаем! ✫ Välkommen!
In The Spotlight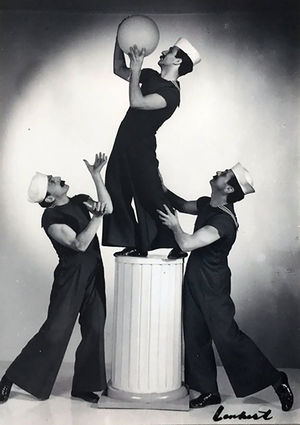 THE THREE BRAGAZZI
The 3 Bragazzi (Alfredo, Umberto and Enrico Goretti) were a trio of Italian acrobats whose act met with great success, both in the circus ring and on the variety stage, from the 1940s up to the late 1960s. They began as young acrobats before performing a clown act with their father, Enrico, Sr., who had been part of a celebrated clown duo in Europe, the Albano Brothers. Then, as The 3 Bragazzi, the junior Gorettis created a comedy tumbling act, which over the years morphed into a pure visual-comedy act, keeping in with the family tradition.
Umberto (1909-1999), Alfredo (1912-2008) and Enrico (1916-2007) were the sons of Enrico Paolo Goretti and his wife, Ida, née Knorr. Enrico, Sr. had performed with his brother, Alfredo, Sr., an acrobatic act under the stage name of Wellington Brothers, before becoming quite famous as the Albano Brothers (or Hermanos Albano), a clown duo that was extremely popular in Spain, Portugal and France in the first quarter of the twentieth century. Among other venues, the Albano Brothers starred from 1908 to 1914 at Paris's posh Nouveau Cirque, where they had successfully supplanted its legendary stars, Foottit and Chocolat.
The senior Gorettis' parents were Giuseppe Albano Angelo Goretti, an acrobat, and his wife, Josephine Napoleone, née Bragazzi (whose forenames belie a family admiration for the French emperor Napoléon and his clan). The senior Enrico and Alfredo will use their father's second name, Albano, as their stage name; as for Enrico's sons, they will eventually use their grandmother's name, Bragazzi. None of them seem to have ever kept their real name, Goretti, as a stage name... (more...)
New Essays and Biographies
New Videos
New Oral Histories
Circopedia Books
A Message from the Editor
CIRCOPEDIA is a constantly evolving and expanding archive of the international circus. New videos, biographies, essays, and documents are added to the site on a weekly—and sometimes daily—basis. Keep visiting us: even if today you don't find what you're looking for, it may well be here tomorrow! And if you are a serious circus scholar and spot a factual or historical inaccuracy, do not hesitate to contact us: we will definitely consider your remarks and suggestions.
Dominique Jando
Founder and Curator