Main Page
From Circopedia
Welcome! ✫ Bienvenue! ✫ Willkommen! ✫ Добро Пожаловать!
Bienvenida! ✫ Benvenuto! ✫ 歡迎 ! ✫ Vítejte! ✫ Καλώς ήρθατε!
Üdvözöljük! ✫ Добре Дошли! ✫ Welkom! ✫ Ласкаво Просимо!
Velkommen! ✫ Tervetuloa! ✫ Дабро Запрашаем! ✫ Välkommen!
In The Spotlight
MOSCOW'S BOLSHOI CIRCUS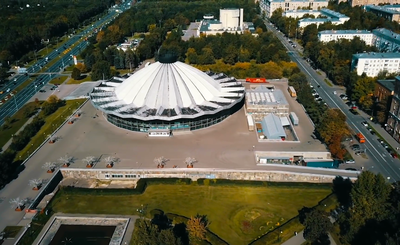 The "Great Moscow Circus on Vernadsky Avenue" (
Большой Московский цирк на проспекте Вернадского
in Russian), better known as Moscow's
Bolshoi Circus
("Grand Circus") was built under the tenure of Leonid Brezhnev as First Secretary of the Communist Party of the USSR, and opened its doors on April 30, 1971. It is located on Vorobiovy Hills (formerly Lenin Hills), in the Gagarin District, between Vernadsky Prospect (avenue), which separates it from the Moscow University campus, and Nikolai Kopernik (Copernic) Street; Lomonosov Avenue joins them on the southern side. Although it is far from Moscow's center, it is well deserved by the
Universitet
metro station.
The building was conceived by Yakov Borisovich Belopolsky (1916-1993)—one of the busiest official architects of the Brezhnev era—in cooperation with E. Bulikh, S. Feoktistov and V. Khavin, the engineers who developed the unique technology of this revolutionary circus. With its 3,350-seat house, 56 meters in diameter (approximately 185 feet) and a height of 28 meters (92 feet) under the cupola, and its numerous specialized features and facilities, it is the world's largest and technically most advanced circus building.
Its unique fittings make it an exceptional tool for the presentation of all sorts of large-scale circus productions. The ensemble includes a rehearsal ring, located backstage behind the ring entrance in a space vast and high enough to accommodate aerial acts; a stage above the ring entrance, which can connect to the ring with a telescopic staircase that unfolds automatically; the possibility for aerialists and technicians to access the house or their apparatus from the ceiling; a multitude of dressing rooms, offices, and workshops (for costumes and equipment), a canteen and a cafeteria for the personnel, and several spacious rooms with controlled temperatures to accommodate the upkeep of all sorts animals.
But the true jewel of the crown is without a doubt its interchangeable ring: It is placed on a hydraulic circular platform that can be lowered into a gigantic basement, where four other full-size specialized rings are stored around this central elevator, and can roll on and off its platform.... (more...)
New Essays and Biographies
New Videos
New Oral Histories
Circopedia Books
A Message from Dominique Jando
CIRCOPEDIA is a constantly evolving and expanding archive of the international circus. New videos, biographies, essays, and documents are added to the site on a weekly—and sometimes daily—basis. Keep visiting us: even if today you don't find what you're looking for, it may well be here tomorrow! And if you are a serious circus scholar and spot a factual or historical inaccuracy, do not hesitate to contact us: we will definitely consider your remarks and suggestions.
Dominique Jando
Founder and Curator