Main Page
From Circopedia
Welcome! ✫ Bienvenue! ✫ Willkommen! ✫ Добро Пожаловать!
Bienvenida! ✫ Benvenuto! ✫ 歡迎 ! ✫ Vítejte! ✫ Καλώς ήρθατε!
Üdvözöljük! ✫ Добре Дошли! ✫ Welkom! ✫ Ласкаво Просимо!
Velkommen! ✫ Tervetuloa! ✫ Дабро Запрашаем! ✫ Välkommen!
In The Spotlight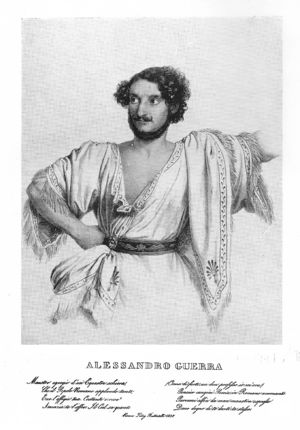 RUSSIA'S FIRST NATIONAL CIRCUS AND CIRCUS SCHOOL
On November 22, 1845, the Italian equestrian Alessandro Guerra and his troupe gave their first performance in the circus they had just built on the old Place des Manèges—the "merry-go-round square", today's Theatre Square—in St. Petersburg, in the shadow of the stately Kamennyi Theatre (the "stone theatre"). The Kamennyi was also known as the Bolshoi Theatre (the "grand" theatre), and like its homonym in Moscow, it housed the Imperial Ballet and Opera companies. For a long time, the vast Place des Manèges had welcomed visiting fairs and their merry-go-rounds, but the presence of the theater had since redeemed the square's prestige, and Guerra found himself in ideal surroundings.
Born in Rome, Italy, Guerra (1790-1856) had started his career at Vienna's Circus Gymnasticus, under the management of the Latvian equestrian Christoph de Bach, whose daughter, Elisa, Alessandro had seduced and married. Then, in 1826, he had created his own company, which toured under the name (fashionable at the time) of Cirque Olympique. After the death of his father-in-law, Guerra engaged into a bitter rivalry with de Bach's widow, the beautiful Laura de Bach, and then went on to compete against Ernst Renz in Berlin before settling in the Capital of All Russias. Guerra was a remarkable trickAny specific exercise in a circus act.-rider, famous for his aggressive manner in the ring (which he also displayed in private life), and which got him a nickname: Il Furioso.
The circus that Guerra built in St. Petersburg was a large, rectangular wooden building that looked a little like a hangar, but with a Grecian-style pediment adorned with equestrian scenes, and, above the public entrance, a little portico supported by six pillars. It was not very luxurious, but it was comfortable and well heated (an important detail in St. Petersburg, which the press duly reported) and was well lighted (another vital aspect to the citizens of St. Petersburg, berated as they were by endless winter nights). The stables housed fifty horses, and Guerra also built a coffeehouse adjacent to the circus itself.... (more...)
New Essays and Biographies
New Videos
New Oral Histories
Circopedia Books
A Message from Dominique Jando
CIRCOPEDIA is a constantly evolving and expanding archive of the international circus. New videos, biographies, essays, and documents are added to the site on a weekly—and sometimes daily—basis. Keep visiting us: even if today you don't find what you're looking for, it may well be here tomorrow! And if you are a serious circus scholar and spot a factual or historical inaccuracy, do not hesitate to contact us: we will definitely consider your remarks and suggestions.
Dominique Jando
Founder and Curator