Main Page
From Circopedia
Welcome! ✫ Bienvenue! ✫ Willkommen! ✫ Добро Пожаловать!
Bienvenida! ✫ Benvenuto! ✫ 歡迎 ! ✫ Vítejte! ✫ Καλώς ήρθατε!
Üdvözöljük! ✫ Добре Дошли! ✫ Welkom! ✫ Ласкаво Просимо!
Velkommen! ✫ Tervetuloa! ✫ Дабро Запрашаем! ✫ Välkommen!
In The Spotlight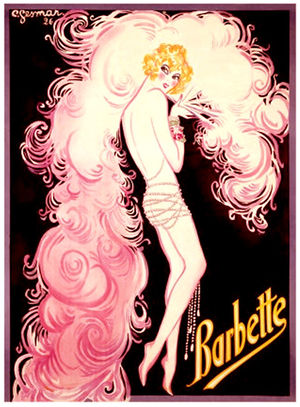 BARBETTE
Between 1920 and 1935, the American trapeze and tightwireSee Tight Wire. artist Barbette (1898-1973) was one of the greatest and brightest stars of the international variety circuit, notably in Europe. If he was indeed a talented acrobat, he was also a remarkable female impersonator and his act, which played with great artistry and flair on gender confusion, was and would remain unique.
In Paris, where he first became a true sensation, Barbette was feted by the legendary poet, playwright, cineaste, artist and trendsetter Jean Cocteau, who made him the darling of Paris's intelligentsia—notably its gay component—and started his legend. Numerous articles, books, thesis and even a play have been published on Barbette, his act, and his androgyny. The most important publication, Le numéro Barbette, with texts by Cocteau and photographs by Man Ray, dates from 1980—seven years after Barbette's death.
Barbette's childhood information is particularly confuse, but a close look at official documents helps clarifying it enough to avoid pointless speculations. He was born Vander Clyde Broadway on December 19, 1899, in Trickham, a small community in Texas's Coleman County, about sixty miles south of Abilene. His mother was Hattie Broadway, née Martin (1879-1949), a milliner, who was twenty when she gave birth to Vander; she lost her husband, Henry Broadway, the following year: Vander, who was barely one year old at the time, practically never knew his father.
The family moved south to the farm of Hattie's grandparents in Llano, fifty miles from Austin, where the 1900 census gives Vander a young half-brother, Malcom Wilson. Since Hattie was mentioned as Hattie Wilson on Barbette's death certificate, one may surmise that, in 1900, she was in a relationship with a Mr. Wilson, whom she perhaps married soon after. If so, it would have been a short-lived union, since she eventually married in 1906 Samuel E. Loving, who worked in a broom factory, had been a Roughrider with Theodore Roosevelt, was a volunteer fireman, and became a Williamson County Sheriff.
It may be at that time that the family moved south again and settled in Round Rock, a city part of the Greater Austin area in Williamson County—which is often given as Vander's birthplace, although it is just where he spent most of his childhood. Samuel and Hattie would have five children together, two sons and three daughters. One day, Hattie, who was artistically minded, took Vander to see a circus in Austin. Young Vander was particularly impressed by the show, especially by a tightwireSee Tight Wire. act. He was immediately hooked and, then and there, decided that he would become a circus performer.... (more...)
New Essays and Biographies
New Videos
New Oral Histories
Circopedia Books
A Message from Dominique Jando
CIRCOPEDIA is a constantly evolving and expanding archive of the international circus. New videos, biographies, essays, and documents are added to the site on a weekly—and sometimes daily—basis. Keep visiting us: even if today you don't find what you're looking for, it may well be here tomorrow! And if you are a serious circus scholar and spot a factual or historical inaccuracy, do not hesitate to contact us: we will definitely consider your remarks and suggestions.
Dominique Jando
Founder and Curator