Main Page
From Circopedia
Welcome! ✫ Bienvenue! ✫ Willkommen! ✫ Добро Пожаловать!
Bienvenida! ✫ Benvenuto! ✫ 歡迎 ! ✫ Vítejte! ✫ Καλώς ήρθατε!
Üdvözöljük! ✫ Добре Дошли! ✫ Welkom! ✫ Ласкаво Просимо!
Velkommen! ✫ Tervetuloa! ✫ Дабро Запрашаем! ✫ Välkommen!
In The Spotlight
RICO & ALEX BRIATORE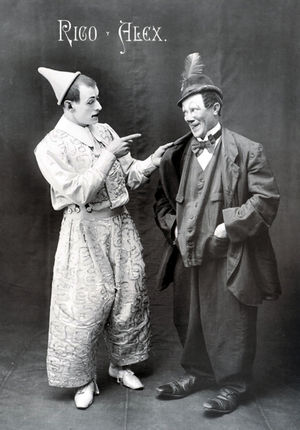 During the first half of the twentieth century, the Spanish clowns Rico y Alex (Enrico Briatore, 1881-1965, and Alessandro Briatore, 1870-1960), who came from an Italian circus family, were among Europe's most celebrated clowns. In Paris, they dethroned the legendary Foottit and Chocolat from their place of preëminence when they starred in the "Temple of Clowns", the famous Cirque Medrano, from four consecutive years, from 1910 to 1914. They were acrobats, musicians, and singers, and they spoke seven languages (Italian, Spanish, Portuguese, French, German, English, Russian, and even a little Catalan), which allowed them to build a very successful international career. Although they spoke in their act, they didn't rely much on verbal comedy, which was trendy then: Rico and Alex were very physical, but their visual humor had a surprising elegance and a very human, charming touch that appealed greatly to their audiences.
Rico and Alex were not, as it is often the case with clown duets, brothers: They were uncle (Alex) and nephew (Rico). The Italian Briatore dynasty had originated with Giuseppe Briatore (1831-?), an acrobat on horseback from Mondovi, Piedmont, in Northern Italy. Giuseppe was part of the equestrian troupe of the D'Angolys. He married in the D'Angoly family: He and the equestrienneA female equestrian, or horse trainer, horse presenter, or acrobat on horseback. Quinta D'Angoly had six children, Angelo, Enrico, Giovanni, Adele, Pietro, and Alessandro (the future Alex). Giuseppe ran his own circus for a brief time, and then created a troupe of acrobats on horseback with his five sons, which was the first to perform a three-man-high column standing on two horses. (The trickAny specific exercise in a circus act. will be improved later by the amazing Fredianis, who performed it on a single horse!)
The Briatore dynasty later produced several excellent jugglers, on horseback as well as on the floor—including the tempo juggling act of The D'Angolys, which performed with great success before and after WWII. Youngest son of Giuseppe and Quinta, Alessandro (Alex) was born in 1870 in Russia, where the Briatores were performing then, and made his debut in the ring five years later in Berlin; he made his clowning debut at the same time with the celebrated Tony Grice, escaping from the pocket of the latter's extra-large trousers! Although he would remain an acrobat and equestrian for many years to come, Alex had made his very first steps as a clown in good company!
The Briatores toured extensively all over Europe with their equestrian act, which was at the time one of the most famous bareback riding acts in the business. Enrico Briatore, the future Rico, was the first son of Alex's older brother, Angelo (?-1886), and his wife, Bertolina, née Ghiza, an equestrienneA female equestrian, or horse trainer, horse presenter, or acrobat on horseback.. (They had a second son, Angelo, born in 1885, who died in infancy in Paris in 1886.) Enrico was born on October 26, 1881, in Birmingham, England. His father died unexpectedly just before his second son's death, in 1886; Bertolina was just twenty-four and Rico was five. It is at this tender age that, like his uncle Alex before him, Rico began to work in the ring. He soon joined the family's equestrian act, and he also became a remarkable tumbler and acrobat.... (more...)
New Essays and Biographies
New Videos
New Oral Histories
Circopedia Books
A Message from the Founder
CIRCOPEDIA is a constantly evolving and expanding archive of the international circus. New videos, biographies, essays, and documents are added to the site on a weekly—and sometimes daily—basis. Keep visiting us: even if today you don't find what you're looking for, it may well be here tomorrow! And if you are a serious circus scholar and spot a factual or historical inaccuracy, do not hesitate to contact us: we will definitely consider your remarks and suggestions.
Dominique Jando
Founder and Curator