Main Page
From Circopedia
Welcome! ✫ Bienvenue! ✫ Willkommen! ✫ Добро Пожаловать!
Bienvenida! ✫ Benvenuto! ✫ 歡迎 ! ✫ Vítejte! ✫ Καλώς ήρθατ ε!
Üdvözöljük! ✫ Добре Дошли! ✫ Welkom! ✫ Ласкаво Просимо!
Velkommen! ✫ Tervetuloa! ✫ Дабро Запрашаем! ✫ Välkommen!
In The Spotlight
IRINA BUGRIMOVA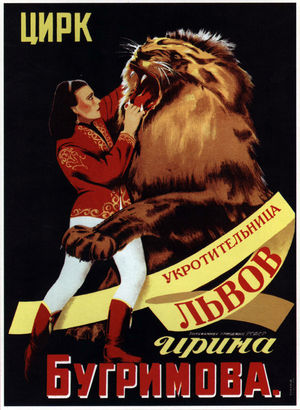 A former competitive track and field champion with a taste for dangerous stunts, Irina Bugrimova (1910-2001) was a true legend of the Soviet circus. She had performed as a circus daredevil and a
high-school
A display of equestrian dressage by a rider mounting a horse and leading it into classic moves and steps. (From the French: Haute école)
rider before finding her true calling as a very successful lion trainer. She became a major star of the Soviet circus in an era where female cat trainers were unheard of in the USSR: For a time, Bugrimova's only competition in that domain was Margarita Nazarova (1926-2005), another Soviet circus legend, who began performing in the cage fourteen years after her!
Irina Nikolaevna Bugrimova (Ирина Николаевна Бугримова) was born March 13, 1910, in Kharkov in Ukraine, which was then part of the Russian Empire. Her father, Nikolai Bugrimov, was a professor of veterinary medicine. Her mother, Aleksandra, came from an aristocratic family: Her father, Iosif Iosifovich Fedorovich, had been Admiral of the Russian Fleet. Alksandra had a strong artistic bent; she was an accomplished pianist, an artist, and showed a great interest in the art of photography. Irina was the fourth child of Nikolai and Aleksandra Bugrimovi, who, coincidentally, bore the first names of the Russian ill-fated Tsar and Tsarina; it is just as the Bolshevik revolution started that Irina, who was seven years old, began studying music and ballet at the Kharkov Opera studio.
A restive child, Irina became interested in competitive sports; she played hockey, did speed skating, and competed in track and field, from long and high jumps to discus, spear, and weight throwing. She won many competitions and, in 1927, became the weight throw Ukrainian champion, and in 1928, she won the same title for discus. Meanwhile, as a teenager, young Irina often helped her father when he treated horses and wild animals at the state circus of Kharkov, and she thus became familiar with animals of all sorts—as well as with the circus world, for which she developed a keen interest. (more...)
New Essays and Biographies
New Videos
New Oral Histories
Circopedia Books
A Message from the Founder
CIRCOPEDIA is a constantly evolving and expanding archive of the international circus. New videos, biographies, essays, and documents are added to the site on a weekly—and sometimes daily—basis. Keep visiting us: even if today you don't find what you're looking for, it may well be here tomorrow! And if you are a serious circus scholar and spot a factual or historical inaccuracy, do not hesitate to contact us: we will definitely consider your remarks and suggestions.
Dominique Jando
Founder and Curator