Main Page
From Circopedia
Welcome! ✫ Bienvenue! ✫ Willkommen! ✫ Добро Пожаловать!
Bienvenida! ✫ Benvenuto! ✫ 歡迎 ! ✫ Vítejte! ✫ Καλώς ήρθατ ε!
Üdvözöljük! ✫ Добре Дошли! ✫ Welkom! ✫ Ласкаво Просимо!
Velkommen! ✫ Tervetuloa! ✫ Дабро Запрашаем! ✫ Välkommen!
In The Spotlight
NATALYA JIGALOVA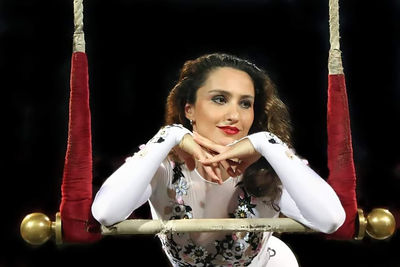 Natalya Jigalova (also spelled Zhigalova, 1970-2022) was part of what has been called "The Prima Donnas of the Swinging Trapeze"—one of the first aerialists, along with Elena Panova and Marina Golovinskaya, who developed under Victor Fomine the new style of swinging trapeze originated by Tereza Durova, Fomine and Panova in 1987.
She was born Natalya Borisovna Vul (Наталья Борисовна Вуль – pronounced "Vool") on July 21, 1970, in Chișinău, the capital of the Republic of Moldova, a country landlocked between Ukraine and Romania, which was then part of the Soviet Union. She was raised and went to school in Chișinău, where she also attended the local "Amateur Circus" (Youth Circus). In 1985, she applied for and was accepted in Moscow's State College for Circus and Variety Arts. Under the guidance of Victor Fomine, she created her swinging trapeze act, with which she graduated in 1989.
Yet, her professional debut was postponed. She had met at the circus college her husband, the clown Andrey Jigalov, who graduated one year later, in 1990, with his partner Edward Alekseenko (1966-1996). Natalya and Andrey got married, and she was expecting a son, who would be named Andrey, like his father. She also became Natalya Jigalova in the process. Then, she chose to give priority to raising her newborn son.
When she finally decided to resume her circus career, she performed an act in which her trapeze could be lowered to the ring, so that she could begin from the ground and go up with her apparatus (instead of being hauled up to her trapeze)—a system also used, albeit in a different manner, by another swinging trapeze artist, Elena Popova. This soaring image, along with her long black hair and her natural grace, gave a great elegance to her act. In 1996, she participated in the Festival Mondial du Cirque de Demain at Paris's Cirque d'Hiver, where she won a Silver Medal. ... (more...)
New Essays and Biographies
New Videos
New Oral Histories
Circopedia Books
A Message from the Founder
CIRCOPEDIA is a constantly evolving and expanding archive of the international circus. New videos, biographies, essays, and documents are added to the site on a weekly—and sometimes daily—basis. Keep visiting us: even if today you don't find what you're looking for, it may well be here tomorrow! And if you are a serious circus scholar and spot a factual or historical inaccuracy, do not hesitate to contact us: we will definitely consider your remarks and suggestions.
Dominique Jando
Founder and Curator