Difference between revisions of "Oleg Popov"
From Circopedia
 

Line 182:
Line 182:
 

File:Popov_Sochi_2015.jpeg|Popov in Sochi (2015)

 

File:Popov_Sochi_2015.jpeg|Popov in Sochi (2015)

 

File:David_Larible_%2B_Oleg_Popov_(2015).jpeg|Oleg Popov with David Larible in Sochi (2015)

 

File:David_Larible_%2B_Oleg_Popov_(2015).jpeg|Oleg Popov with David Larible in Sochi (2015)

 
+
 

</Gallery>

 

</Gallery>

 
 
 
 
 

[[Category:Artists and Acts|Popov, Oleg]][[Category:Clowns|Popov, Oleg]]

 

[[Category:Artists and Acts|Popov, Oleg]][[Category:Clowns|Popov, Oleg]]
---
Latest revision as of 01:29, 11 January 2023
Clown
''By Dominique Jando''

From the second half of the twentieth century to the first decades of the twenty-first century, Oleg Popov (1930-2016) was perhaps the most recognizable clown name in the world. Popov was, during his Russian career when he toured the world with the Moscow Circus, the Soviet Union's de facto "Goodwill Ambassador." After the fall of the Soviet Union, with Russia in turmoil, he decided to settle in Germany, where he toured for a while with his own Moscow Circus. Yet, his return to Russia in 2015, for the first (and short-lived) Master Festival in Sochi, became a national cultural event of first magnitude.
Childhood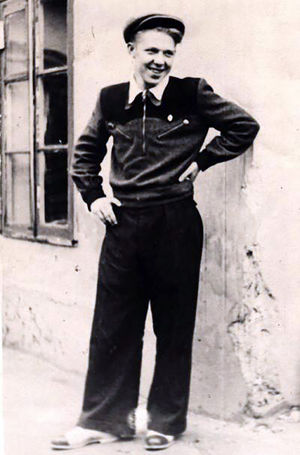 Oleg Konstantinovich Popov was born on July 31, 1930 in the small village of Vyrubov, in the Kuntsevo District of the Moscow Region. (Today, the village has become part of an urban settlement.) When Oleg was about five years old, his parents moved to Moscow, where his grandparents lived. They settled in an apartment on Leningradsky Avenue, near the old Dynamo Central Stadium. Oleg's father, Konstantin, made a living as a watch repairman. According to Oleg, he drank heavily—which unfortunately was not a rare occurrence in Russia then.
In 1941, when Oleg was eleven years old, his father was arrested for unknown reasons. Two years later, in 1943, the family learned that he had died, probably one of the many victims of Stalin's purges. This situation, added to war privations, had put Oleg's mother in a dire financial state and, at age thirteen, he had to leave school and get a job to help her. He found a place as an apprentice mechanic in the printing plant of the Communist Party's daily, Pravda, which was the Soviet era's newspaper of record.
Young Oleg was a very physical kid. Living near the Dynamo Stadium, he had taken a strong interest in football (soccer). The Dynamo Sports Society (which was affiliated with the KGB) was home to the famous Dynamo Football Club, Moscow's celebrated team, and every day, Oleg and his friends tried to emulate its star players in the courtyard of their apartment building. Then, when he began working at the Pravda plant, Oleg joined the Krilya Sovietov (Крылья Советов, "Wings of the Soviets") gymnastics clubA juggling pin., where he started training in basic acrobatics.
Then as now, the huge Pravda complex was located in the close vicinity of the State College for Circus and Variety Arts, better known in the West as the "Moscow Circus School." Like all Russian kids, Oleg had often visited with his mother the "Old Circus" on Tsvetnoy Boulevard (today Circus Nikulin), and he remembered (in hindsight, perhaps a little disingenuously) that he had a special fascination for clowns; he said also in his ghostwritten memoirs that he liked Charlie Chaplin, who was extremely popular in the Soviet Union (for his talent as well as his political leanings), and the Danish clown Patachon (Harald Madsen, 1890-1949), of the famous silent-screen duo, Pat & Patachon.
Popov's contemporaries who studied at the circus college remembered that Oleg used to come near the school building to show off his acrobatic skills on the sidewalk; they also remembered that he looked like a rather disheveled street urchin. Nonetheless, he made friends with some students, who eventually invited him to observe a class inside the school. Oleg liked what he saw. He was duly impressed by the methods of an acrobatic teacher named Serafina Sosina, whose classes he began to observe regularly.
Apprenticeship
A former circus acrobat, Sosina taught acrobatics with artistry and performance in mind, which was of course very different from the competition-oriented training system at the Krilya Sovietov gym. As much as his training at the clubA juggling pin. had begun to weary him, Sosina's classes fascinated Oleg. Sosina, who had indeed noticed him, accepted his presence: She knew the birth of a solid artistic vocation when she saw one. Then, having discovered that Oleg trained by himself after observing her classes, she suggested that he applied for the College's entry exam.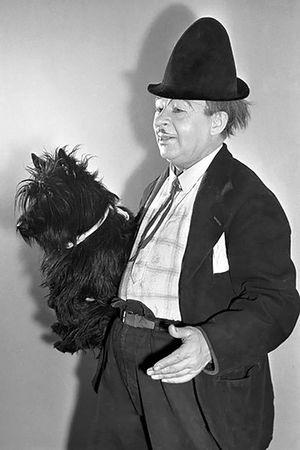 The year was 1944, and Oleg was fourteen; he was accepted in the children section of the State College for Circus and Variety Arts, where he resumed his academic education and was trained in all the circus basics, from acrobatics and aerials to juggling, ballet and hand-balancing. No specialty yet, but a lot of work to change his frankly unsophisticated approach to performing—and to life in general, since he had been by and large fending for himself after his father's disappearance, and perhaps even before.
The specialty teachers at the school (who are called pedagogues) have their own selection system: They observe the general training of newcomers to figure out their aptitudes, strengths and weaknesses in order to later direct them into a discipline that would fit their abilities. During a summer camp, Oleg had put a rope between two trees and experimented walking on the slack rope for fun. He had a good sense of balance and felt quite comfortable on it. Back to the school, he began to spend time on the slack wireA Tight Wire, or Low Wire, kept slack, and generally used for juggling or balancing tricks..
When at age sixteen, it was time for him to specialize and create and act, Oleg was naturally directed to work on a slack wireA Tight Wire, or Low Wire, kept slack, and generally used for juggling or balancing tricks. act. His pedagogue(Russian, from the French) A teacher in a Russian circus school. was Sergei Morozov. Morozov noticed that Oleg had a natural comedic talent: He invented gags on the slack wireA Tight Wire, or Low Wire, kept slack, and generally used for juggling or balancing tricks., playing with the apparent precariousness of his balance. Furthermore, he had retained a childlike quality; the street urchin never completely left him, and Oleg's smiling round face, his blue eyes and blond hair helped emphasize his inherent naïve charm. He was also a good juggler. Morozov took advantage of all these assets.
Oleg Popov graduated in 1950 as an eccentric juggler on the slack wireA Tight Wire, or Low Wire, kept slack, and generally used for juggling or balancing tricks.. However, Morozov made it clear to him that his slack wireA Tight Wire, or Low Wire, kept slack, and generally used for juggling or balancing tricks. act was just one facet of what he believed was his true calling: Clowning. In the eyes of Morozov, that meant that Oleg had still some work to do before completely finding himself as an artist.
Popov made his professional debut at the Circus of Tbilisi, in Georgia (then part of the USSR). At the circus of Saratov, which followed, he was asked to replace the show's principal clownGeneric term for all clowns and augustes. '''Specific:''' In Europe, the elegant, whiteface character who plays the role of the straight man to the Auguste in a clown team., Pavel Borovikov (1914-1980), who had been victim of a bad fall. This could be considered his true debut as a clownGeneric term for all clowns and augustes. '''Specific:''' In Europe, the elegant, whiteface character who plays the role of the straight man to the Auguste in a clown team.: Oleg learned how to work with an audience and began to fully develop his clown persona. He finally collected the fruits of his work at the circus of Riga, in Latvia (also part of the USSR at the time), where he obtained his first success.
Oleg had progressed quickly, and after one year, he was called back to Moscow to work as an assistant (and partner) to the Soviet Union's most celebrated clownGeneric term for all clowns and augustes. '''Specific:''' In Europe, the elegant, whiteface character who plays the role of the straight man to the Auguste in a clown team., the legendary Karandash (Mikhail Rumyantsev, 1901-1983). Like Popov, Karandash came from the State College for Circus and Variety Arts (of which he had been one of the very first graduates) and he was well qualified to understand what Popov needed to succeed. It was an ideal apprenticeship that lasted from 1951 to 1953. During that time, Oleg still performed his slack wireA Tight Wire, or Low Wire, kept slack, and generally used for juggling or balancing tricks. act and began to develop new material.
Early Successes
By 1953, Oleg Popov's clown character had fully developed. He was mischievous, joyous and carefree, playing with everyday objects and putting himself in precarious situations just for the fun of it—and surviving them jubilantly. His humor was purely physical, based on the use of the many skills he had mastered during his apprenticeship; non-aggressive, it didn't have the satirical touch of Karandash's or Yury Nikulin's (another of Karandash's protégés). Oleg Popov conveyed a purely positive image; he may not have left his audiences in stitches, but he kept them smiling and they were in awe of his prowess. Furthermore, his childlike character had a poetic quality.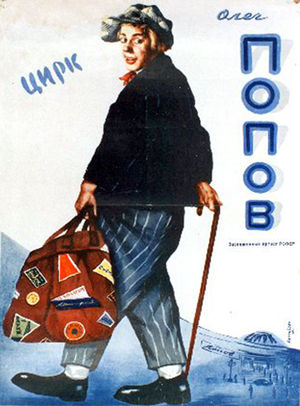 To the powers that be in the Soviet circus, Oleg was a perfect clown who gave a positive image of life in the Soviet Union. He was fun to watch, but not politically dangerous (contrary to what
Anatoly Durov
and his brother
Vladimir
had famously been in Tsarist Russia before the Bolshevik revolution).
In 1953, he was chosen to be the leading character in a Soviet propaganda film made to promote the Soviet circus at home and abroad, Арена Смеых ("Ring of The Braves"), which showcased major circus acts from all over the Soviet Union. It was a great opportunity for audiences of the Soviet republics and Eastern (and even Western) Europe to discover him, and Oleg Popov quickly became a household name.
In the film, Oleg performs a string of short reprises, his slack wireA Tight Wire, or Low Wire, kept slack, and generally used for juggling or balancing tricks. act, his "Cook" entrée(French) Clown piece with a dramatic structure, generally in the form of a short story or scene., and introduces a few acts—a comic relief from an unintentionally very pompous announcer (this was an official propaganda film, after all!). Popov revealed a strong screen presence, which would lead him to appear later in several other movies—even though he hadn't a special fondness for the camera. It is interesting to note that if Popov's clown character was already well developed in Ring of The Braves, his visual appearance was not yet completely defined. He wore different costumes and hats throughout the movie, including at some points the checkered cap that will become his trademark.
Popov's legendary checkered cap had been created for him by Anel (Anna) Sudakevich (1906-2002), a former silent-movie star who had morphed into a portrait artist and theatrical costume designer, and who eventually worked for SoyuzGosTsirk, the Soviet Circus central organization (and later for Yury Nikulin). Sudakevich helped Oleg finalize his clown image, designing the costume he wore in his early years—and thus defining a silhouette that would become familiar all over the world.
Popov's major break occurred in 1956, when he was invited to participate in the very first tour of the "Moscow Circus" in the West. Stalin had died three years earlier and the era of terror he had created had come to an end. Nikita Khrushchëv, his successor at the helm of the Soviet Union, tried to give the outside world a better image of its Communist regime. To this effect, his best weapons were the Soviet artists—notably musicians, dancers, and visual entertainers—who luckily had been not only allowed, but also encouraged to develop their craft to its highest levels since the beginning of the Soviet system.
Hence the Kirov and Bolshoi ballets and orchestras, the Moiseyev Dance Company, the Red Army Choir, and other similar attractions not hindered by language barriers, began to tour the Western world. Yet, the most popular and easily accessible of all the Soviet performing arts, the circus, would prove the weapon of choice: It was a universal form of entertainment that had reached levels of artistry, sophistication and creativity hitherto unknown in the West, and it would have consequently a considerable cultural impact worldwide.
International Circus Star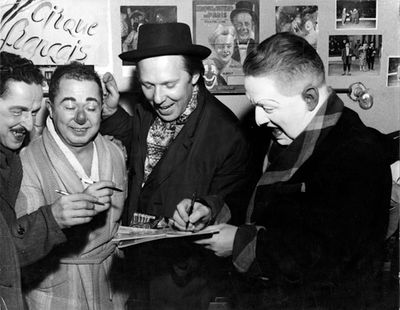 The first Moscow Circus's Western-European tour started in February 1956 in Belgium, at Brussel's
Cirque Royal
, in the presence of the Queen-Mother, Elizabeth of Belgium, who, having traveled to the Soviet Union before, was eager to see the most heralded "Cirque de Moscou" perform in her capital. SoyuzGosTsirk had sent a bevy of truly impressive acts, among which such heavy-weights as the amazing
Aleksandr and Violetta Kiss
, the spectacular
Aleksandrov-Serge Troupe
of jockeys, The
Abakarov Troupe
who performed a four-man-high column on the
high wire
A tight, heavy metallic cable placed high above the ground, on which wire walkers do crossings and various acrobatic exercises. Not to be confused with a tight wire.
, and the trained bears of the legendary
Valentin Filatov
.
Yet, to Belgian audiences, these extraordinary performers were nearly eclipsed by the show's star-clownGeneric term for all clowns and augustes. '''Specific:''' In Europe, the elegant, whiteface character who plays the role of the straight man to the Auguste in a clown team., the young and talented Oleg Popov. He was the true revelation of the "Cirque de Moscou" and quickly became the talk of the town. It was the same in Paris, where the show opened at the Palais des Sports in March. Tristan Rémy, French journalist, circus critic and preeminent historian of clowns and clowning, described him thus: "He mimes, he parodies. He is curious, brilliant, clever in his clumsiness, teasing in his grimaces, a musician, illusionist, cook, balancer, happy to play a trickAny specific exercise in a circus act. to the ringmaster(American, English) The name given today to the old position of Equestrian Director, and by extension, to the presenter of the show., always beavering away so that his bouncy games keep laughter alive with the thousand facets of his talent, the thousand possibilities of his imagination."
Popov became the darling of Paris, appeared on French television, was interviewed in the press, met the stars, and became a star himself. When he returned to the French capital with the Moscow Circus in 1960, the French journalist Jacqueline Cartier, a major voice in theater, ballet and circus criticism, nicknamed him "Le Clown Soleil" ("The Sunshine Clown"). The nickname stuck and was repeated in every language: By then, Oleg Popov had become a major name in the Soviet circus and was a fixture of its international tours. He became the unofficial "Goodwill Ambassador" of the Soviet Union. As the Russian-American clown Alexander Chervotkin noted, Yury Nikulin was the Russian people's favorite clownGeneric term for all clowns and augustes. '''Specific:''' In Europe, the elegant, whiteface character who plays the role of the straight man to the Auguste in a clown team., but Oleg Popov represented the Russian people abroad.
People who saw Oleg Popov in his later years had sometimes a hard time comprehending why he had had such an impact. But if his talent never disappeared, the young and the old Popov were in fact very different characters altogether. At a time when the Soviet Union, just out of its gloomy Stalinist period, was perceived in the West as a drab, uniform, unhappy country without an ounce of fantasy, the young, happy, funny, creative and talented Oleg Popov, with his childlike smile and his unaffected humor, was a welcome surprise and gave a rather unexpected image of the USSR; this made him very welcome indeed.
The Soviet Years
The Soviet government was well aware of the positive image Oleg Popov conveyed, and of his usefulness in generating international benevolence: As soon as 1956 (at age twenty-six), he was made Honored Artist of the Soviet Republic of Russia, and in 1969, he was elevated to the rank of People's Artist. In 1980, he became People's Artist of the USSR, the highest honor for a performing artist. And at every opportunity, he was sent on tour with a troupe of the "Moscow Circus" to the four corners of the world. (He was part of the first Moscow Circus tour of the United States in 1963.)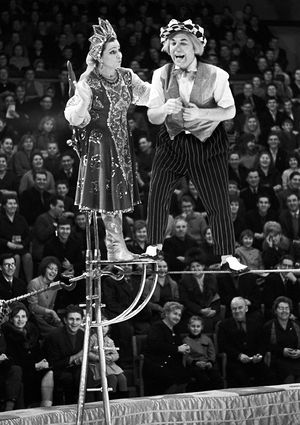 In 1952, Oleg had married Aleksandra Ilyinichna (1932-1990), a violinist in the circus orchestra. In time, she would participate in an eccentric musical act, the
Trio Do-Re-Mi
. Together, Aleksandra and Oleg had a daughter, Olga (b. 1953), who later became a
tightwire
See Tight Wire.
dancer (she married the celebrated juggler
Evegeniy Bilauer
, but the marriage didn't last). After 1956, Oleg and his family lived a relatively good life in the Soviet Union. His rank in the Soviet artistic world gave him access to a good apartment at 3, Molodezhnaya Street (Youth Street) in Moscow and other privileges, and the money he saved on tour out of his per-diems (which were payed to the performers in local currency—a precious commodity in the Soviet Union) provided him with added comforts.
It was known in the circus community that Oleg invested part of his money in diamonds, of which he was said to have an important collection—and he never had a bank account. (For times immemorial, diamonds have been the investment of choice for traveling entertainers.) His star status also led him to appear in fourteen movies between 1959 and 1986, including a Soviet-American film, The Blue Bird (1976), adapted from Maurice Maeterlinck's children tale and directed by George Cukor—a testimony to Oleg's power to bridge international relations.
Popov was indeed well aware of his international fame and the unique status it conferred him within the Soviet Union, both artistically and politically. He certainly took advantage of it (who wouldn't?), which didn't always play well with his fellow artists. And if Popov may have been one of the biggest international stars ever produced by the Soviet Union, at home, his colleague Yury Nikulin was indeed a much bigger star (as a clown as well as a film actor) than he. This, of course, didn't diminish in any way Popov's talent and his iconic status in the Soviet circus.
Oleg Popov had an exceptionally long career: Sixty-six years in all, forty of them in Russia. As years passed, his clown character changed: He couldn't be forever the young, happy and carefree street kid that he was originally. If his skills remained strong, in time his silhouette gained weight and his face lost its fresh innocence. Consequently, his makeup got a little stronger, his costume a little more colorful, and a yellow wig came to cover his thinning hair. The checkered hat was still there, though, and to a large extent, he retained his familiar silhouette.
He had many partners over time, some of whom stayed with him for many years but always remained in his shadow: Unlike Karandash, Oleg Popov didn't try to nurture other clowns. In the 1980s, he was given his own circus collective, which was based in Moscow's Bolshoi Circus, then under the management of Leonid Kostiuk. He was of course the star of his collective, with which he continued to tour at home and abroad; in 1987, his company was featured at Cirkus Benneweis in Copenhagen for that circus's 100th anniversary celebration.
In 1981, Oleg Popov had been invited to participate in the International Circus Festival of Monte Carlo, where he was awarded a Gold Clown for the ensemble of his career, presented to him by Prince Rainier III of Monaco. To some circus enthusiasts of a younger generation, his performance there had been a little lackluster, but to those who remembered Oleg Popov in his heyday—a young, energetic, happy "sunny" clownGeneric term for all clowns and augustes. '''Specific:''' In Europe, the elegant, whiteface character who plays the role of the straight man to the Auguste in a clown team.—it was indeed a well-deserved tribute to an exceptional artist whose talent had had a planetary impact.
Changing Times
In 1987, hoping to save the ailing Soviet Union, Mikhail Gorbachëv began to implement his Perestroika and Glasnost policies and Oleg Popov's world started to crumble. Artists who, like him, had been the symbols of the old Soviet system were losing their clout and privileges: It was the start of the everyman-for-himself era. Sign of the times, when in 1988, after a ten-year hiatus, the American producer Steve Lieber began to bring back troupes of the Moscow Circus to the United States for a very lucrative series of tours, Popov was not part of the deal.
Then, in 1990, Oleg lost his wife of thirty-eight years, Aleksandra, to cancer. To add to his disarray, at the end of 1991, the Soviet Union finally fell apart and Boris Yeltsin's "New Russia" replaced it. While future oligarchs were busy looting Russia's riches, Oleg saw his life savings melting like snow in the sun. After forty years of performing and at sixty-one, Oleg Popov was eligible for retirement, but pensions had lost all value (and would eventually stop being paid).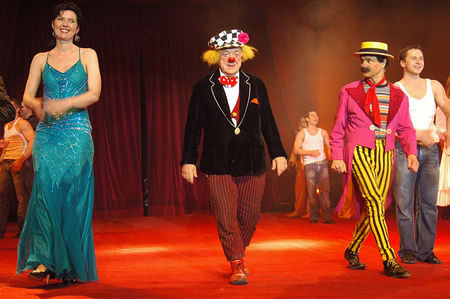 Russia had entered one of its darkest periods. For all his past services to the country, Oleg Popov, one of the greatest stars of the former Soviet Union, had practically become a non-entity in a world that was blindly and dangerously rejecting its past achievements—in the same way, in fact, than when the Bolsheviks came to power in 1917. Oleg Popov, an icon of this Russian past, wondered how, at his age and in these circumstances, he would survive.
Earlier in 1991, he (and other Russian performers) had signed through SoyuzGosTsirk a contract to tour Germany with Circus Williams-Althoff under the banner of the Moscow Circus. In spite of his age, Oleg still had star power and the tour proved it once more; he finally decided to settle in Germany, where he would continue to tour for several years—eventually with his own "Moscow Circus." (In Russia's turmoil, SoyuzGosTsirk, which had become RosGosTsirk, had lost its control over the use of the title Moscow Circus!)
During that year (1991), Oleg met a young German performer, thirty-two years his junior, Gabriel "Gaby" Lehmann. They fell in love and got married that same year. Gaby became Oleg's assistant and partner in the ring but, more importantly, she also took care of his business dealings—something the old clownGeneric term for all clowns and augustes. '''Specific:''' In Europe, the elegant, whiteface character who plays the role of the straight man to the Auguste in a clown team., brought up in the Soviet system, was not familiar with—and negotiated lucrative contracts for him. They settled in the Bavarian village of Egloffstein. Oleg started a new life. In Germany, his clown character became known as "Hans im Glück" ("Happy Hans"); yet, to the world, he was still the great Oleg Popov.
Popov was invited to return to the International Circus Festival of Monte Carlo in 2006, to celebrate the Festival's thirtieth anniversary; his entrance in the ring was greeted by a standing ovation. Later, in 2012, he toured in Germany with a show called Könige der Clowns ("Kings of Clowns") that gathered five of the greatest names in clowning: Oleg Popov, Avner Eisenberg, David Shiner, René Bazinet, and Peter Shub. Oleg, by then, was eighty-two and still going strong; the show was an unmitigated success.
There Is No Place Like Home!
Meanwhile, in 2000, Vladimir Putin had replaced Boris Yeltsin at the helm of the Russian Federation and had begun the difficult job of putting Russia back on its tracks. It would take time, but little by little, Russians began to reclaim their heritage and their culture. The arts having always been a prominent part of Russian culture, old glories of the Soviet performing arts regained their stellar positions, including such circus artists as Oleg Popov.
In Moscow, Edgard and Askold Zapashny, who had taken over the management of the mighty Bolshoi Circus in 2013, offered an extremely lucrative contract to Oleg Popov, which included a new apartment in Moscow, to lure him back home, and star him in a show that would be called No Place Like Home!—but they failed to convince him: Popov, who still held a grudge against his native country, decided to stay in Germany. (He had nonetheless always retained his Russian citizenship).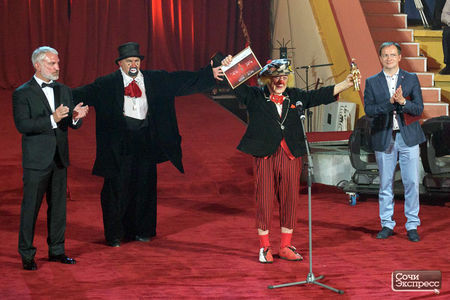 Then, in 2015, he was invited by RosGosTsirk and the Russian Ministry of Culture to participate as a guest star in the closing gala of the first
Master
international circus festival, which was held at the circus of Sochi—in Russia's balmy vacation resort on the Black Sea. It was a huge event that was to be attended by some of the greatest names of the old Soviet Circus (who were invited), and this time, Oleg Popov accepted to return to Russia after an absence of twenty-four years.
At the beginning of the Festival, the buzz that Oleg Popov would attend the closing ceremony created an atmosphere of excitement. When he arrived, on June 30, 2015 at the airport of Sochi, he was welcome by an army of journalists, photographers and television cameramen, and a crowd of anonymous admirers who presented him with flowers, as it is the tradition in Russia. His return was immediately broadcast on national television and a press conference was held: It was an artistic event of national importance.
When in the evening, the eighty-five-year-old Oleg Popov finally stepped into the ring, in the dark, to perform his "Spotlight" reprise(French) Short piece performed by clowns between acts during prop changes or equipment rigging. (See also: Carpet Clown), the ovation was deafening. The standing ovation that followed his act was even more enthusiastic. In the house, many young spectators who had never seen Popov other than in old films on television, donned his legendary checkered hat and were not less enthusiastic than the crowd of circus professionals, and those who remembered him from his days in the old Soviet Union. Then, Vladimir Medinsky, the Minister of Culture, read in the ring a message from President Putin welcoming the legendary clown back home; Popov couldn't hold his tears. There was indeed no place like home!
The most moving event of this momentous day occured perhaps when, after the gala, Oleg Popov arrived (late) in the magnificent building of the old port of Sochi to partake in the huge reception given to the festival participants and the Russian circus community: As he walked the long stretch between the entrance and his table, still preceded by a bevy of cameras and photographers, all the old stars of the Soviet circus, his former colleagues, rose and burst into applause.
The Last Hurrah
Soon after, in 2016, a tour was organized for him in the circuses of Russia. It was the long-awaited return of Oleg Popov, and Russian audiences celebrated the event with the same enthusiasm as they had done in Sochi. It was a triumphant tour. On November 2, 2016, after the show at the circus of Rostov-on-Don, Oleg Popov return to his hotel and sat comfortably in an armchair in his room to watch television. He fell asleep; he never woke up: He had died, peacefully, of cardiac arrest—in full glory, just after another great performance. He was eighty-six.
The news spread quickly all around the world, and every major newspaper carried Oleg Popov's obituary. The Russian Minister of Culture, Vladimir Medinsky, published a statement saying that Popov's performances "brought joy and goodness to many generations of our compatriots (…) He managed to create a unique image of an eccentric clown who radiated light just by making an appearance and turned every performance into a fête."
On November 7, an open-casket viewing was held in the ring at the Circus in Rostov-on-Don, and a large crowd came to pay their respect. The casket left the circus to be taken to the airport under the applause of another crowd that had gathered in the street. At the request of his wife, Gaby, Oleg Popov, has been buried in Germany, in their village of Egloffstein. Yet, Russia had finally reclaimed him, and Oleg Popov, "The Sunshine Clown," will forever be part of its rich cultural heritage.
See Also
Filmography
Арена смелых ("Ring of the Braves") — Directed by Sergey Gurov, Yury Ozerov (1953)
Потерянная фотография ("Lost Photo") — Directed by Lev Kulidzhanov (1959)
Косолапый друг ("A Clumsy Friend") — Directed by Vladimir Sukhobokov (1959)
Последний жулик ("The Last Rogue") — Directed by Vadim Mass, Jan Ebner (1966)
Рицар Без Броня ("Knight Without Armor") — Directed by Borislav Sharaliev (Bulgaria) (1966)
Полчаса на чудеса (киноальманах) ("Almanack") — Directed by Mikhail Yuzovskiy, Aleksandra Lyapidevskaya (1968)
Похищение ("Abduction/Kidnapping Christmas") — Directed by Yuri Saakov (1969)
Приключения жёлтого чемоданчика ("Adventures of the Yellow Suitcase") — Directed by Ilya Frez (1970)
Карнавал ("Carnival") — Directed by Yury Chichkov (1972)
The Blue Bird — Directed by George Cukor (USSR/USA) (1976)
Весёлое сновидение, или Смех и слёзы (Merry Dream, or Laughter and Tears) — Directed by Igor Usov (1976)
Mama ("Mommy") — Directed by Elizabeth Bostan (Romania) (1976)
Солнце в авоське ("Sun in a String Bag") — Directed by Igor Netrebchuk (1979)
Посторонним вход разрешён ("Free Admittance") — Directed by Josef Pinkava (Czechoslovakia) (1986)
Что такое Ералаш? ("What's the Jumble?") — Directed by Yuli Gusman (1986)
Suggested Reading
Oleg Popov, Ma Vie de Clown (Paris, Editions Stock, 1968)
Oleg Popov, Russian Clown (London, MacDonald, 1970) — ISBN 0356029409
Oleg Popov, illustrations by Carolin Gaiser, Mein Hund Mischka (Frankfurt/Main, Info 3 Verlag, 1997) — ISBN 978-3932386046
Oleg Popov, Mijn leven als clownGeneric term for all clowns and augustes. '''Specific:''' In Europe, the elegant, whiteface character who plays the role of the straight man to the Auguste in a clown team. (Tielt, Lannoo, 2006) — ISBN 90-209-6521-2
Image Gallery