Tamerlan Nugzarov
From Circopedia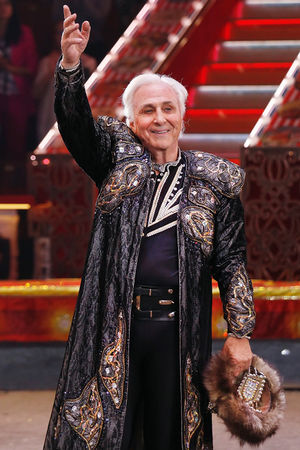 Cossack Rider
''By Dominique Jando''

Tamerlan Nugzarov (1942-2020) was one of the greatest horsemen in the long history of the Russian circus, an artist of strong personality and great distinction, who brought theatricality to his spectacular Cossack riding acts. His many awards, including a Gold Clown at the International Circus Festival of Monte Carlo in 1984, and the great respect in which he was held in the circus world at large are a testimony to his immense talent.
Family and Apprenticeship
He was born Tamerlan Temirsoltanovich Khabriev on June 1st, 1942 in Ordzhonikidze (today Vladikavkaz), in the Russian Republic of North Ossetia-Alania. His father, Temirsolt Khabriev, was Ingush (a Muslim ethnic group of the North Caucasus) and his mother, Zinaida Kharitonovna Dzugutova, was Ossetian. Tamerlan was not even two years old when, in 1944, his father was deported along with many Ingush people: Not considering themselves Russian, they were wrongly suspected to have sided with the Nazis. They were cleared of suspicion after the death of Joseph Stalin in 1953, but twenty-nine years passed before Tamerlan could see his father again.
Tamerlan was raised by his maternal grandparents. His grandfather, Aleksandr Bytaev, was a former Tsarist officer who lived to the ripe age of one hundred and one. Unfortunately, his grandmother, Fuzha, died in 1952, and ten-year-old Tamerlan decided himself to join a local orphanage. The orphanage kept stables on its piece of land, and it is there that Tamerlan developed a long-lasting passion for horses. Then, in 1958, his mother re-married with the circus horseman Kazbek Borisovich Nugzarov (1905-1979). Tamerlan rejoined her, and his stepfather gave him his name.
In 1922, Kazbek Nugzarov had become part of the Cossack-riding troupe of the legendary Alibek Kantemirov (1882-1975), and he later created his own act. Young Tamerlan first worked as a groom for his stepfather, and being a good horseman, he soon became part of Kazbek's act, in which he developed his Cossack-riding skills under the tutlage of his stepfather. Then, from 1962 to 1965, he joined the troupe of Mikhail Tuganov (1900-1974) to perform in Boris Manzhelli's circus pantomimeA circus play, not necessarily mute, with a dramatic story-line (a regular feature in 18th and 19th century circus performances). The Legend of Bakhshisaray—a story set in the famous (and still extent) Tatar-Crimean palace of that name, built in the sixteenth century, which was the principal residence of the khan of Crimea.
Mikhail Tuganov retired from performing in 1963. That same year, he created a show that was to be presented at Paris's Palais des Sports under the title La Gonka de Moscow (Гонка, or "gonka," means "dashing" in Russian, which makes the French title a little odd). It was mostly an equestrian spectacle that included such Soviet circus luminaries as Yury Ermolaev with his liberty"Liberty act", "Horses at liberty": Unmounted horses presented from the center of the ring by an equestrian directing his charges with his voice, body movements, and signals from a ''chambrière'' (French), or long whip. act, the equestrian pas-de-deux and statues of the Lapiado-Korolëv Family, the dancer on bareback horse Gitana Leontenko, and the remarkable acrobatic act on horseback of the Zapashnys. Tamerlan had be drafted by Tuganov to take part in the Cossack-riding act that concluded the show.
Tamerlan Nugzarov acknowledged later that Tuganov (who retired from performing in 1963 and went on to create his own shows) and Manzhelli (a very talented and creative animal trainer whose real name was Svechenko) had a strong influence on his artistic development. Mikhail Tuganov, who had also performed with Alibek Kantemirov, was a legend in his own right who had written an important page of Russian circus lore: In June 1941, right after Germany had declared war to the Soviet Union, Mikhail Tuganov and his horsemen left the ring of Moscow's Old Circus on Tsvetnoy Boulevard at the end of their performance and together went directly to enroll in the Red Army!
The Legend of The Mountains
Eventually, Tamerlan Nugzarov decided to form his own troupe of horsemen and, in 1971, he created an act that was to obtain an immense success around the world. It was called The Legend of The Mountain. Tamerlan wrote the concept with some help from Mahmud Esambaev (1924-2000), a famous Chechen actor and dancer. It was based on old Caucasian folklore: When there is a conflict between warring groups, it must be stopped forever if a woman throws her head scarf between the fighting parties.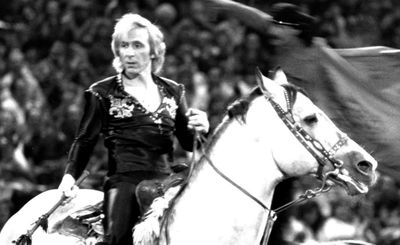 Mahmud Esambaev described Nugzarov's act thus: "His
Legend of the Mountain
is a fusion of pleasure and risk, joy and despair, technical excellence and acting. It is a brilliant piece of horsemanship, going at a frantic pace with all the stunts performed with amazing ease and grace. Here, each move works within the whole picture, with the bright personality of the actors—and so does the choreography, the music, and the costumes."
In 1984, the part of the riding woman with the scarf was taken by Tamerlan's wife, Svetlana Konstantinovna Avdeeva (b.1941), who came from a well-known circus dynasty of Ingush-Chechen acrobats: Her father, Konstantin Adamson, a high-wire artist, had married Ekaterina Avdeeva; Ekaterina, a high-wire artist herself, and her sisters had taken over the Koch Sisters' giant semaphore act, which became known in the 1970s as the Avdeevi Sisters. Svetlana Avdeeva had had a son from a previous marriage, Yury Ermolaev (1972-2000), who also joined the Nugzarov Troupe that same year, but sadly died of a heart attack during an engagement in Berlin in 2000. In 1979, Tamerlan and Ekaterina had a son together, Tamerlan ("Tamik") Tamerlanovich, who became a talented horseman and eventually joined his father's act.
It is also in 1984 that the Nugzarov Troupe was invited to participate in the 10th International Circus Festival of Monte Carlo, the first ever Cossack-riding troupe from the then Soviet Union to have had this honor. Tamerlan returned home with the prestigious Gold Clown award, which was presented to him by HSH Prince Rainier III of Monaco. Tamerlan Nugzarov became immediately a prominent personality of the Soviet Circus, succeeding his brilliant predecessors, Alibek Kantemirov and Mikhail Tuganov, at the top of his profession; in 1985, he was made People's Artist of the Russian Soviet Federative Socialist Republic.
Then Tamerlan Nugzarov and his wife, Svetlana, created a more elaborate version of their act, with a music especially written for it by the composer Mikhail Ekimyan. The theme remained the same, but they developed the act's storyline and choreography. In this new version, Tamerlan, who had originally played the role of a young warrior in love, became an old Prince full of wisdom, as Svetlana now played a good fairy.
Other awards soon followed, including the "Platinium Star" at the International Circus Festival of Verona, in Italy, in 1992 (with was presented to him by Gina Lollobrigida), and the State Prize of the Russian Federation in 1995, after the fall of the Soviet regime. In the wake of these successes, many international tours came Tamerlan's way: In all, he and his troupe visited twenty-five countries, including a long and very successful tour of the United States in 1990 with the "Moscow Circus," whose return to North America (with several successive or coinciding units that toured the United States from 1988 through 1991 and featured some of the greatest Soviet acts) was an unmitigated triumph.
A New Era
The immediate post-communist era (under the presidency of Boris Yeltsin) was a disastrous time for Russia, during which old Soviet institutions collapsed with practically nothing to replace or efficiently reform them. The once-glorious Soviet circus, which was under the control of a state organization, SoyuzGosTsirk (soon renamed RosGosTsirk), was no exception—a situation that caused a diaspora of talented Russian artists.
However, circus troupes and performers working with large or wild animals couldn't easily find work abroad, and like several of his colleagues in the same situation, Tamerlan and Svetlana created in 1997 their own circus collective, and put together an equestrian pantomimeA circus play, not necessarily mute, with a dramatic story-line (a regular feature in 18th and 19th century circus performances). which they called My Russia. It was to be Tamerlan's masterpiece. It had an elaborate storyline, a full corps de ballet, a spectacular machinery and pyrotechnic effects. In the piece, Tamerlan also worked with a leopard. It was a true circus pantomimeA circus play, not necessarily mute, with a dramatic story-line (a regular feature in 18th and 19th century circus performances). in the line of the spectacle of his mentors, Mikhail Tuganov and Boris Manzhelli, in which he had learned his craft.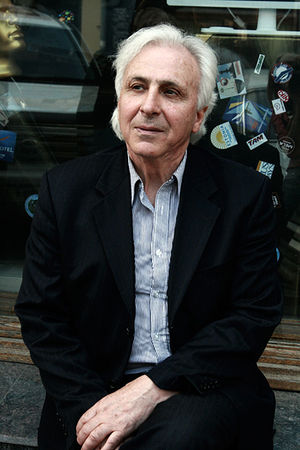 Things went progressively better with the arrival of a new century and a stronger and more efficient leadership (in the person of Vladimir Putin), and the old stars of the Soviet circus (and the upcoming stars of the new Russian circus) saw their rightful place in the Russian artistic community eventually restored. Tamerlan Nugzarov, of course, was one of them. In 2007, Tamerlan and his wife began to prepare yet another spectacle, titled
Fairy Tale
, which included an evil sorcerer, a good fairy, a beautiful princess, and horses disguised as mythical creatures. Tamerlan succinctly described it thus: "Love, Poetic Fantasy, and Horses."
On May 8, 2010, Tamerlan participated in Victory Salute at Moscow's Circus Nikulin, a show given to celebrate the sixty-fifth anniversary of the Soviet Union's victory in WWII, in which he played with great pride the role of Marshal Georgy Zhukov, the legendary leader of the Red Army. And he was indeed featured among the most illustrious stars of the Russian circus for the celebration in 2019 of its one-hundredth anniversary as a State institution, in the ring of the same circus, Circus Nikulin (the former Circus Salamonsky), Moscow's oldest circus, on Tsvetnoy Boulevard.
At the beginning of the Idol Festival in September 2017 at the Bolshoi Circus of Verdnasky Avenue in Moscow, two stars were unveiled on the Circus Alley of Stars (the Russian circus equivalent of Hollywood's Walk of Fame) in the circus's foyer: One honoring the legendary clown Yury Nikulin, the other, the horseman Tamerlan Nugzarov. In spite of his age, Tamerlan Nugzarov was still working with his horses every day, from 8:00 am to 2:00 pm. He still had a considerable energy and had built by himself a large country house in Moscow's suburbs where he spent his weekends when he was not performing.
For performing, he did until the end. During a tour with his troupe in Yaroslavl in 2020, he suddenly fell ill. The show was cancelled after only two days of performance, and Tamerlan went into isolation, victim of the Coronavirus pandemic. He passed away in Yaroslavl a few days later, on May 24, 2020, causing a considerable emotion in the circus world. Echoing the circus community's feelings, Maksim Nikulin, the director of Circus Nikulin, commented on Tamerlan's passing in an interview: "He was really a circus legend. It is a loss for the circus community, and for the circus world." It was indeed. The Nugzarov dynasty continues, however, with Tamerlan's son, Tamerlan Tamerlanovich, a remarkable horseman like his father.
See Also
Image Gallery